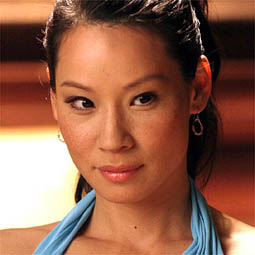 Dragon lady, lotus blossom, seductress. Asian-American actress Anna May Wong played all the Asian stereotypes during her film career, which began more than 80 years ago, during the silent film era. More often than not, the characters she portrayed were killed, by either murder or suicide.
In today's Hollywood, Lucy Liu, arguably the only bankable Asian-American star working in films today, manages to survive most of her films -- is this the only progress that has been made?
Wong's choice of roles was limited by what Hollywood studios were offering her at the time. In the early 20th century, anti-miscegenation laws were still in effect in the U.S., including California's 1880 law that prohibited issuing marriage licenses for white and Chinese couples as well as black and white couples. Eventually, Wong became so frustrated that she left Hollywood in 1928 to go to Europe for three years, making films in England, Germany and France, and appearing in stage productions. "I think I left Hollywood because I died so often," Wong said.
Wong had a remarkable career, acting in more than 80 films over a 23-year period, successfully making the transition from the silent to the sound era. Forty-three years after her death in 1961, Anna May Wong is undergoing a revival of sorts. Retrospectives of her work were presented earlier this year at the New York Museum of Modern Art and the UCLA Film and Television Archive. Two biographies have been published, Anthony Chan's Perpetually Cool: The Many Lives of Anna May Wong (Roman & Littlefield, 2003) and Graham Hodges' Anna May Wong: From Laundryman's Daughter to Hollywood Legend (Palgrave Macmillan, 2004).
Joy Luck, then no luck
Four of Wong's films screened in the San Francisco International Asian American Film Festival in March. In The Toll of the Sea, a 1922 silent film, 17-year-old Wong played her first starring role as Lotus Flower. Despite a moving performance, her character's inevitable decisions -- telling her son she is not his mother, but rather his Chinese nanny and giving him up to her white lover and his white wife and then Lotus Flower's eventual suicide -- are frustrating.
In the 1929 British silent film Picadilly, Wong's character Shosho is a scullery maid turned successful nightclub dancer. In this film, Wong had a starring role. Sadly, her on-screen kiss with her white co-star was cut by the British censors and her character is eventually killed.
In Shanghai Express, released in 1932 and starring Marlene Dietrich, Wong has a supporting role as a prostitute who is raped by the Eurasian leader of the revolutionaries. In Daughter of Shanghai, released in 1937, she stars as the adventurous Chinese American Lan Yin Lin who is searching for the smuggling ring responsible for the death of her father. She works with an Asian American government agent, played by Asian American actor Philip Ahn. In the film, he eventually asks her to marry him -- but they do not kiss on screen.
How far have Asian American actresses come since then?
None of the actresses in The Joy Luck Club are working in mainstream Hollywood films, not unless you count Ming-Na as the voice of Mulan in Disney's animated film Mulan and its upcoming sequel.
In U.S. cinema today, only one Asian American actress seems to be working regularly - Lucy Liu.
Return of the Dragon Lady
Let's take a look at some of the roles Liu has played since she launched a film career in the late '90s. She has played a dominatrix in Mel Gibson's Payback; a kidnapped Chinese princess in Jackie Chan's Shanghai Noon; a detective in the Charlie's Angels fluff films, co-starring with Drew Barrymore and Cameron Diaz; a secret agent in action flick Ballistic: Ecks vs. Sever, co-starring with Antonio Banderas; and a supporting role as the leader of the yakuza in Kill Bill, which stars Uma Thurman -- not exactly a wide range of roles during Liu's brief film career. But as she has said in an interview, "I don't have many options right now. You create options for yourself so that you have more opportunities later."
Although Liu's film characters usually survive by the end of the film -- unlike Anna May Wong's -- they do not have much opportunity for romance, or if romance exists as it does in Charlie's Angels, it has been with a white guy, not an Asian one. So, Liu is taking what Hollywood is offering her.
Although Liu's roles may not have done much to dismantle the dragon lady stereotype, is it fair to expect her to represent all Asian American women? Or that every role she takes refutes a stereotype? She is an actress trying to make a living.
When Liu made a name for herself as the seemingly heartless lawyer Ling Woo on television's Ally McBeal, she was accused by some Asian Americans of perpetuating the dragon lady stereotype. However, she has also been credited with helping to demolish the submissive, eager-to-please Asian woman stereotype. As an actress, her position is somewhat similar to Anna May Wong's but without the additional restrictions about interracial romance.
Box office burden
The bottom line is, if Liu's films do not make money, then it will be difficult for her to sustain a career and eventually get the clout to play more interesting roles -- roles that go beyond stereotypes.
The Charlie's Angels films each made more than $100 million domestically, but Liu's 2002 film Ballistic: Ecks vs. Sever tanked at the box office. The film's budget was an estimated $70 million and it made less than $15 million in its U.S. theatrical release. Liu shared top billing with Antonio Banderas, which doesn't say much for their combined box office appeal. With Charlie's Angels, the success of the films could easily be attributed Liu's white co-stars. Liu has third billing, behind Cameron Diaz and Drew Barrymore.
As a movie star, Lucy Liu is not yet Anna May Wong's equivalent but her film career is still in its early stages and her popularity seems to be rising. In 2000, Liu became the first Asian American to host Saturday Night Live. She has co-starred in a few big-budget films.
However, she has yet to open a film with her name above the title -- the true endorsement of Hollywood. She still needs to prove her box office appeal and get a decent script. If her career has some longevity, perhaps the door will open a little wider so more Asian-American film actresses can break through.
But the fact remains -- no Asian-American actress has had a career that has lasted as long as Anna May Wong's and she died more than 40 years ago. Let's hope that will soon change.
Chuleenan Svetvilas is a freelance writer. She was formerly the editor of Release Print, the magazine of Film Arts Foundation.