[Editor's note: To mark The Tyee's 20th anniversary, we are publishing 'Points of Interest,' a collection of essays from across British Columbia that offer quirky tales and powerful truths rooted in place and time, written by some of the region's most celebrated writers, including J.B. MacKinnon and Alisa Smith, Cúagilákv (Jess H̓áust̓i), Arno Kopecky, Michelle Cyca, Christopher Cheung, Andrew Nikiforuk, Harrison Mooney and many more.

'Points of Interest,' forthcoming in April 2024 with Greystone Books, is now officially available for pre-order from Massy Books, Upstart & Crow, Iron Dog Books and Book Warehouse in Vancouver, from Indigo and Amazon, and more.

In celebration, we offer this previously unpublished essay by Harrison Mooney, which will appear in 'Points of Interest.']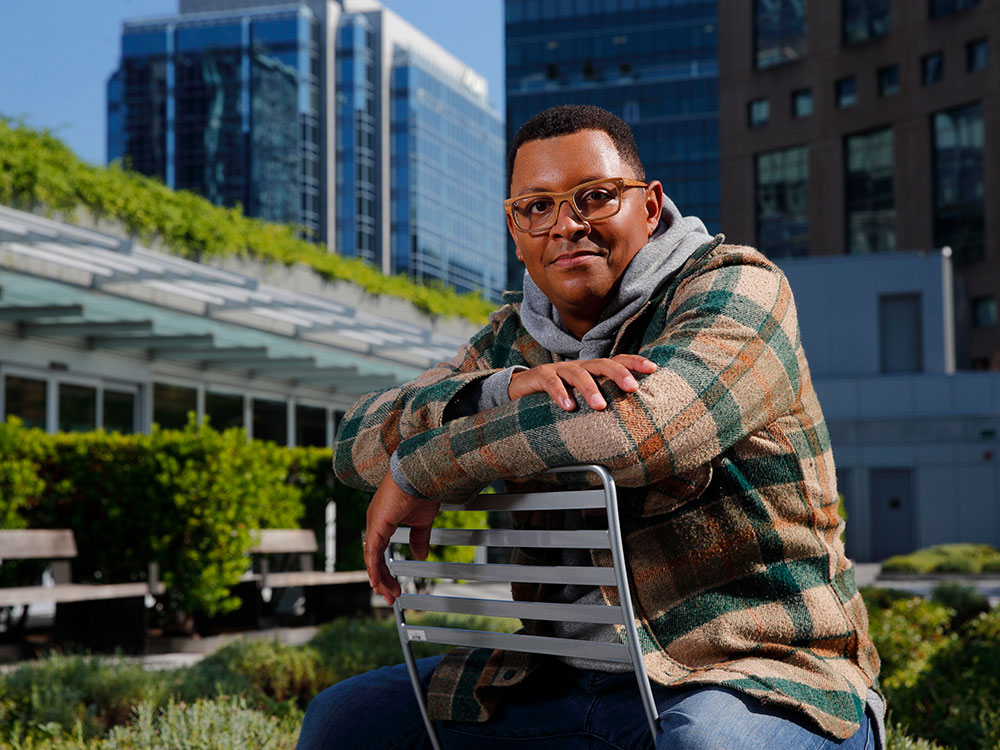 I have long been reluctant to speak generally on the experience of growing up in the Fraser Valley. Mine was not what one would call a universal upbringing. As a Black man, my experience is sure to differ from most of my Abbotsford brethren, but this includes other Black men. Adopted at 11 days by a white, evangelical family, I was brought up in defiance of the so-called Black experience, which I have had to discover of my own accord as an adult.
As a transracial adoptee, I have been burdened with the ultimate form of imposter syndrome: I am hardly representative of my own household. I would much rather speak for myself. Pressed to present something universal about my Fraser Valley childhood, however, I offer a bucket of blueberries.
For most of the year, blueberries are purchased in little plastic boxes from the Save-On-Foods, where you pay a pretty penny for a pittance of the local superfruit. But when the summer hits its zenith, blueberries seemingly fall from the sky, and in Abbotsford, where Costco is king, few can resist the great savings of buying in bulk. Before long, every household is saddled with a box or a one-gallon bucket — more than you'll ever be able to get through before they go bad. Bake them into pies, eat them as sides, make syrups and compotes and jams. My brothers and I would eat huge bowls of blueberries swimming in milk with a spoonful of sugar for breakfast. It hardly makes a dent in the supply, and eventually any Abbotsford resident is bound to ask themselves the age-old question: What am I going to do with all these blueberries?
I never thought much about this inconvenient abundance until I started working for the Vancouver Sun about a decade ago, and found myself covering the multiple lawsuits and grievances launched by temporary foreign workers all throughout the rural region. The conditions for these labourers are brutal. Workplace health and safety violations are a constant — the shelters are cramped and inadequate, the machinery is outdated and dangerous — and if these issues are reported, they're deported, or at least replaced. They are, after all, not citizens. To these farms, they're a resource, and there's plenty more where these ones came from.
The resource is under-market labour, that linchpin of free enterprise. Temporary foreign workers often make less than the minimum wage, thanks in large part to discriminatory carve-outs in B.C. legislation. Blueberry-pickers, for instance, are excluded from labour protections surrounding guaranteed hourly salary, as well as guaranteed hours, time off and overtime pay, and while it seems anathema to say so, their labour seems akin to slavery.
A cursory look at post-slavery commerce makes clear that this labour force comes to the west in the aftermath of abolition. It's a straight line. Use the S-word, of course, and you'll be reminded that these workers are making some money. It's nowhere near the going rate for human beings in this region, as a matter of law, but it's not slavery. One imagines the money paid for their services is not so much for labour as for the right to deny that the slave trade persists. It is always more fiscally sound to live in denial about oppression than to do something about it.
This is the human condition in Abbotsford. Speaking more generally these days, I dare say that growing up in the resource-rich Fraser Valley is the experience of being wilfully blind to the inhumanity and exploitation that makes such a life possible.
This is a significant theme of my 2022 memoir, Invisible Boy: A Memoir of Self-Discovery, which traces my life from infancy — the age of my adoption — to my mid-20s, when I first reunited with my biological mother. During that first meeting, my mom asked me the same question many have posed: What was it like to grow up in Abbotsford? This time, rather than defer to others I deemed normal, I found myself consumed with providing an answer. I wanted her to know me like a mom knows her son, to have context for who I became. The result was the memoir released this past fall after a gruelling, disorientating period of reflecting upon a truly traumatic childhood, and the subsequent mental health crisis I hope is just wrapping up now, with this essay, the first thing I've written since closing the book on my book.
I like to describe Invisible Boy as a journey from white cult to Black consciousness. It is the story of a lie unravelling before my eyes: the false narrative of being plucked from my mother's womb and miraculously inserted into a white family by the hand of God. Despite a lifetime of brainwashing and isolation, my path eventually leads to a face-to-face meeting with the actual architect of my existence — my biological mother — and a formal reckoning with the circumstances surrounding her decision to surrender me to strangers. She was 16 then, a child of the B.C. foster system and a victim of so many abuses in provincial care that she was a cinch to coerce. She wanted to keep me, her handlers said no, and that was that. The fact is that mine was not so much an adoption as an abduction and this, not some Biblical maxim, was the truth that set me free.
Same make and model
After the book was released, I received numerous messages from other transracial adoptees, many of whom were raised not far from me and led to believe, just as I was, that their experience was too singular to see any solidarity with anyone, especially other adoptees and people of colour. Like me, these adoptees had no idea of where to turn for kinship, camaraderie or the validation of their experience. We were all by ourselves.
One such adoptee, Abbotsford teacher Shayla Bird, is the founder of Black Connections, a group that seeks to remedy the isolation that so often accompanies Blackness in the Fraser Valley. Every Black high school student was invited to join the fledgling group and most did, finding a safe space to share their experience, with the exception of a few kids whose parents balked, for fear that encouraging their children to see kinship in Blackness was akin to self-othering.
I'm very suspicious these days of any politic that opposes solidarity among Black folks. In my book, I joke that two's a crowd when you're Black, but it's not really a joke: this understanding is integral to Blackness all over this province, if not the whole country. In recent months, I've developed a friend group with several other Black fathers in Vancouver. We went out together one night, and the experience of walking down the street four black men deep was so unusual that none of us could keep from saying something. Even in East Vancouver's Commercial Drive neighbourhood, we felt all eyes on us, and standing on the sidewalk near a bar, deciding where to go next, we were met by a hostess, who came all the way out to the curb just to ask, Can I help you?
It is not unusual to see Black folks in B.C. What's unusual is seeing Black folks in community, walking together, laughing together, simply being together. Many of us have been socialized, if not explicitly encouraged, to not do that, and it is maddening to learn that this mindset persists in my hometown.
Last winter, I performed a reading for the Black Connections group at Yale Secondary School, their home base. The event was sold out, and I was stunned that night to meet so many people with lives that mirrored mine, down to the smallest of details. Our experiences are so similar, one woman said. Even the little things. Your adoptive parents bought you a Toyota Echo and used it as a kind of emotional blackmail. My parents did that too — same make and model. I met a man who looked just like me, but a decade older. He treated me like some kind of superhero. I didn't think anyone would ever be able to tell my story, he said. I don't know how you did it.
And so lately I have come to know that mine was not, after all, a life unlike anyone else's.
The fruit goes bad
A few summers ago, I brought my toddlers to the Birchwood Dairy Farm in Abbotsford — to my mind, still the best ice cream within driving distance of my house. Plus, they let you meet the cows. We returned to Vancouver with a bucket of blueberries, and while I can't quite remember deciding to buy one, I do recall staring at the massive white pail, which took up at least a quarter of my kitchen counter space, and wondering aloud for the first time since moving to Vancouver: What am I going to do with all these blueberries?
I put some in a salad for my mom, who visited my home for the first time since we met a decade earlier. My partner baked the customary pie. I ate a bowl for breakfast the next morning. But mostly, I found myself staring at all this abundance and thinking about the exploitation that made it possible for me to be overwhelmed by the food that I was scrambling to devour. Obsessed with my book then, I started to see myself in the one-gallon pail, just another commodity obtained with so little effort that there was nothing else to do but resent it for aging so quickly.
We mostly adopt babies and children, after all, those without the insight or perspective to quite understand what's been done to them. For years, these children can carry on believing that their owner is their parent, and shutting out the inconvenient truths about their lives. But then they mature. They grow into adults. They find language, grow consciousness, find each other and soon they have enough information and experience to see the world for what it is, and what it means for their existence. For a good long while, the adoptive family can consume their blueberries however they choose. Eventually, though, the fruit goes bad.
I went bad. The last time I saw my adoptive mother, just before my book was published, I told her that my biological mom had died suddenly of leukemia a week or so prior. My mother said nothing, but as she was leaving, she offered a clinical, I'm sorry about your mom. It wasn't enough, but by then my grievance was so large, and my grief so overwhelming, that I can't imagine what else she could have said to offer comfort. We were so far apart by then. I'd been growing mould for years.
That was the same year that the flooding turned much of Abbotsford into a lake. At the time, much of the reporting drew attention to the fact that Abbotsford is supposed to be a lake, which was dredged in 1925 to make way for agriculture in the Sumas Prairie. This decision was met with near-unanimous approval, with just one note of dissent preserved in the historical record. "I am opposed to the dam because it will mean more starvation for us," said the Chief of the Sumas First Nation.
Needless to say, he was ignored and Sumas Lake no longer exists, except when the waters cannot be contained.
As another summer approaches, I'm dreaming about blueberries, and of the inconvenient abundance so typical to the Fraser Valley, an abundance made possible by exploitation and oppression.
I know that some will resist this comparison. Temporary foreign workers aren't slaves, and Black babies aren't blueberries. After all, it's obviously more significant to raise a child than to eat a bowl of fruit for breakfast. Fine. But from my perspective, it's really just a matter of degrees, and you know what they say: the blacker the berry, the sweeter the juice.
---
Pre-order 'Points of Interest' from Massy Books, Upstart & Crow, Iron Dog Books or Book Warehouse in Vancouver, from Indigo or Amazon, or wherever you buy your books.