After an unsettlingly hot late May, June-uary has returned to the coast — making it the perfect time to snuggle into a hammock with a blanket and a book.
Below, Tyeesters have gathered suggestions based on what we've been reading. You'll notice a characteristic mix of hope alongside a little doom and gloom. Whatever mood you're in, we hope you'll find a few contenders to download from the Libby app or pick up from your local bookstore.
Let us know what you're reading, and what you'd recommend, in the comments!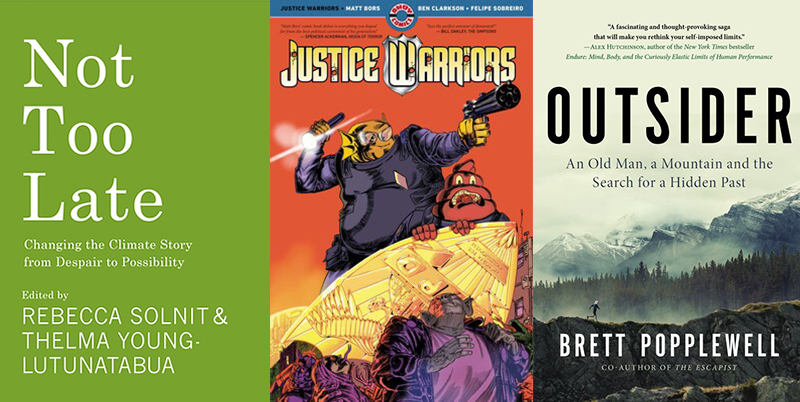 For reading when you need to see the world with fresh eyes:
Not Too Late: Changing the Climate Story from Despair to Possibility
Rebecca Solnit and Thelma Young Lutunatabua
(Haymarket Books)
Whenever you feel the creeping trails of despair winding your way into heart and soul, it's always a good idea to turn to the writing of Rebecca Solnit. More than a simple tonic, her writing is bone hard, clear as water but with an implicit faith in the resilience, endurance and goodness of people. In Not Too Late, Solnit tackles one of the biggest boogeys out there: climate breakdown.
Despair is a luxury that we do not have, so pick yourself up, dust yourself off and head out back into the fray. In continuing the struggle, Solnit is joined by a collection of equally thoughtful and engaged folks — activists, artists, organizers and ordinary people — who have put their collective shoulders to the wheel to advocate for a better way to live on this one and only planet of ours.
When you have nothing left to do but laugh:
Justice Warriors
Matt Bors and Ben Clarkson
(Ahoy Comics)
Many of the issues affecting our world don't always present simple solutions. But, as the comic book series Justice Warriors demonstrates, it can be helpful, clarifying and perhaps even energizing to poke fun at them. The very violent world of Justice Warriors — with its police force defending "the world's first perfect city" from mutants — is satirical and clearly a worse version of our own, but it is also wildly funny, visually dense and delightful to follow. And it bravely challenges a lot of our entrenched ideas about police, inequality and crime.
For those who fantasize about a life alone in the woods:
Outsider: An Old Man, a Mountain and the Search for a Hidden Past
Brett Popplewell
(HarperCollins)
There is the ordinary, the extraordinary, and then there is Dag Aabye. For decades, the infamous octagenarian has lived in an abandoned school bus in the woods of the Okanagan Valley, appearing only for a beer at a bar or at ultramarathons, for which he is one of the world's oldest competitive athletes. Popplewell plunges into Aabye's past with a keen, kind eye. It's a journey that takes him to Swedish archives and frigid peaks, to ratty sports bars and into the messy, beautiful life of the man on the mountain.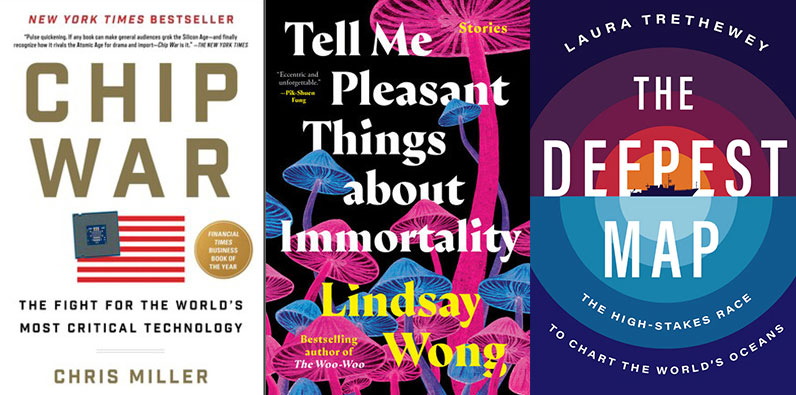 The book to read to understand how we put our lives at the mercy of chips:
Chip War: The Fight for the World's Most Critical Technology
Chris Miller
(Simon & Schuster)
Chip War by Chris Miller is a global thriller of a history book, covering everything you need to know about how we arrived at our modern age. Chip War chronicles the creation of the first integrated circuits, their mounting presence in the gadgets of our everyday lives, and the battles between countries and companies as they seek mastery of the technologies that the world has become utterly dependent on.
This epic volume is overstuffed with riveting dramas, with a cast of spies, tech geniuses, conniving capitalists and bumbling politicians. The origin stories of names like Apple, Huawei, IBM, NVIDIA, Sony, Samsung, TSMC — and their reshaping of our world — are all here. The eponymous "chip war" will bring to mind the rivalry between the U.S. and China, but Miller reveals just how incestuous and interconnected the global semiconductor industry is, setting the stage for messy conflicts in the near future.
For reading on the sunny front lawn of the Burnaby Public Library with takeout from nearby Crystal Mall:
Tell Me Pleasant Things About Immortality
Lindsay Wong
(Penguin Random House)
Lindsay Wong recently moved to Winnipeg, Manitoba, to work as an assistant professor in the University of Winnipeg's English department, but the West Coast continues to loom large in her mind. This is evident in Tell Me Pleasant Things About Immortality, Wong's recent short story collection, which takes readers on a dark-hearted surrealist journey through the food court at Burnaby's Crystal Mall, onto the shores of Wreck Beach, through residential streets of East Vancouver and into a young's person isolation in the suburban Tri-Cities.
The collection also features stories set in early China, and the dissonant geographical locations set the reader up for the sobering acknowledgement that humans have struggled with the conflicting forces of desire, duty and selfhood since the very beginning. Wong's sharp humour makes for a reading experience that surprises as much as it rings true. Through the wild surrealism and dense, immersive scenes that can feel out of this world, many of us will recognize our own family members and even ourselves in these pages.
For everyone who was glued to the unfolding news about a submarine visiting the wreckage of the Titanic:
The Deepest Map: The High-Stakes Race to Chart the World's Oceans
Laura Trethewey
(Goose Lane)
"The amount of seafloor left to map today is nearly double the size of all continents on Earth combined," writes Laura Trethewey. In The Deepest Map, she digs into why — and also how the Seabed 2030 aims to "finish a complete map of the world's seafloor by 2030," navigating wind, water, waves, sun, salt, crushing barometric pressure, freezing temperatures and inky darkness.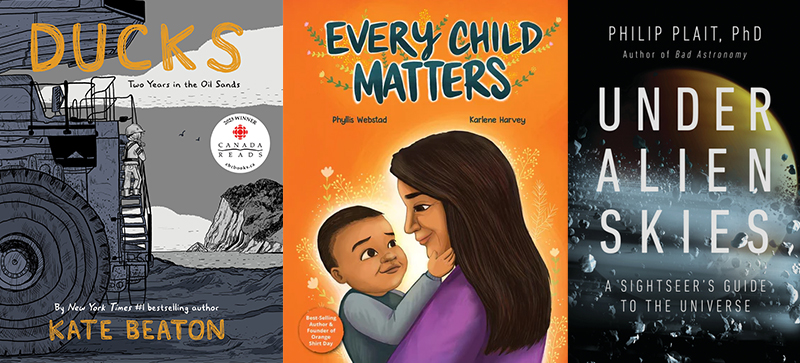 For a peek into modern Canadian life via the oilsands:
Ducks: Two Years in the Oil Sands
Kate Beaton
(Drawn & Quarterly)
Cape Breton's comic idol Kate Beaton, famous for her Hark a Vagrant comics, takes readers through her coming-of-age story about working in Alberta's oilsands to pay off her student debt. Beaton's ability to capture human expression, emotion and pain will challenge everything you thought you knew about the oilsands — regardless of if you support them or oppose them.
For everyone who reads books to kids:
Every Child Matters
Phyllis Webstad, illustrated by Karlene Harvey
(Medicine Wheel Publishing)
Orange Shirt Day founder Phyllis Webstad traces how residential schools disrupted the lives and cultures of Indigenous kids in Canada before returning to how those cultures continue today, honouring both survivors, and those who did not get to come home.
To go on a tour of the cosmos from the comfort of home:
Under Alien Skies: A Sightseer's Guide to the Universe
Philip Plait
(WW Norton)
No travel plans this summer? No problem. Strap in and prepare to be taken on a tour of the cosmos by astronomer Philip Plait — no science background or passport required. Plait combines his child-like enthusiasm of interstellar space travel and his considerable skill as a science communicator to guide audiences across the beautiful and bizarre landscapes of our universe. What would it actually look like to float across Saturn's surface and gaze up at its rings, stretching across its sunny blue skies? What weather would you check the forecast for from your home on Mars? What would sunset look like from a planet at the centre of a globular star cluster, with hundreds to millions of stars so close by that you could read by their light at night? Grab the audiobook and kick back under a clear night's sky. You won't regret it.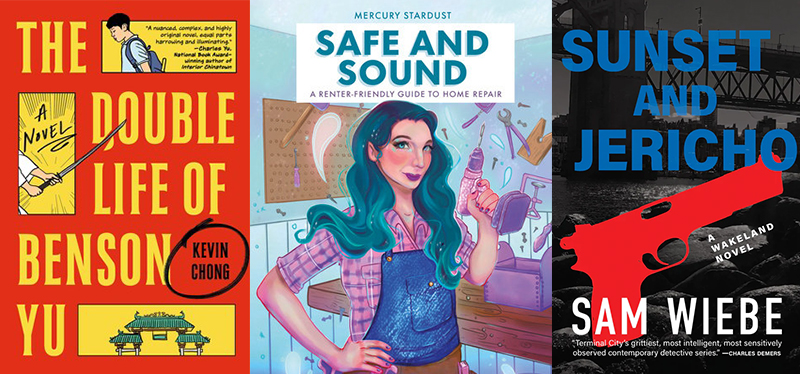 For summer 'vacation' with your family of origin:
The Double Life of Benson Yu
Kevin Chong
(Atria Books)
Kevin Chong's novels are ideal vacation reading, and not because they're breezy reads. His writing accomplishes what Chong himself appreciates about fiction: it "extracts, expands and clarifies experience," he told The Tyee on the occasion of his most recent novel's release this spring.
The Double Life of Benson Yu is a work of metafiction set in 1980s Chinatown and a contemporary suburb that resembles B.C.'s Fraser Valley. Through it, we bear witness to the generational forces that shape our past and present, and how the seeming ordinariness of everyday life deserves a closer, more empathetic look. The metafiction features larger-than-life samurai battles, but at the novel's core is a tender exploration of family, middle age and the long tail of abuse.
For everyone needing a helping hand with house maintenance:
Safe and Sound: A Renter-Friendly Guide to Home Repair
Mercury Stardust
(DK)
Mercury Stardust, also known as the Trans Handy Ma'am, is well-known for helping folks on TikTok and Instagram out with their home repair and maintenance conundrums. "There is no such thing as common sense," she writes in the intro to her book — instead, there's the reality that we all come from different backgrounds and carry differing levels of knowledge about everything from tools to fixes to vocabulary. She brings her knowledge, gleaned from 16 years in the business, alongside this approach, to craft a manual that shares how to do everything from read a lease to request a repair to re-caulk a bathtub and fix a smelly drain.
For those left heart-sick by the Vancouver housing crisis:
Sunset and Jericho
Sam Wiebe
(Harbour Publishing)
"It was February, and the wrong people were dying." We've left the darkness and drizzle of a West Coast winter behind us, but for Vancouverites who have a love-hate relationship with this unequal city, Sam Wiebe's Sunset and Jericho — the fourth instalment of his series featuring fictional private investigator Dave Wakeland — will provide deliciously cold comfort.
Wiebe writes classic noir, complete with a private eye who just can't stop looking into dark corners, even though it gets him into trouble. Wiebe uses the genre to create a portrait of this complicated city, and it's not pretty: in ripped-from-the-headlines scenes, real estate developers use public art to plaster over evictions, seedy Downtown Eastside hotel rooms contrast with West Vancouver mansions, and the restless anger of city dwellers is boiling over. As he investigates, intimidates and takes a beating in the service of truth, Wakeland wrestles with an all-too familiar question: Does Vancouver even want me anymore?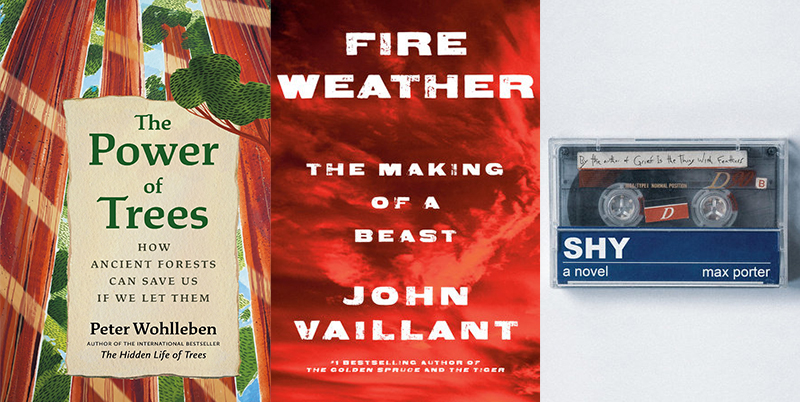 For those who want to see the forest for the trees:
The Power of Trees: How Ancient Forests Can Save Us if We Let Them
Peter Wohlleben
(Greystone Books)
German forester Peter Wohlleben made audiences around the world fall in love with forests in his 2015 book The Hidden Life of Trees. Now he's back to argue forests could be the answer to the climate crisis the world has been overlooking. Forests want the same things people do, he says. They like lots of rain, stable ground temperatures that are cool in the summer and warm in the winter and to protect themselves from extreme weather — so why are humans working so hard to cut them down, control them and replant them with monoculture plantations? Weaving personal observations and anecdotes with forest science, Wohlleben paints an optimistic picture of how we could adapt to climate change and create a better world.
For your friends remodelling their house this summer:
Fire Weather: The Making of a Beast John Vaillant
(Knopf Canada)
Excellent tips on keeping wildfire away from your door: Skip the wood-chip pathways, move the firewood away from the house, and lose the vinyl siding (firefighters call it "solid gasoline"). Then strip out all the petroleum-based fabrics and furniture, which will vaporize and explode when fire comes. Now they can read the rest of the book by poolside — it's also a first-rate thriller.
For reading while travelling with teens:
Shy
Max Porter (Penguin Random House)
Max Porter burst on the scene in 2015 with his novella Grief Is the Thing with Feathers. If he had only written this one book, it would be more than enough, but each subsequent book has proven to be a revelation, whether it's imagined death of artist Francis Bacon or Lanny, the story of an unlikely friendship and its repercussions. Shy is filled with similar bravura flourishes as Porter's earlier work: rich, raunchy, as painfully funny as it is agonizing. In Shy, the reality of a troubled young teenager living in a group home is so fully embodied, it's like inhabiting the skin of another person. The alchemy of Porter's words is nothing short of miraculous. Damn, this dude can write!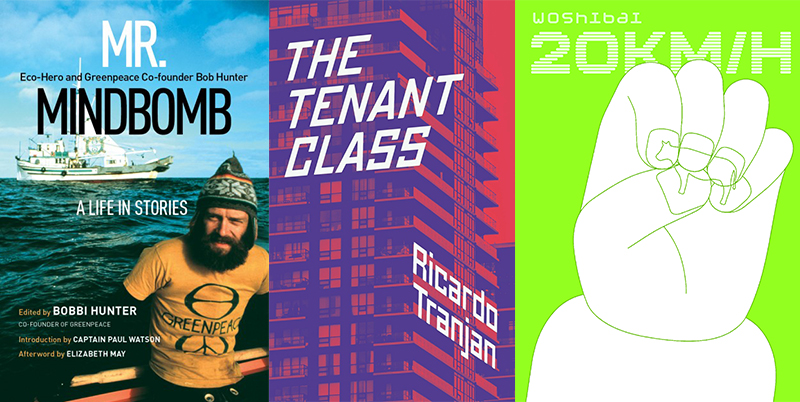 For reading while enjoying a gorgeous mountain vista:
Mr. Mindbomb: Eco-hero and Greenpeace Co-founder Bob Hunter
Edited by Bobbi Hunter
(Rocky Mountain Books)
Filled with just about every possible permutation of the personal and the political, Mr. Mindbomb is also a searing reminder of how much a single human being can accomplish if they're committed, thoughtful and fearless. The people who knew Bob Hunter best, friends, partners and colleagues remember and recall the moments, both big and small, that made up a lifetime of activism. The list of contributors — everyone from Paul Watson to Moses Znaimer — is remarkable, but what is even more compelling is the vividness and immediacy of people's individual memories. Hunter died in 2005, but in Mr. Mindbomb, he lives on, a gonzo, garrulous presence, ready, willing and eager to fight for the natural world and all of its inhabitants.
For everyone thinking the rent is too damn high:
The Tenant Class
Ricardo Tranjan
(Between the Lines)
Ricardo Tranjan writes that the challenge for the housing "crisis" in Canada is not to find solutions, but rather, to "enact the solutions we know work: move as much provision as possible outside of private markets; tightly regulate the remaining market provision; organize tenants to ensure quality and access." Even calling it a housing crisis, Tranjan says, is off-base. It's rather a situation that benefits some, namely those making good money squeezing tenants for all they're worth, at the expense of others, namely tenants. Tranjan, a senior researcher with the Canadian Centre for Policy Alternatives and the former manager of the Toronto Poverty Reduction Strategy, offers a fresh perspective on the situation. His sharp analysis — alongside stories of tenants organizing and fighting back — provides hope for renters in Canada.
For reading when words are too much:
20KM/H
Woshibai
(Drawn & Quarterly)
Sometimes words aren't needed. This is the case in graphic artist Woshibai's new work from Montreal's mighty Drawn & Quarterly. It is hard to describe the surreal universe that the artist has created without indulging in more of those pesky words, but suffice to say, it is a curious, endlessly unpredictable place. Certain things pop up with regularity throughout: butterflies, planets, wayward clouds, and always bounteous amounts of utter surprise. If you need a break from endless verbiage and simply want to float through a series of sparely beautiful drawings that will effectively turn you on your head and flip your world inside and out, this is the book for you.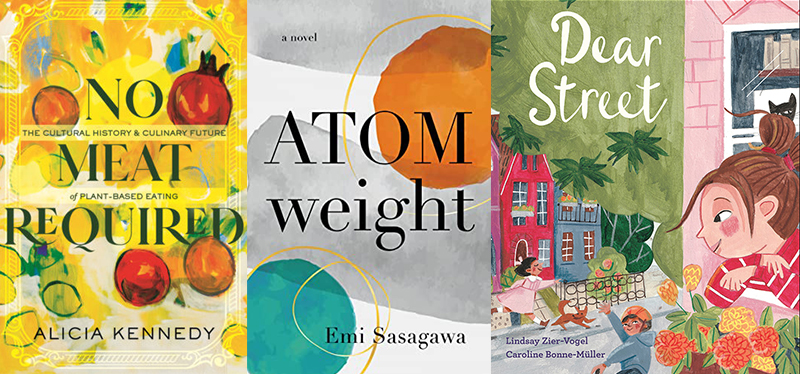 For everyone who eats:
No Meat Required: The Cultural History and Culinary Future of Plant-Based Eating
Alicia Kennedy
(Beacon Press)
"The land… can provide. We just have a distribution problem, as well as an obsession with creating new things where the old could suffice." Popular food culture writer Alicia Kennedy's first book brings her nuanced approach to the retooling of diets and agriculture to rely less on meat and capitalism, and more on the abundance we can find when we make room for functioning, healthy ecosystems appropriate to place. The way forward is not colonial veganism, nor fears about human "overpopulation," nor is it increasingly mimetic fake meat.
For reading as you prepare to reunite with your long-lost friends from college:
Atomweight
Emi Sasagawa
(Tidewater Press)
Our early 20s are often fraught with all manner of anxieties, mishaps and messy romances, but they are also years that shape us in lasting ways. Vancouver author Emi Sasagawa's debut novel, Atomweight, is a coming-of-age story that is both a love letter to queer youth and a moving reminder of the ways in which we underestimate ourselves. The novel follows Aki through her first year of university at the London School of Economics, during which she comes out to her conservative transracial family while navigating new relationships that bring her to startling heights of both connection and isolation.
Through it all, she starts engaging in a dark, secretive new hobby: fist fights with strangers. The twin forces of violence and sex propel the novel to surprising places that invite readers to consider their own power and how they wield it. Let this book be an inspiration to aspiring writers everywhere: Sasagawa, now an award-winning journalist and prominent decision-making presence in the UBC faculty of arts, is a former Tyee intern.
For kids building community in their neighbourhoods:
Dear Street
Lindsay Zier-Vogel, illustrated by Caroline Bonne-Müller
(Kids Can Press)
Alice, a bright-spirited kid, likes to write letters to her neighbourhood for her neighbours and visitors to find. Her letters often cheer up someone feeling a bit grumbly. Then one day when she wakes up and nothing seems to be going quite her way, she finds a letter of her own.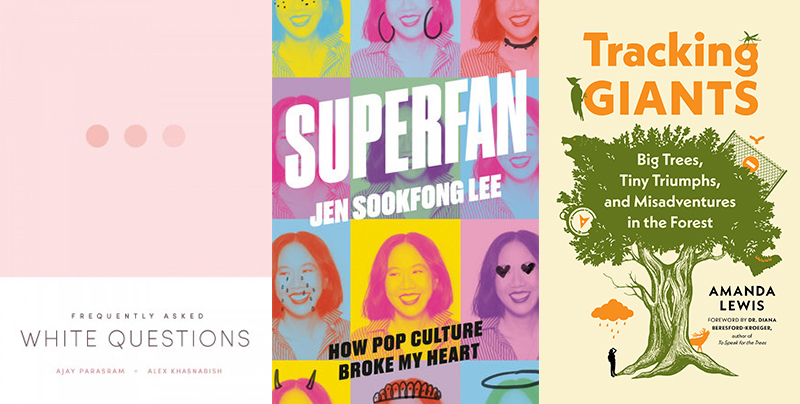 For BIPOC folks and their friends as they prepare for a holiday in, um, a non-urban centre:
Frequently Asked White Questions
Ajay Parasram and Alex Khasnabish
(Fernwood Publishing)
When Halifax-based academics Alex Khasnabish and Ajay Parasram started hosting a workshop series called "Safe Space for White Questions," the two were aware of the challenges they were up against. "White people have been organized over several generations to ignore race, to be 'colourblind,'" they write in Frequently Asked White Questions, the book that emerged from the series.
"People who are not white have also been told to forget about race, given the great racial equality battles of the 20th century are allegedly over." But these were among the reasons why they created a discussion space for white folks to raise the questions they have previously been uncomfortable asking about race. The result was a productive series of public discussions and a slick new book that explores 10 core questions that were most often asked about race in their workshops, including "How can I make anti-racism part of my family life?" and "How can I talk about social justice without turning people off?" With humour and a sense of joyfulness, Parasram and Khasnabish approach the questions with humility, nuance and incisiveness — something we can all learn from as we move through an increasingly polarizing world.
For a parent in the thick of it staycationing, taking care of the kids, and missing their former self:
Superfan: How Pop Culture Broke My Heart
Jen Sookfong Lee
(McClelland & Stewart)
Vancouver author Jen Sookfong Lee's memoir takes the author's relationship with pop culture as its organizing premise, but it's about so much more than that. The book takes bold, often moving turns to explore Lee's relationship with race, gender, sexuality and family, and how the experiences of each are intertwined. Lee's own explorations serve as models and invitations for the reader to turn a similar intersectional lens onto their own lives. Told through an intelligent, compassionate voice for which Lee's fiction has been loved (The Conjoined, The End of East) Superfan surprises in tremendous ways. It brings the darker, more isolating edges of our experiences closer to the surface, and in so doing, a sense of redemption emerges. This is core to the process of forgiving yourself and stepping towards a new horizon.
For everyone who finds big trees a breath of fresh air:
Tracking Giants: Big Trees, Tiny Triumphs and Misadventures in the Forest
Amanda Lewis
(Greystone Books)
Award-winning book editor Amanda Lewis sets off to visit all of B.C.'s "Champion" big trees — that is, the largest examples of their species documented in the BC BigTree Registry. In part, the project is a way to reconnect with her surroundings; when it becomes clear that her checklist approach to visiting the forest is replicating some of the very habits that drove her outside in the first place, she realizes she needs to reframe her search, embracing the nuances of the journey and taking the challenge as a way to deepen community.

For punks and people living with mental health conditions:
Scream Therapy: A Punk Journey through Mental Health
Jason Schreurs
(Self-published)
In October 2018, Jason Schreurs was diagnosed bipolar. He now volunteers as a bipolar support group facilitator for the Mood Disorders Association of BC, a health coach for Self-Management BC and a crisis line supporter for Kids Help Phone. He's also a long-time punk, and host of the podcast Scream Therapy. His first book explores punk rock as a therapeutic tool and support for people living with mental health conditions.
For everyone planning a hike with their kid:
The Boy and the Mountain: A Father, His Son and a Journey of Discovery
Torbjørn Ekelund
(Greystone Books)
The summer after Torbjørn Ekelund's child turns seven, he decides to take him on the longest overnight camping trip the duo has been on. He chooses their destination, Skrim, based on the fact it's a "a small mountain region for a small boy." But also because it's the site where a six-year-old vanished, never to again be found, in 1894. Ekelund feels a protective worry about his own children; he feels drawn to visit Skrim, to visit the place this boy went missing so long ago. Even more than the journey itself, it's Ekelund's empathic perspective, the way he sees the world from his son's perspective but the way his son is also a mystery to him, that fuels this memoir.
For everyone struggling to get adequate health care for their endometriosis:
Bleed: Destroying Myths and Misogyny in Endometriosis Care
Tracey Lindeman
(ECW Press)
Tracey Lindeman's Bleed: Destroying Myths and Misogyny in Endometriosis Care is a salve to the isolation and blame other endometriosis patients face on top of their pain. Part memoir and part reported non-fiction, Bleed chronicles a diverse array of patients' fights for relief and their shared struggles against the entrenched medical misogyny, racism and fatphobia detailed in Lindeman's extensive research. From gynecology's roots in the violation of enslaved Black women to funding structures that disincentivize family doctors and OB/GYNs from treating endo, Lindeman argues that every facet of the medical system is working against patients' goals of a pain-free life.
For reading when you're ready to argue:
Monsters: A Fan's Dilemma
Claire Dederer
(Knopf)
Read this book so we can fight about it! Thanks!
With contributions from andrea bennett, Christopher Cheung, Michelle Gamage, Crawford Kilian, Olamide Olaniyan, Jen St. Denis, Zak Vescera, Jackie Wong and Dorothy Woodend.