At the Vancouver Public Library, surrounded by eager young students, Cree-Metis-Scottish writer Monique Gray Smith's heart had reason to be happy. She was there to announce that her literary classic, My Heart Fills With Happiness, will soon be in the little hands of half a million Grade 1 students across Canada.
Originally published in 2016 as a hardcover baby book, many Canadians found My Heart Fills With Happiness useful for teaching little ones about the simple joys in life, and so did the country's largest children's literacy advocacy group.
That's why the Canadian Children's Book Centre chose the title for its annual TD Grade One Book Giveaway. But this year marks the first time the centre's chosen book is written in an Indigenous language — Plains Cree, one of the most widely-spoken First Nations languages in Canada.
My Heart Fills With Happiness encourages children to reflect on what makes them happy by thinking about elements of Indigenous culture, and its success is a milestone for Indigenous representation in Canadian publishing. The books to be gifted to students are dual language, featuring English or French alongside the Cree words.
Smith said the inspiration for the story came when she saw "a grandmother's love for a grandchild in the head start program at Future 4 Nations in Mission, B.C."
She described how she "saw the grandchild's whole body change" with her grandmother's attention. Smith thought about it for a couple of weeks, and eventually the whole book came to her. She wrote as fast as she could before it left her mind.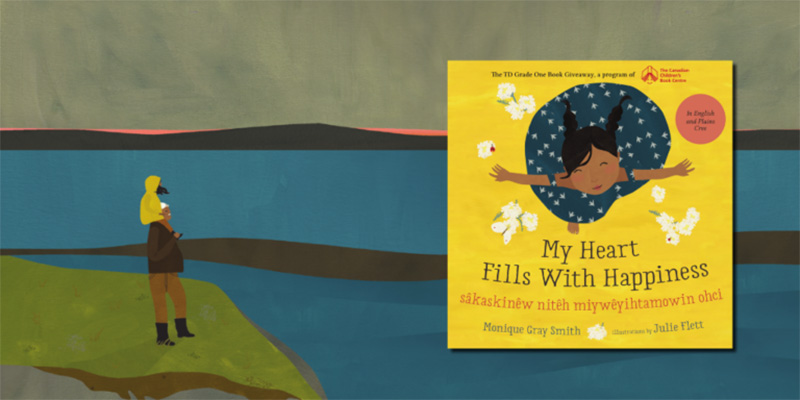 "I think that the message around happiness in these times that we live in is one that, not only little people, but not so little people, are craving," explained Smith.
Rose Vespa, the children book centre's executive director, pointed out how illustrator Julie Flett's images are the "perfect" complement to Smith's message.
"It is amazing that something as fundamental as words on paper can bring us so much joy; even the simplest story can stay with us long after its last page," she wrote in a preface to the book.
Publisher Andrew Wooldridge of Orca Book Publishers said it was one of the most satisfying books his company has ever released.
"We've sold rights to a couple of different countries, and it's done very well," he said. Wooldridge also thinks that's because of its simple, but meaningful message.
"Being able to do this in Cree has been really important for us, and that we are able to get it out there even more widely so people can see it in the language that Monique identifies with," he added.
Acknowledging there are many other Indigenous languages in Canada, the publisher offered to make room on each page for families to add additional languages.
Gray Smith said that only "one per cent of the books in North America in 2018 had children who were Indigenous in them." That's why she and illustrator Flett agreed to be part of the TD Bank-sponsored giveaway.
"I think it's very important that children see themselves on the pages, and that non-Indigenous children see us on the pages, too," Smith said.
Keetah McBeath, TD's regional manager for Indigenous Banking in the Pacific region, said it was great to see a proud Indigenous woman being creative and presenting and sharing her mind with the children at the library event.
TD Bank Group has sponsored the giveaway since 2000. Since then, 9.5 million books have been distributed across Canada. This year, a braille edition of the book is also available for the first time. Schools interested in the program should contact their school board for more information.*
A local elder opened the event with a song and blessing, expressing gratitude for the project. His song, which honours his people's ancestors, was the feature part of the event, recognizing a milestone in children's literature in Canada.
VPL chief librarian Christina de Castell said, "This is something that has taken too long to change in books throughout Canada; that people haven't seen themselves reflected in all the books in the library."
Of the book and how it relates to today's material culture, Smith said, "[Things] might make us happy at the moment, but it's about relationships; and this book talks about the relationships with us as human beings, the relationship to the land, to our culture, to our dancing, to the songs, and now, in this way, woven in our language."
"And I think that's very powerful."
*Story updated at 11 a.m. on Sept. 26 with information on how interested schools can participate in the giveaway program.