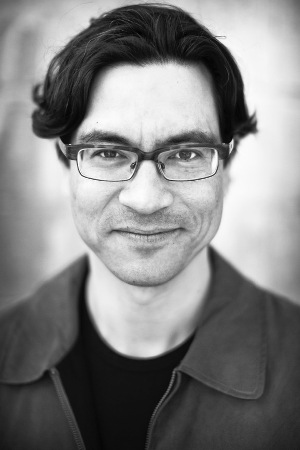 The Shoe Boy: A Trapline Memoir
Duncan McCue
Nonvella (2016)
[Editor's note: In his new memoir, journalist Duncan McCue recalls his experiences as a city boy struggling to discover his Indigenous identity, and tells of a special and formative five-month trip he spent as a teenager on a trapline in northern Quebec. While McCue now says he's "no longer haunted by the question of cultural duality that nagged me as a teen," the process of writing the memoir prompted strong reflections: "What writing the book reminded me is how pervasive and damaging colonial constructs of Indian-ness are on the impressionable minds of Indigenous youth," he says. We're proud to share an excerpt of The Shoe Boy with Tyee readers below.]
After we arrived in Chisasibi, my father and I were promptly invited on hunting trips, where I was introduced to my first shotgun. My dad presented it to me – a 16-gauge from his own youth. To load a shell, I had to break open the barrel, then break it open again to discharge the empty casing. This antique astonished the Cree men. They all sported the latest in hunting technology – shiny semi-automatic Winchester and Remington 12-gauges that held several shells at once and fired as rapidly as they could squeeze the trigger.
They made a big deal of passing around my 16-gauge, which apparently reminded them fondly of their grandfathers and great-grandfathers.
When it came time to practice, everyone reminded me to "lean into it." I squinted down the barrel at the soda pop and beer can targets, steadied my breathing, and gently pulled the trigger. The sudden explosion in my ears caught me completely off guard. That shock was nothing compared to the wallop of pain as the gun recoiled into my unsuspecting shoulder. Shooting isn't as easy as cowboys and Indians make it look in the movies. Shooting a moving object – one that is flesh-and-blood and doing its damndest to get away from you – proved to be even more difficult.
Naturally, my first hunt with the Cree was for geese. Millions of geese and ducks use the coastline of James Bay to rest and feed during their annual migration, and the Cree had long planned their own movements around goose hunting grounds. To this day, "goose break" is pencilled into every Cree calendar: those periods of time when geese flock north in the spring and south in the fall and everyone heads to family hunting camps, leaving the village virtually deserted.
The camp was a few hours drive from Chisasibi. We spent the better part of two weeks in the bush, three families sleeping in two big white canvas maahkii. I was surprised to discover goose hunting is a stationary affair. On my first day, after spending hours sitting in a blind made of willow and tamarack, looking out at a muddy shallow pond half-covered in ice and decorated with wooden and plastic decoys, a dozen geese appeared suddenly on the horizon.
The men began calling to them. When it became clear the flock was attracted to our pond, the hunters went quiet, shushing me. We all crouched, still, no one moving. I held my breath, my head tucked into the spruce boughs on the ground. I kept one eye looking up, hoping to catch a glimpse of the geese, now circling above us. All I could see were clouds, silently floating past in the grey-blue sky. But I heard the geese. The wind whistled through their flight feathers, as they glided over top of the blinds, ready to touch down on water. Then, the jolting BLAM! of one shotgun. The men around me sprang to life. BLAM! BLAM! BLAM! BLAM! BLAM! I leapt up like a jack-in-the-box, to see geese wheeling dramatically in the air, honking, pumping their powerful wings to escape. BLAM! BLAM! BLAM! I pointed my gun at the nearest goose, only to watch the bird crumple in mid-air and plummet to the earth, shot by another hunter. BLAM! BLAM! BLAM! I attempted to refocus on another goose. The same thing happened. BLAM! BLAM! As fast as they had arrived, what remained of the flock retreated. The men happily waded into the pond, to gather their kill. I hadn't even fired one shot.
This scene repeated itself daily for over week, until – after much trial-and-error – I finally managed to kill a goose. I figured it took pity on me, because it landed in the pond so close to me I could have whacked it with a stick. It was my only kill that year. But it was a significant achievement, not only to me, but also to the family who hosted us. A boy's first goose is a milestone in Cree life. A feast was held in my honour. My goose was cooked over the fire, and everyone in camp ate a piece. I was now a provider. While I harboured serious doubts about my abilities as a hunter, the feast made me feel connected to something older and larger than myself.
Still, my parents worried about my schooling. After spending only a year in the North, they asked me if I was interested in attending a prestigious boys boarding school in the South. It was a difficult decision for them. The annual tuition cost as much as a new car, and I would be living over fifteen hundred kilometres away from home. But they concluded my hunting grounds should be territory more familiar to me: textbooks and classrooms. James Bay became a place I visited during Christmas, March break, and summer holidays.
Four years later, high school graduation imminent, I was mulling over the merits of various universities, when my dad asked if I'd like to take a year off school to go out on a trapline. I could smell the wood smoke and taste the dark wild meat. I said yes.
* * *
I was 17 years old, that autumn I went to live in the bush with Robbie Matthew Sr. and his family.
Amongst both Indians and whites, I'd spent my early adolescence feeling perpetually on the peripheries of the teenage tribe, grimly aware that I was a nerd. At James Bay Eeyou School, older and brawnier classmates regularly ridiculed me, sometimes using me as a punching bag if words weren't enough to bring me to tears. At Lakefield College – a private school where most of my peers seemed destined at birth to win spots in highly competitive commerce or pre-med or international studies programs – I skipped a grade, so I was once again younger and smaller than my companions. My regular appearance on the Honour Roll earned me an exemption from the drudgery of nightly study hall, but it did little to advance my cause in the battlegrounds of hallway and dressing room, where your position in the pecking order of an all-boys school is truly conferred.
Despite my obliviousness to fashion and large-rimmed glasses, my exit from geekhood seemed imminent the year I finished high school, thanks in large part to my girlfriend.
Sydney was cute, perky, and had regular access to her mother's car. We met soon after I graduated – I was spending the summer piloting ferryboats to our island reserve, she was teaching swimming to little kids at the government dock. It stunned me that she had not only taken interest in a poetry-writing wallflower, but also let me go all the way. I was no longer a virgin. I was also smitten. But as much as walking beside her along the lakeshore holding her hand did wonders for my confidence, I also knew I couldn't reciprocate when this white girl whispered in my ear, "I love you."
My reticence was due in large part to the duality that nagged me my whole life: I always felt, somehow, I wasn't Native enough.
To my white girlfriend, my Native-ness was a curiosity, maybe an attraction. To my white classmates, my Native-ness wasn't even on the radar. As far as they were concerned, I didn't talk, dress or act like an Indian.
On the flip side, my upbringing off-reserve set me apart from my own First Nation. I wasn't totally disconnected: I visited my grandparents for idyllic stretches of summer throughout my childhood. But when I accompanied them to community gatherings, whether it be funerals or elections or regatta days, I was a visitor – connected by blood to a large web of people I didn't know and whose names I couldn't keep track of. This place where so much of my family history was rooted was distant to me.
When we moved north, I was the lonely kid hunched over the keyboard of a Commodore 64 computer or slouched in the corner of the library where my mother worked. There were no Natives to be found in such places. Was this the natural habitat of my white-ness?
The one place I always felt at peace – freed from paralyzing nerdiness or confusing cultural duality – was outdoors. Navigating a boat on the lake, skating on a pond, sitting on a dock under a night sky, I felt more harmony than could be found in books. The pleasure I experienced in natural settings made me terribly envious of my Cree peers. They possessed knowledge and confidence I did not – to shoot a goose, set a snare, build a tent – to survive on the land. I wanted that. I wanted to be able to read the land as assuredly as I could delve into Shakespeare's sonnets.
Upon graduation, I knew I was at the top of the heap – at least, when it came to developing thesis statements or stringing together words. And, for the first time in my life, I had a girl. A beautiful one. Against all odds, "cool" seemed tantalizingly within reach. Months on a trapline in the wilds of James Bay promised deliverance from the self-doubts that nagged me, even if I did worry about not having a clue what I was going to be doing out there.