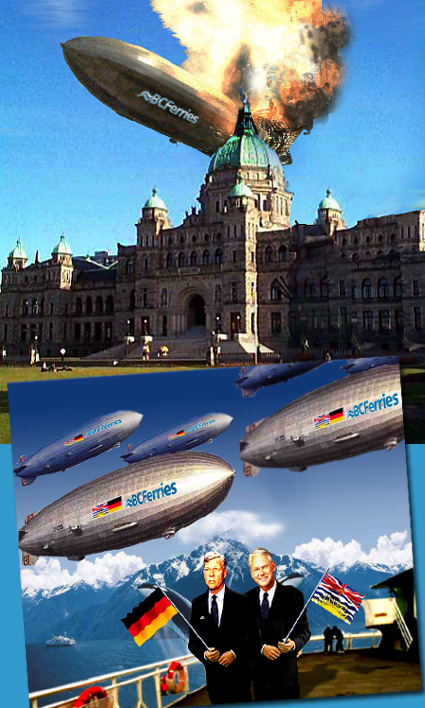 VICTORIA - B.C. Ferries has made it official. BC's six new Air Ferries will be built in Germany despite a vigorous campaign to keep the work in B.C.
Opponents say the deal is full of hot air, and they're right. That's because the new BC Airy Ferries will be lighter than air.
The B.C. Ferries Board of Directors has given its approval to a $325-million contract to the Hindenburg Airshipyard – with each vessel costing about $108 million.
"These proud and glorious flying machines, will be as swift as greyhounds and as tough as Krupp steel!" enthused BC Ferries President and CEO David Hahn announced the new type of B.C. Airy Ferry deal which will save a reported $160 million.
Hindenburg, a German firm, received the contract despite a disastrous test flight in Victoria earlier this month.
"Despite the loss of humanities as the flaming airship went down over the BC legislature, I think it's the right thing for the province for us to have made this decision," said Hahn, clutching the flag of the Fatherland.
He says the German deal is still better – by almost $80 million – even if B.C. Ferries doesn't get a tax waiver from Ottawa. And he says that gap is "too wide to ignore," and "will lead to lower fares over time and the noble eagles demonstrate, our rightful dominance in the air and sea to all who would challenge us."
Hahn says the first new "BC Ferrigible" will arrive in B.C. in 2007 with five more scheduled for completion in 2008, when they will begin flying between a mooring mass in Horseshoe Bay, which will be renamed New Berlin and New Munichsberg, formerly Nanaimo.
Paul Myers' 'Little Photoshops of Horrors' appears regularly on The Tyee.