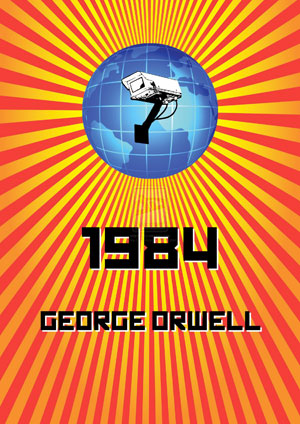 In mid-July, weeks after Edward Snowden had spilled the beans about NSA monitoring us all, I saw that Nineteen Eighty-Four was ranked #35 in books at Amazon. It was also #6 in literary fiction and #7 in science fiction and fantasy. Those are good numbers for a novel first published in 1949, before most of its current readers (and their parents) had been born.
Snowden himself at this writing is still somewhere inside Sheremetyevo Airport near Moscow, doing a good imitation of Schrodinger's cat -- neither alive nor dead, free nor captive, and now asking for asylum in Russia. But Orwell's novel is very much alive, and its revival is an encouraging sign.
The novel appeared in the early years of the Cold War, and was instantly welcomed an attack on the Soviets. I well recall the 1949 Life Magazine issue that ran a kind of graphic-novel digest of Nineteen Eighty-Four, which showed poor Winston Smith trapped in a Soviet-style future.
Orwell himself found his kind of satire widely misunderstood; he had to patiently explain that he wasn't attacking the British Labour government, though his description of Winston's world sounds a lot like Britain late in World War II, and like his own life as a BBC wartime journalist.
The Western media at mid-century saw Nineteen Eighty-Four as a useful stick for beating communist dogs, and the communist dogs themselves saw it the same way. Teaching in China in 1983, I found a copy of the same paperback edition I'd read 30 years earlier, in the faculty library of the school where I was teaching.
I was sorely tempted to put an excerpt on my students' reading list, but I worried that they would get in trouble for reading it. One of them (now running an ad agency in Shanghai and looking for a good Ivy League school for his son) told me then that students were aware of the novel as anti-communist, but none of them had read it.
So I settled for a safely anti-capitalist chapter from Catch-22, where Milo Minderbinder contracts with the Luftwaffe to bomb his own base "because everyone has a share." My students were safely baffled by this insight into American culture.
Then my Chinese colleagues came to me for advice on Orwell's "Politics and the English Language," a far more direct and dangerous attack on the corruption of political language, which they were teaching to the students. Clearly, China was advancing a lot faster than I was.
Winston as stooge
As a grad student in the early 1970s, I'd run across just one review of Nineteen Eighty-Four that agreed with something I'd discovered on my own. It was in some 1949 Labour newspaper, and it pointed out that Winston Smith is a stooge from page 1. He is not Julia's noble lover and a tragic revolutionary hero, destroyed by a vicious tyranny. He was a creepy little kid who deserted his family after he stole chocolate, and he's drifted into the Outer Party just to make a living.
What's more, his supposed revolt against Big Brother is staged by O'Brien, who has used Winston's telescreen to plant the seeds of dissent in Winston's head. It is O'Brien who tells Winston, "We will meet in the place where there is no darkness," and who plants the Pavlovian wish to go into the antique shop to buy the beautiful, dangerous diary where Winston writes the thoughts that will doom him.
This was a remarkable insight, even if Orwell had swiped bits of it from Huxley's Brave New World, where kids sleep with a voice murmuring in their ears: "I'm glad I'm a Beta." In effect, Orwell was saying that we are vulnerable to attack from the mass media through our subconscious -- at least once we've been deprived of the power of rational thought, as Winston has been. Worse yet, those with power will use it only as a game they play with us, exploiting our deepest needs and goading us into destroying ourselves.
Those now reading Nineteen Eighty-Four for the first time (or the first time since their teens) must be struck by how much Orwell got right: the sudden conversion of allies into enemies and vice versa (Saddam Hussein, Osama Bin Laden), the bugging of everywhere, helicopters monitoring the citizens as drones will soon monitor us. He didn't realize that an atmosphere of endless war could be better sustained by a high-consumption society, while its members could still be whipped into a frenzy against any desired enemy. But his insights into the state perversion of language, Newspeak, stand fully vindicated by events.
The endless war for resources
Orwell also interrupts his narrative to let Winston read "The Theory and Practice of Oligarchical Collectivism," by the arch-enemy Emmanuel Goldstein. Seen in hindsight, Goldstein's analysis of world politics since 1945 is startlingly accurate in its vision of two or three superpowers endlessly competing for control of key resources in places like central Asia and Africa.
No sooner has he understood his society through Goldstein than Winston is arrested. Taken to the Ministry of Love, he is broken down and rebuilt as a man who loves Big Brother even though he knows as some point he will be executed. He has no chance of alerting his fellow-citizens to what he's learned, and certainly no chance of escape.
Snowden, of course, knows the system very well and took the opportunity to blow the whistle while maximizing his chances of being heard and of escaping punishment. But another English writer, Edward Gibbon, may have foreseen how difficult escape can be from an all-powerful state.
In The Decline and Fall of the Roman Empire, Gibbon observes that 18th-century Europe with its sovereign nations offered dissidents freedom at the price of exile.
"The sacrifice of an obnoxious fugitive"
"But the empire of the Romans filled the world," Gibbon tells us, "and when that empire fell into the hands of a single person, the world became a safe and dreary prison for his enemies. The slave of Imperial despotism, whether he was condemned to drag his gilded chain in Rome and the senate, or the frozen banks of the Danube, expected his fate in silent despair. To resist was fatal, and it was impossible to fly. On every side he was encompassed with a vast extent of sea and land, which he could never hope to traverse without being discovered, seized, and restored to his irritated master.
"Beyond the frontiers, his anxious view could discover nothing except the ocean, inhospitable deserts, hostile tribes of barbarians, of fierce manners and unknown language, or dependent kings, who would gladly purchase the emperor's protection by the sacrifice of an obnoxious fugitive."
We've seen something similar even here in Canada. Forty years ago we welcomed U.S. draft dodgers and deserters; today's American deserters, caught up in the same endless war Goldstein foretold, are promptly returned to the empire.
Snowden, today's most obnoxious fugitive, seems to have understood his prospects when he chose to run first to Hong Kong and then to Moscow. If nothing else, he's escaped punishment longer than a less-sophisticated whistleblower might have.
Whether he remains in exile or is eventually restored to his irritated master, Snowden's personal fate isn't the issue. Every citizen of a democracy could conceivably face the same predicament: If you know something is terribly wrong with your country, do you protest, or do you submit?
For Winston Smith, the question is irrelevant because he's never questioned the status quo before. He is morally bankrupt long before he tells O'Brien he will commit any crime to overthrow Big Brother.
But how morally solvent are we? If we know something is wrong, do we blow the whistle or just go along with the rigged game? That's the question that Edward Snowden has posed to us, and we are wise to consult with George Orwell and Edward Gibbon before we answer him.