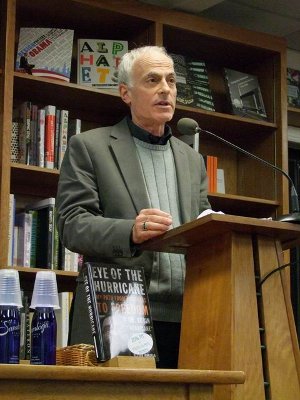 Life Without
Ken Klonsky
Quattro Books (2012)
Two wrongful conviction cases have recently been in the spotlight in the news, with the B.C. case of Ivan Henry who is suing the government for compensation for his wrongful conviction and 27 year imprisonment for sexual assault, and the Ontario case of Jack Salmon who is seeking to reopen or review his murder conviction 40 years after the fact.
Ivan Henry had been identified in a police line-up while in a chokehold, and had represented himself at trial while suffering a mental disorder. In Jack Salmon's case, three top medical experts agreed that the original pathologist at trial had erred, and that Salmon's wife had died from a stroke and fall.
Activist Ken Klonsky's new book of fiction, the title of which refers to the shortened term for "life without the possibility of parole," depicts how miscarriages of justice like this can occur.
Informed by Klonsky's work advocating on behalf of wrongly convicted prisoners since 2004, Life Without richly details the police interrogation process, the Kafkaesque absurdities of the legal and penal systems, and the desperate life of a man who struggles to retain his sanity, humanity and a sense of hope in the face of the brutality of prison society.
The novella was influenced by Vladimir Nabokov's Invitation to a Beheading, which "also contains the pointless absurdity and the sense of a bad dream that characterizes the individual caught up with the justice/penal system," Klonsky noted in an email interview.
As in the Jack Salmon case, the protagonist in Life Without is accused of murdering his wife. Found with blood on his hands at the scene of his wife's murder and with no other apparent suspects, the main character, Joel Ascher, is tricked by police into making a false confession.
It's a horrible scenario Klonsky has made a point of studying and understanding over the years.
"Most false confessions are made by teens susceptible to violent threats and uneducated people who do not know their rights," Klonsky stated. "Confessions are very persuasive to a jury because the average person cannot understand why an individual would confess to something they haven't done. The average person, however, has not been interrogated by the police."
During the trial in the novella, a forensic psychiatrist provides a damning expert testimony against Ascher which persuades the jury of his guilt and leads to his conviction. Klonsky noted that the inappropriate reliance upon expert and forensic testimony in court has been a recurring problem in the justice system, some of the most appalling examples having been brought to light by Ontario's Goudge inquiry.
That report, by Commissioner Goudge in 2008, detailed 20 cases during a 10-year period where pediatric pathologist Dr. Charles Randal Smith made egregious errors in several high profile child murders, leading to questionable conclusions of criminal wrongdoing -- 13 of which directly led to wrongful convictions that ruined lives and destroyed families. Some of the children of those wrongfully accused were put into foster care or given up for adoption.
Working with the Hurricane
Asked about how he became involved in the cause of the wrongfully convicted, Klonsky described his intense response to the Norman Jewison 1999 film Hurricane based on the life of Rubin Carter, a famous African-American middle weight prizefighter convicted of a triple homicide who was later exonerated.
After taking his students to see the film, Klonsky invited Carter to speak to his English class. By that time, Carter had relocated from the U.S. to live in Toronto, and had headed the Association in Defence of the Wrongly Convicted (AIDWYC), which became involved in several high profile Canadian cases including Guy Paul Morin, David Milgaard, Donald Marshall, Stephen Truscott and Robert Baltovich, among others.
Klonsky interviewed Carter for The Sun Magazine in 2003, which led to their collaboration on a book, Eye of the Hurricane: My path from darkness to freedom, published last year by Chicago Review Press.
According to Klonsky, "The whole experience had an otherworldly feeling, that some force or other had driven us together for the purpose of writing a book together about Carter's philosophy and the life experience that led him to those beliefs. The act of interviewing him and writing the book was, for me, vocationally and spiritually transforming."
When Carter resigned from AIDWYC, Klonsky became involved in advocacy work through Carter's new organization, Innocence International.
Klonsky has visited three prisons, Eastern Correctional Facility in Napanoch, New York, Arthur Kill Correctional Institute on Staten Island and Washington State Reformatory in Monroe. While at Monroe, Klonsky helped run a book club for those sentenced to life imprisonment.
"Their stories, horrendous as they are, still do not take away the humanity of the teller," Klonsky said. "They are, many of them, intelligent human beings, some who had high positions, a business executive, a commander of a nuclear submarine, and who made a terrible mistake that ruined many lives. In that book club, we took up Thucydides, Nabokov, David Foster Wallace and many other fine writers. But such activities are a dead end. Life without parole as a sentence destroys all hope and any good that a person might be able to do on the outside.... My view of prisons is that some people have to be taken off the street for the good of society. Prisons are a necessary evil. But many people in prison do not belong there, and the cost of unnecessary incarceration for non-violent crime cannot be justified for any reason."
When discussing the long journey it takes for a prisoner to overturn a wrongful conviction, Klonsky remarked, "By the time many of these people are released with an empty apology, most of the people involved in the conviction have moved on or retired. And, of course, the real murderer or rapist is never found."
Yardstick for justice
The 2011 report of the Federal/Provincial/Territorial Heads of Prosecution Subcommittee on the Prevention of Wrongful Convictions aptly contains a quote from the International Commission of Jurists: "The manner in which a society concerns itself with persons who may have been wrongful convicted and imprisoned must be one of the yardsticks by which civilization is measured."
The report raises concern that fiscal restraint and pressures on the justice system will affect its ability to be vigilant against further miscarriages of justice.
With the passage this past March of the federal omnibus crime legislation that increases mandatory minimum sentences and removes conditional sentences, the termination of Kingston, Ontario's longstanding prison farm, and the government's plan to spend $2 billion over the next five years to build more prisons to hold an estimated additional 2,700 prisoners resulting from the stiffer sentences (despite declining crime rates), these backward steps are bound to have social ramifications beyond Canadian prisons and prisoners themselves.
Asked to comment on the federal government's current policies, Klonsky stated that Prime Minister Stephen Harper's crime legislation, which will increase prison populations, shows that the Canadian legal system can be just as punitive as the American system.
"Although Life Without takes place in New York, the move to privatize prisons and increase prison populations (in Canada) will force our system to take on the characteristics of the American system," he wrote.
"Is a prison 'industry' what Canadians really want? Do we want a return to the death penalty? I hope not."