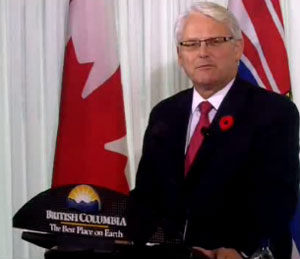 Premier Christy Clark told reporters that she doesn't intend to read Martyn Brown's e-book. If she doesn't, she might be one of the only delegates to the BC Liberal convention in October not to read the book. Martyn Brown might not be a household name, but anyone closely involved in B.C. politics knows who he is, Gordon Campbell's long-serving chief of staff and BC Liberal campaign director for 2001, 2005 and 2009. Brown would be on a first name basis with most of Premier Clark's caucus, constituency presidents and other convention delegates. 
You don't have to own a Kindle to read Brown's e-book. Free Kindle software is available for smartphones, iPods, iPads and computers. Install one of those products and for $5.99 you can buy, download and read Brown's book. 
A benefit of an e-book is that it can be searched like other computer readable documents. For instance, search on the word "communicator" and you discover it appears only one time in Brown's book and not in reference to Premier Clark but rather in reference to Alberta Premier Allison Redford:
"She is not the world's most gifted communicator, or its flashiest performer, but she is pushing Alberta forward with new acuity, focus and resolve. That is leadership. It is bold, politically risky, and refreshing. It is leadership that has something important to say and that has a strong sense of purpose. It is leadership with intellectual weight: leadership that will make Alberta a thought leader in Canada and that will consolidate its status as an economic powerhouse."
Redford is mentioned 14 times in Brown's book, always favourably. It is hard to find a good word in the book about Clark; the best being that her campaign skills are "formidable."
Author was fired by Clark
In an interview Thursday, Aug. 23 with CKNW's Bill Good, Brown said he had no comments on whether Clark was the wrong choice for her party, and that voters will make that choice and they are looking for a positive approach. The preamble to Good's question characterized Clark as a very partisan politician who rarely misses a chance to attack the NDP. It was hard not to draw the conclusion that Brown really feels Clark was the wrong choice after he spoke about the need to be less partisan, i.e. less the way Clark is. It is understandably hard for BC Liberals to hear Brown speak about less partisan behaviour, after watching his style over the last decade.
Some apologists for the premier dismiss Brown's book and his comments as sour grapes, coming from someone Clark fired as one of her first actions. CBC reported he received $416,000 in severance pay. His book has to be read with that in mind, but Brown's arguments should be judged on their merits. 
The book is an interesting mix of Brown's views on specific issues (the HST, a name change for the party, tax shifts and the Northern Gateway Pipeline), on the role of leadership, the use of power, the importance of "social license" and on the need for a positive approach in politics. He spent two chapters reviewing election history since 1903 so as to argue that a split in the "so-called free-enterprise" vote would not automatically mean the election of an NDP government. 
On leadership Brown wrote:
"If the 'new and improved' BC Liberals manage to successfully rebrand themselves and somehow reverse their fortunes to pull off an upset win next May, it will only be because of Premier Clark's leadership. Then again, if she continues to preside over a shrinking coalition that is getting smaller by the day, with or without cosmetic surgery, the BC Liberals Christy Clark Party will know who to hold responsible."
Brown went on to write that after seeing Clark in action, "too many are saying they won't get fooled again. For a leader especially, it is never good if you have to re-convince people that you are competent and that you are not who they think you are." After that broadside on Clark, Brown went on to rave about Redford. Partisan New Democrats have rarely been as tough on Clark. It could be sour grapes by Brown, or it could be speaking truth to power. 
Keep the BC Liberal label
Brown is not impressed with Clark's call to consider a name change for her party. He wrote that the "BC Liberal Party probably does not have sufficient time or capacity to fully repair its brand in order to win the next election." He faulted Clark saying that fixing the BC Liberal brand has been made more difficult by her speculation that a new brand may be needed. He observed: "It is hard to restore trust in a brand that its CEO intimates is critically compromised by its own label." Digging the knife in deeper, he observed that a change in brand is no substitute for strong leadership. 
On the HST Brown wrote voters opposed it because it was "so clearly a tax shift that took more money from their pockets to facilitate lower taxes for business, which might make businesses more competitive and profitable, but that also reduced working families' take-home pay." You never hear Premier Clark or Finance Minster Falcon say that during the referendum campaign! Brown went on to write: "The HST decision was a mistake that was undertaken with explicit direction from an entire group of elected MLAs who were all too content to keep their head in the sand." 
Some of Brown's harshest words are reserved for the pipeline debate. He wrote that Premier Clark's government "did nothing to visibly represent British Columbians' interests." He went on to write that the Clark government:
"...did nothing to strengthen public confidence in the integrity of the environmental review process, to advocate for First Nations, or to maximize the economic benefits that both projects might provide for British Columbia. It chose to adopt what appeared to be the safest political strategy: it remained officially undecided, unofficially supportive, and as invisible as possible."
'Parochial' on pipeline
Brown really got hot over Clark's behaviour with respect to revenue when he wrote: "Premier Clark's contrived war of resources with Alberta -- and more particularly, with its newly re-elected premier -- is dead wrong."
He went on to discuss what Premier Clark's ideas would look like if municipalities and First Nations adopted them and applied them against the province. Brown wrote: "The logic used to justify British Columbia's current position is parochial and short-sighted." 
A few direct quotes cannot begin to convey the flavour of Brown's apparent impression of Premier Clark's intellectual depth; however, he repeatedly alluded to his admiration for Premier Redford. Brown's concluding chapters might be written off as wishful thinking by some, but hardened politicos would be wise to reflect on his advice. Brown argues for less partisanship, more politically neutral think tanks, and most importantly, more respect between political partisans.
However late Brown might be in coming to those conclusions, those who observe Adrian Dix cannot help but think that he is following that course. Since being elected NDP leader, Dix has insisted that his caucus tone down the rhetoric and show respect for political opposites.
In May 2013 we'll see whether a nicer, more positive approach succeeds in B.C. politics. In the meantime, read Martyn Brown's book to learn from an ultimate insider who no longer recommends conducting politics as war.