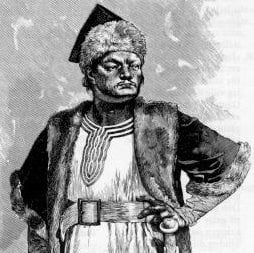 Attila the Hun: Barbarian Terror and the Fall of the Roman Empire
Christopher Kelly
McArthur & Company (2008)
Most of what we know about Attila and the Huns is wrong.
The Huns were not savages on horseback, sweeping suddenly out of Asia to the gates of Rome only to vanish again. Attila himself was an effective ruler and an astute diplomat. While he lived, he was actually a force for stability in fifth-century Europe.
Christopher Kelly's book on Attila's life and times clears up a lot of misconceptions about the Huns, and shows us a world that is a lot like our own.
The Huns themselves remain a mystery. They were just another Central Asian nomadic people, moving west like countless other tribes. Some historians think they were known to the Chinese as the Xiong Nu; Kelly argues persuasively that they were not.
If the Huns had an advantage over other nomads, it was in their mastery of archery on horseback: Launch an arrow at the precise moment when your horse's feet were all off the ground, and you could kill an enemy 200 metres away.
When they arrived in eastern Europe late in the fourth century, the Huns found turmoil and created still more of it. As a realm of peace and prosperity, the Roman Empire had attracted peoples who had neither. They pushed at the empire's frontiers, and keeping them out was an expensive problem. Some emperors admitted this or that tribe and gave it land, in exchange for men to fill the legions. Others resisted the push from the east, sometimes with the help of earlier invaders.
Anti-barbarian propaganda
Roman propagandists, when the Huns arrived, drew on old Greek propaganda against the "barbarians" -- people whose speech was an incoherent "bar-bar-bar," and who lacked civilized Mediterranean values. So the Huns, like the earlier Scythians, were portrayed as anarchic subhumans who ate their meat raw -- just zombies on horseback.
In reality, the Huns were a tightly organized community. They had originally lived off their herds, but they soon learned the value of extorting goods from farming communities -- not just grain, but wagons and iron weapons. When a bow took a year to create, the Huns needed an elaborate technological infrastructure.
Moving west, the Huns drove other tribes ahead of them, putting pressure on both the Eastern and Western Empires. They played a minor part in the battle of Adrianople, the worst military disaster in 700 years of Roman wars, but as the Eastern Empire recovered from that shock, the Huns effectively took over the lands north of the Danube.
This actually stabilized both empires. Tribes like the Vandals were migrating from Spain to the grain-growing lands of North Africa. The Goths occupied most of France. The Eastern Empire, based in Constantinople, was trying to deter the Persians from moving west. The Romans simply couldn't fight on all fronts at the same time.
The Huns gave the Romans a breathing space by effectively shutting down migration from eastern Europe, just as the Soviets would 1500 years later. The Romans could then turn to problems with the Goths, Vandals, and Persians.
An imperial protection racket
Like other nomad conquerors before and after them, the Huns did not impose their own culture on their new subjects. Quite the reverse: The lands the Huns occupied included many Romans and Rome-influenced tribes, who taught their new masters a lot. The Huns' power remained their cavalry, and they settled in what is now Hungary because its grassy plains could support horses. But they began to settle down in villages, enjoying the income from their subjects. Kelly says the Huns were not so much an empire as a protection racket.
When Attila emerged as the Huns' supreme leader, he extended the racket to the south and west. Sometimes he fought as a Roman ally against other "barbarians." But he also expected sizable payoffs in return for leaving Constantinople alone. The eastern emperors, worrying about Vandals in North Africa and Persians in the east, thought it was far better to pay him than to fight him.
Then the emperor Theodosius made a disastrous miscalculation: He cooked up a literally Byzantine intrigue to create regime change in the Hunnic Empire.
The most fascinating part of Kelly's book is the account of an embassy to Attila that was actually a front for a planned assassination. The ambassador, a young aristocrat named Maximinus, was completely out of the loop. So was his colleague the historian Priscus, who later reported the plot.
But Attila's own spies knew exactly what Constantinople was planning, and handled the plot with exquisite style--perhaps like Fidel Castro thwarting yet another CIA plot. The ambassador and the historian escaped with their lives, but others were not so lucky.
The climax of Attila's career was his foray into the Western Empire, when his forces swept across France and then moved south into Italy. His pretext was that a Roman princess had offered herself in marriage to him, only to be married off to someone else instead. So he marched west to claim his bride -- and to make himself at least the co-emperor of the West.
Armed robbery on a large scale
An army of Romans and Goths gave him a good beating in the Battle of the Catalaunian Plain, effectively ending the myth of Hunnic invincibility. But Attila turned south to ravage Italy. He was turned away from Rome by the Pope's intercession; but Rome was a relic by then. The West was ruled from the Adriatic city of Ravenna, and Rome was hardly worth sacking.
But Attila had achieved his main purpose, which was armed robbery on a large scale. His armies returned to Hungary with enormous plunder. Not long after, in bed with his latest new wife, he fell into a drunken stupor, suffered a nosebleed, and drowned in his own blood.
His empire died with him. His sons fought one another for mastery, and all of them lost. But this was not good news for the Romans. Like people in the Soviet satellites in 1989, the Huns' subjects headed west for the relative safety of the empire. A few more decades of illegal immigration and general chaos turned a continental empire into a mob of squabbling barbarian kingdoms. Just as Rome hadn't been worth sacking, its last emperor, Romulus Augustulus, wasn't worth assassinating. He was pensioned off instead.
Kelly's account lets us draw some obvious parallels with our own era of imperial overstretch and mass migration. But he doesn't make a point of them, though the "Barbarian Terror" in the title looks like a publisher's marketing gimmick. Like the Romans, and like modern governments, Attila used terror when it was cost-effective. When it wasn't, he negotiated.
We can even regard him as a kind of tragic hero. He was a military and political genius who had come out of nowhere. He could usually outsmart and outfight his supposedly civilized enemies.
But he was a gangster who never went legit: The Huns created no institutions, built no culture, and left not a word of their own to describe their rise and fall. No one knows where Attila's tomb is, and his people have vanished.