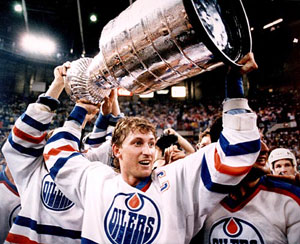 Gretzky's Tears: Hockey, Canada, and the Day Everything Changed
Stephen Brunt
Knopf Canada (2009)
Wayne Gretzky wasn't the only one crying on Aug. 9, 1988, the day the hockey world was rocked by news of his trade from the Stanley Cup champion Edmonton Oilers to the lowly Los Angeles Kings. As I came in from a carefree summer game of street hockey, I can still remember my mother bracing me for the shock, "Dear, I have some really bad news."
I was inconsolable for days. Like other hockey obsessed 11-year-old boys, I followed the exploits of the Oilers and Gretzky religiously. A typical afterschool ritual involved rushing home to read the sports page of the afternoon Vancouver Sun to see how many assists Gretzky had the night before; this would often be followed by a game of shinny in the driveway with the neighbourhood kids, tucking one side of my t-shirt into my pants, mimicking a quirk number 99 made fashionable. As a child, I had a knack for math, and so I turned my prodigious numeracy to keeping track of the Great One's scoring feats throughout the 1980s. (The fact that I can still summon from memory his assist total from 1983 -- 125 -- now makes for a neat, if slightly disturbing, party trick.)
So it was that, on that fateful day in August 1988, along with many millions of Canadians young and old, I lost a part of my innocence. After all, here was a cold business transaction interrupting what was, at the very least, the most aesthetically pleasing hockey dynasty in NHL history (no one had heard of the neutral zone trap in the back-checking-optional 1980s). Worse still, the deal shipped a precious Canadian asset -- born and bred on a small town backyard rink, reaching superstardom in the relatively small northern-most outpost of professional hockey -- to that amoral centre of big money, glitz and glamour, Hollywood.
A bodycheck to Canada's fans
While the trade was useful symbolism for opponents of corporate free trade agreements -- then Kamloops NDP MP Nelson Riis rose in the House to demand the government intervene to block the deal -- it helped set in motion a very real transformation in the business of the National Hockey League. The new profile Gretzky brought to the game south of the border spurred on a wave of NHL expansion into unlikely "sunbelt" markets. Tampa Bay, Miami, Anaheim, San Jose, Phoenix, Atlanta and even Nashville got teams; the NHL got an economic bubble inflated by new franchise fees; Winnipeg and Quebec City lost their franchises, Hamilton and its Copps Coliseum kept getting stood up at the altar, and rising ticket prices and salaries made it hard for Canadian teams to stay competitive or for ordinary families to attend NHL games.
Stephen Brunt is as well qualified as anyone to examine The Trade and its impacts more than 20 years later. A columnist with the Globe and Mail, he is among the country's most articulate sports commentators. With Gretzky's Tears, Brunt reminds us that sports writing can be eloquent. And with knowledge that extends beyond mastery of the sports world, he is able to seamlessly fill in social and political context, bringing gravitas to his topic.
Decade of sleaze
Before examining the trade itself, Brunt describes the high-flying 1980s and presents great sketches of the sleazy, unscrupulous businessmen who epitomized the decade. It was these Gordon Gekko types who signed Gretzky's paycheques, and who bought and sold the hockey genius. Nelson Skalbania, who signed Gretzky to the WHA's Indianapolis Racers as an underage junior at age 17 before flipping him to the Oilers, rode a Vancouver real estate boom; Pocklington, who sold Gretzky for $15 million a decade after picking him up for relative pocket change, sold used cars, did battle with the meat packers union and generally bilked the Alberta treasury while simultaneously trumpeting an Ayn Rand-inspired libertarian capitalism; and Bruce McNall, who rode lines of credit and a streak of loquacious BS to briefly make hockey and himself trendy in southern California, all the while making a meteoric rise to the pinnacle of NHL power before his financial scam unraveled and he wound up in jail.
Brunt has said that he conceived of this book as a sequel to his last effort, Searching for Bobby Orr. One less than flattering similarity, though, is that neither book delivers bombshell new insights into the titular subjects, neither of whom made themselves available to the writer for extensive interviews; in the case of Orr, Brunt was even frozen out from family and friends. It's a testament to the writer's skill and experience that in both cases a compelling narrative was able to emerge nonetheless.
One powerful insight is Brunt's healthy revision to the standard "Gretzky Story," which situates Wayne in the same tradition of the awe shucks, small town boy who just wants to play for the love of the game. Gordie Howe and Bobby Orr epitomized this combination of on-ice brilliance and off-ice naïveté. Howe accepted a meager salary despite being the league's most dominant player, and kept a summer job almost until middle age. Orr was famously fleeced by his agent, Alan Eagleson, and left bitter and broke after his career ended prematurely.
Gretzky and his family, however, knew the value of the asset they possessed and consistently looked out for themselves first. From an underage teenager signing with a maverick pro league, to today's aging corporate pitchman, Gretzky has always liked getting paid, and Brunt is blunt enough to point this out. (If the Gretzkys were more mercernary in their attitude than has been previously admitted, that would put them more than a decade ahead of the Lindros clan, who were widely scorned for refusing to consider having their hockey prodigy son, Eric, play in Quebec City after the 1991 draft).
'Selfish and greedy'
Gretzky's Tears peters out somewhat without delivering on all of its promises; its third period is dull and relatively uneventful, after some good end-to-end action early on. The play-by-play of events leading to the trade remain an unresolved "he said, he said." (Pocklington, now living in the U.S. and awaiting trial for bankruptcy fraud, has put out his own, justly ignored, book, I'd Trade Him Again.) And the new political economy of the NHL, marked by the failings of many of its southern outposts, could have been examined in more detail.
It's a shame this book wasn't pushed back to publication in 2010, for a later deadline would have allowed Brunt a natural denouement to Gretzky's two decades in the U.S. The bubble of hockey in the sunbelt burst a while ago, but the saga of the Gretzky-coached lame duck Phoenix franchise (formerly the Winnipeg Jets) marks the nadir of the phenomenon unleashed with the 1988 trade. The Great One's reputation -- once as untouchable off the ice as the man was on the ice -- has taken a few more body checks throughout the Coyotes' drama. For one, he didn't speak up in favour of Jim Basille's plan to move the team to Hamilton (a short drive from his hometown, Brantford); worse, court proceedings revealed Gretzky had been paid more than $8 million/year for his sub par coaching, while the franchise got over its head in debt. Throughout, as Brunt recently said on CBC radio, Gretzky came off looking "selfish and greedy."
An honest view
At this stage in his own career Brunt can pretty much write his ticket. And he certainly knows how to pick a winner. As a chronicler of a world where big money and pitiless competition shade every decision, one might say that Brunt himself, with his choice of book subjects, is at least opportunist if not a little mercenary. He knows that stars sell in the sports world, and he has perfected the art of bringing a new angle to an old superstar story.
Like Howe, Orr, Richard and Lemieux, the memory of Gretzky's on ice brilliance will remain lodged (together with some off the charts statistics) in the minds of generations of Canadians, because he played the 'game of our lives' with breathtaking imagination and skill. But that shouldn't mean that we don't take an honest look at the man and the new economic reality he helped bring to our national sport.
Gretzky's Tears doesn't break as much ground as it might have, but it does provide a readable and sober partial reassessment of a Canadian icon. It's a great gift idea for the mature hockey fan in your life.