5955 Ross St., the old fieldhouse in Vancouver's Memorial South Park, is a rugged red building wedged between a football field and a baseball diamond. The entrance is flanked by stacks of soccer nets and dismantled basketball hoops, and most of the interior is stuffed with sports equipment. It was built for athletes, but today it is artists who are making their mark here.
Show up any Wednesday night and the building's loft -- warm, lived-in and covered in artwork -- is full of cartoonists and local artists gathered to pass the evening drawing and bantering about whatever is on their minds.
This space is one of several that the City of Vancouver had set aside to loan out to local artists. It's a recent acquisition for Cloudscape Comics, a hub for local comics artists and writers. Cloudscape had initially been skeptical that the city's committee would consider a bunch of cartoonists who hung out in coffee shops "artists," but the fact that they did is a sign of how far comics culture has come in this city.
Rise of the cultured comic
It was a year ago this week that the Vancouver Art Gallery opened its CO-MIX: A Retrospective of Comics, Graphics and Scraps exhibition, a retrospective on the career of the pioneer graphic novelist Art Spiegelman. Spiegelman's best known work, Maus, is an autobiographical work exploring both Spiegelman's strained relationship with his father and his father's harrowing experience as a holocaust survivor. The work is often credited with carving out a place in the public consciousness for comics to have the same tonal range as literature or film; it gave comics the opportunity to move beyond the pulpy 20th-century confines of syndicated newspaper funnies and spandex-wearing superheroes. Since Maus was completed in 1991, comics have been steadily growing in legitimacy as an artistic medium.
Vancouver's high concentration of artists have made it a great hub for this shifting cultural tide. The Vancouver Comics Arts Festival, a convention built around the celebration of independent comics, launched for the first time in 2012. It was a great success, featuring many local artists and drawing in others from around B.C. and Washington. There's been a clear niche here for a community like Cloudscape for some time, and all that was necessary was for someone to step up and make it happen.
That someone was Cloudscape founder and president Jeff Ellis. In a sweater and spectacles, Ellis is the picture of the affable, 30-something nerd. He has a quiet, thoughtful demeanour, but when he begins to talk, there's an excitement in his voice that snowballs him from one subject to the next.
Ellis calls Cloudscape a "comics collective" -- envisioned as a place where independent comic writers and artists could meet up, refine their craft and get their comics into print; a springboard for amateur cartoonists and a platform to showcase Vancouver's local talent.
Since its founding in 2007, Ellis has overseen the publication of seven comics anthologies under the Cloudscape label, all collections of short-form comics pieces submitted by local artists. "Herding the cats" is a phrase he likes to use when he talks about his role as an organizer of cartoonists.
I ask him how long he's considered himself a cartoonist -- or comic artist, or sequential artist or what have you; the preferred terms are always in dispute -- and he gives an answer that's shared by many people in the visual arts: "Quite literally my entire life."
He recounts how his father, a math teacher, used to bring home stacks of old tests, the blank backs of which became drawing paper. One drawing would lead to the next; storytelling was reflexive. Growing up, Ellis picks out Spider-man as a particular inspiration of his, though it was the works of Neil Gaiman and Alan Moore that showed him comics' literary potential.
Seeding the Cloudscape
During his university years Ellis studied illustration and design, though he always kept an eye on comics. Though he tried to make a career for himself in graphic design, he soon became disenchanted with it, and in 2002 he made his move to try and break into the comics industry. He hit something of a dead end. "I went to San Diego Comic-Con and shopped my portfolio around and realized I wasn't really cut out for Marvel." He shrugs. "So I took a big break and went to Japan for two and a half years."
Ellis looks back on his time in Japan as life-changing and a major influence on his work; he spent his time there teaching English to Japanese children, ages two through 12, which became the inspiration for his aforementioned current project, the webcomic Teach English in Japan. Teach English is updated weekly and is a collaboration with fellow Cloudscape member Jonathon Dalton, who had similar experiences teaching English in South Korea.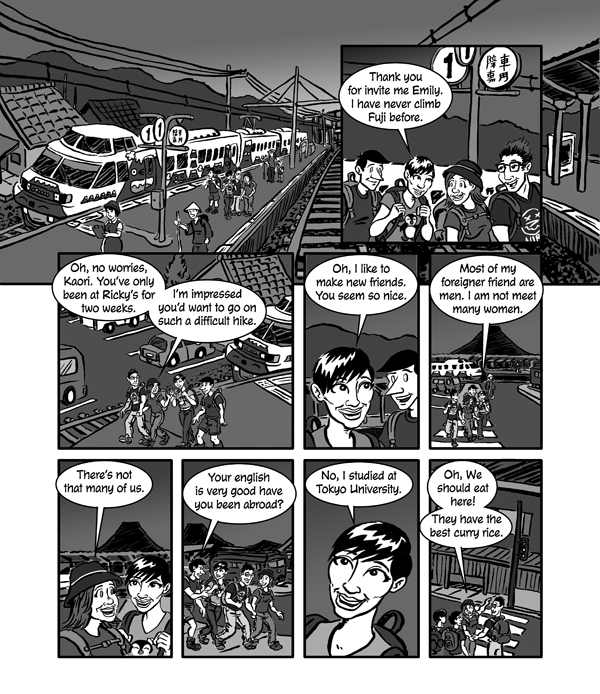 After a few years, however, Ellis was tired of feeling like a "perpetual tourist." As a white person in Japan, he says, "you're always someone who just got off the airplane, as far as the rest of the country's concerned." He made his way back to Canada, but soon found himself in a rut; a mixture of "reverse-culture shock" and a banal retail job had left him listless. He looked into the local comics community and decided to try his hand at starting something, as he had in high school.
It began as something very small -- a Facebook group open to anyone, anywhere with enthusiasm for making comics. "At the time it had a ridiculous name," Ellis recalls, something like "the pictorial storytelling enthusiast society."
Ellis and his friends were stunned by how many people seemed to gravitate toward their little group. The proto-Cloudscape quickly populated itself with artists from around Vancouver via word-of-mouth and search engine results. Ellis wasted no time organizing meet-ups in coffee shops along Vancouver's Main Street -- the Our Town Caf&eacute soon became the group's home. After a few successful meetings, Ellis saw the potential to pool the group's talents and put together an anthology. If everyone in the group put up a five-page story and portion of the printing costs, he proposed, they could put together a much nicer product much more easily than any one of them alone could manage.
The call for submissions was answered readily. Ellis describes Cloudscape's first book, Robots, Pine Trees and Broken Hearts, as a learning experience. The editing process was entirely democratic, collecting any and all stories the group got its hands on and finding money wherever it could. A mere six months after the group had started meeting, the first print run of Robots, Pine Trees and Broken Hearts was complete. It sold out shortly thereafter.
Ellis thinks getting over that hurdle -- getting something published -- gave Cloudscape Comics a huge boost in legitimacy and credibility, and a niche for it began to form in the Vancouver artist scene. More local cartoonists began to take notice.
"Other people had talked about these sorts of things," says Ellis, "and the trend was that they would show up, talk about forming a group and printing things, and then they'd just kind of burn out and disappear. And we didn't."
As Cloudscape continued to grow and attract new members, the organization also began to advertise itself at local conventions and events -- many of its members were already booking tables at conventions anyway -- and as time went on they began to clump together under the Cloudscape banner.
Comic critical mass
Since she joined the group in 2010, Mara Coman hasn't looked back. She's gotten involved in everything from event planning to representing the group at conventions to "yodelling via livestream" to raise money for the Cloudscape fantasy anthology, Giants of Main Street, which featured a story written and drawn by her.
She's also found that the diversity of the membership at Cloudscape makes it an excellent hub for networking. Coman is currently working part time lettering manga, a job she got through a connection made at Cloudscape, and before that was an working an animation gig offered to her by a fellow member.
But for Coman, it's the community that keeps her coming back. "Artists have a tendency to become hermits, making comics by themselves," she says. "I think the socializing aspect is just as important, to meet new people, to share ideas."
With a degree in classical animation and a great fondness for anime and manga, Coman hadn't thought much about making comics herself before she encountered the group at a local convention. What struck her most about her first meetings with Cloudscape was the welcoming atmosphere -- there was no elitism, no favouritism for any one kind of art. "Everything from horror, to children's stories, to porn," she laughs "someone there is working on it."
Comics, Coman observes, draw in people from all walks of life -- among other things, Cloudscape attendees have day jobs as animators, illustators, actors, teachers, physicists, musicians and game designers, and they've come to Vancouver from all over the world. The chatter at the meetings is befittingly diverse, just as concerned with artmaking and craft as with music, politics, technology and dinosaurs. Anyone is welcome; all you have to do to become an official member is show up three times. Some members are amateurs, some are professional artists; some have been coming here since the organization was founded, and some are newcomers.
As an organization, Cloudscape is steadily gaining more local recognition. "We're becoming more of a public fixture," Ellis says. "We're becoming much more known." Cloudscape is occasionally called upon to make public appearances by the Vancouver Board of Parks and Recreation, and they perform public outreach educating children about comics as part of the terms of their use of the fieldhouse. Ellis himself, in addition to being made the official president of Cloudscape in 2008, has left his retail job behind, having been offered a teaching position by the Art Institute of Vancouver.
Ellis' aspirations for Cloudscape aren't yet satisfied, though; organizing drawing classes and offering more self-publishing resources for independent artists are two of his current projects, and there's always the possibility of putting out more books per year. He's been deeply satisfied watching Cloudscape grow, and as the group's leadership structure expands, he finds that he needs to push less and less to get people inspired and make things happen. The venture has reached a sort of critical mass, he says, and he's glad: it gives him more time to make comics himself. He's got to get together his story for the next book, after all.