A "self-sustaining ecosystem" -- that's how artist Nicole Dextras describes her Mobile Garden Dress.
Part sculpture, part costume and part edible, the dress is an exquisite, massive affair.
The corseted top, woven from rushes and cattails, is trim to the body and decorated flamboyantly with corn husks and a row of bright red chili peppers. The hoop-skirted bottom is so big that hidden casters are attached to the bottom to help it move. Over a lining of chartreuse cotton, the willow and wood frame holds rows and rows of little pots of edible plants. Tomatoes, fennel, lettuce, zucchini, basil -- all sorts of vegetables and herbs you'd find in a healthy West Coast garden.
The Mobile Garden Dress is featured in Dextras' artist-in-residency at Lansdowne Centre on No. 3 Road in Richmond until July 31 as part of Richmond's robust public art program.
The garden dress will come to life in a performance piece this Sunday, July 28 from 11 a.m. to 2 p.m., which invites viewers to water her garden and sample a salad prepared from its bounty.
Called "Storefront: objects of desire," this installation/performance piece addresses our preoccupation with consumption and vanity and where they intersect with sustainability and self-reliance in our consumer age. By presenting simulated fashion articles in the context of a shopping experience, viewers have to negotiate the relationship between desire and ownership. The objectification of women is also under scrutiny, especially as their physical appearance changes with age.
The Mobile Garden Dress is one of three creations in Dextras' Urban Nomads series.
The Nomadik Harvest Dress, which is based on Mongolian yurts, was exhibited in Albuquerque, New Mexico, and at the Roundhouse Gallery's Sustenance Festival in Vancouver. It's made from second-hand wool sweaters, echoing the felted wool of yurts, and is equipped with a pot and stove to cook a communal soup from local vegetables and plants stashed in the sweaters' pockets.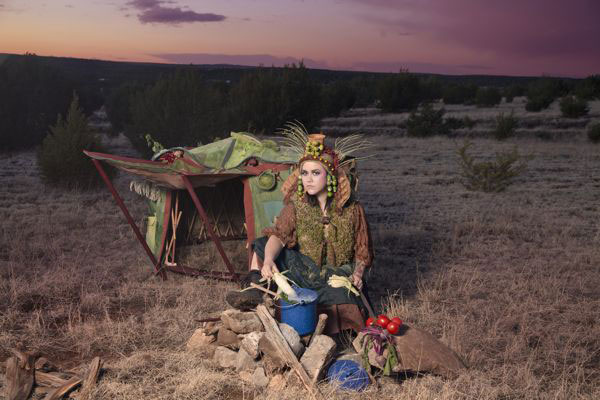 The Travelling Seed Bomb Dress Dextras is currently creating -- think of Norway's Doomsday Seed Vault in the Arctic, only much smaller, mobile and more beautiful -- will be part of an exhibit this fall at California State University at Fullerton.
"The Urban Nomads are designed to support a flexible way of living that can be adapted to a variety of climate changes," says Dextras, an accomplished multi-media artist based in Vancouver and a part-time instructor at Emily Carr University of Art and Design.
"Each outfit promotes growing your own food supply, from preserving seeds to planting herbs or harvesting local edible plants, which are integrated into the walls of the skirt. The skirt turns into a shelter, so you are carrying around everything you need."
The garden dress and other garments -- some of them created for Dextras' Little Green Dress Projekt last year at VanDusen Botanical Garden -- are beautifully made from fragile, ephemeral materials like dried magnolia leaves and camellia flowers, including a platform shoe sporting blackberries and their thorns.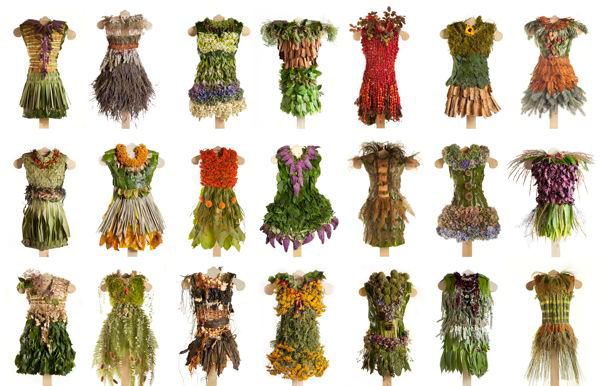 They blur the line between consumer culture and art, especially since the art has been plucked out of the rarefied atmosphere of the usual "white cube" gallery system and displayed in retail mall shop windows like all the buy-me merchandise we see every day.
Dextras' work, which has been exhibited at scores of international venues, from the Brooklyn Botanical Garden to the Land Art Mongolia Exhibition in the Gobi Desert, recently earned her a $5,000 prize from the Art of Healing Network Award for its environmental and sustainable values.
"I think that being self-sustaining is an important thing to consider today because our whole society is based on consumerism and we know there are some very big drawbacks in the whole system -- we know we can't sustain it forever," says Dextras. "I wanted to create an art piece that touches on these issues and engages people directly.
"These works also address the idea that plants, when they are fresh, are brightly coloured but when they fade, they're still beautiful. We have our moment of youth and then as we age we are still beautiful, too."
More on Nicole Dextras' art practice, including her powerful photos, can be found on her blog and website. Check out her upcoming ECUAD exhibition, Aug. 2-23, and workshops here. For more details on the City of Richmond's arts, culture and heritage programs, visit the city's website.