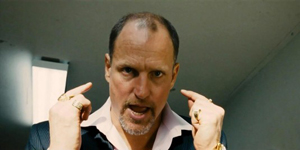 Many actors who get involved with causes seem to wear them for the same reason some actors wear non-prescription glasses -- like fashion accessories, they add the appearance of depth. But over the past few years Woody Harrelson has become so deeply ensconced in environmental causes that instead of being an actor dabbling in activism, Harrelson sometimes seems more like an activist who occasionally acts. The dumb guy from Cheers has become one of the smartest and most prominent spokesmen in the fight to legalize hemp. No, not marijuana. Hemp.
The 50-year-old actor has risked his freedom -- and his life -- campaigning for a variety of environmental causes, scaling the Golden Gate Bridge with members of Earth First to raise awareness of the plight of the Ancient Redwoods. He's also been an outspoken anti-war activist and, despite his strong political views, seems to have maintained his sense of humour.
Harrelson was at the 2012 Toronto International Film Festival for the world premiere of his new big screen comedy Seven Psychopaths (also starring Colin Farrell, Christopher Walken and Sam Rockwell) -- where he plays the nastiest member of the title septet, a gangster with a mean streak where his conscience should be. But when we sit down in a Toronto hotel room to talk, Harrelson's just arrived from his occasional home in Paia, Maui's hippie haven. He's dressed in groovy hippie casual complete with sandals, and he's happy to talk about his conscience and how he tries to keep things clean and green.
Activism's no act
When I ask what he loves about Maui the first word out of his mouth is "everything." Then he qualifies it. "I love everything but the burning of the sugar cane." The cane burn is, naturally, the idyllic island's biggest environmental issue. In order to extract the sugar, the cane is torched and the island air is replaced by sugarcoated smog that regularly suffocates asthma-sufferers and anyone else with respiratory issues.
Harrelson says his passion for the environment started when he was, "a kid getting out in nature." Says Harrelson, "Kids care about animals. All those things that resonate so much as a child, I guess in a way they stayed with me. I still care a lot about the environment because, I guess, if you breathe, you're an environmentalist."
Asked about hemp, Harrelson avoids drug jokes and replies earnestly.
"That whole thing about hemp was just about sustainability. I always see sustainability, the 's-word,' I guess, as the most important word. It should be on every politician's lips, but naturally that won't happen. It's a dangerous word for a politician -- it's just lip service. To me, it's a key thing because we're living in such an unsustainable world, all of these giant industries that are daily raping Mother Earth and also getting fat subsidies and tax breaks, these industries are dinosaurs and I hope they go the way of the dinosaurs. We have to shift to an economy and society that is a joining of the farmer and industry, which is the way it should have been. We don't have to get our paper from trees, (with hemp) we can get it from the farmer."
Harrelson says he hasn't been too active as an activist lately.
"I had one failed attempt, not too long ago, over mountain top removal. That's one of my biggest concerns, mountain top removal. And fracking. The reach of the fracking industries is just everywhere -- it looks like an insurmountable obstacle to sustainability, these industries, particularly the energy industries."
Harrelson hopes the change will include co-ops and farmers' markets starting to carry bio-diesel. Harrelson has been driving a bio-diesel Volkswagen on Maui for years. He's been a vegan since 1990 and is also a raw foodie when possible.
"I became vegan 22 years ago. But the raw thing has been the last, probably, dozen years... I try to eat as raw as possible. It's all about the enzymes."
Woody's Disneyland
As for his day job as an actor with two Oscar nominations (for The People Vs. Larry Flynt and The Messenger) Harrelson says he doesn't choose parts so much as parts choose him.
"This one they asked me to do because Mickey Rourke fell out. He was going to play that part and he fell out the last minute. I think I had a week and a half, maybe even less, from the time they told me to when I was starting. I think I was in Spain when I got the word. I was like, oh yeah. Definitely want to do that. Work with Martin and all these frickin guys? Count me in."
Harrelson originally met the movie's writer-director Martin McDonagh in Ireland after falling in love with his work as a playwright.
"I read all of his plays and I thought, 'This guy is a genius of the first order.' Without question, the funniest plays in the English language are written by Martin McDonagh. He's phenomenal. I was already a big fan and then it took a while before we finally did a movie together. I could have done his play, The Pillow Man. I wish I had, they offered it to me. I didn't do it."
Harrelson says his first love as a performer is the theatre.
"It's pretty fulfilling if you're in a great play. To me that's how I started. I was always in theatre, so to be in a play that's great and funny... I can't imagine a better gig, trying to make people laugh every night. Trying different things -- oh they laughed at that more than they laughed at this, that kind of thing. I love it. But I haven't done a play, acted in a play, in like five or six years. The last time was in London. Tennessee Williams. Night of the Iguana. I guess you could say it put me off theatre for a while, at least acting wise. I felt like I was incarcerated in that play... That's when I decided I would never do anything but comedy in the theatre again. I decided that right then. It's not something I'm ever going to go back on, I'm never doing anything but comedy in theatre."
His love of live comedy helped him fit in when he joined the cast of Cheers, where he performed in front of a studio audience.
"If we didn't get a laugh writers would hammer away until they got a better line, do it again. That's how important that audience was."
Asked if there was anything else he wanted to say about Seven Psychopaths before the publicist kicked me out of his room Harrelson added, "Just, you know, I love all these guys, but I've got to say, Walken is such a legend, he's such a fun, brilliant, amazing actor. Tom Waits, he's a legend. I'd met Colin, who I really had a good time hanging with him, but I'd never met Sam. And I always thought he was amazing. It was just great to get to hang out with everybody,' says Harrelson.
"So yeah, overall, I feel like my life is like the best Disneyland ride possible. I get to hang out with these friggin' awesome people and call it work."