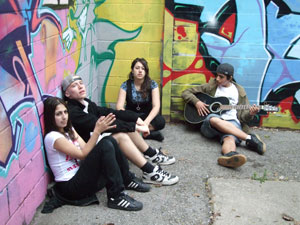 It shouldn't come as any surprise that teens live in an increasingly sexualized culture. Call it the trickle down effect. But a new documentary argues that it's caused a cultural equivalent of an STD -- rampant teen-to-teen sexual harassment in high school hallways and parties.
According to the Toronto-shot Wired for Sex, Lies and Power Trips: It's a Teen's World, here's the new teen animal kingdom: teens of both genders see girls on YouTube, Facebook, and music videos who dress, dance and act like "hos," and they see the guys treating those girls as sex objects. Everyone in those videos is happy! And dancing! And famous! And because of the power and ubiquity of those images, teens try to re-enact the roles. Problem is, transferring that behavior from the screen to the hallway often means harassment (comments, pinching, grabbing). And because it all seems "normal," the teens feel confused when it feels bad, but they don't know what to do differently.
Case in point: one girl, Maria, talks about watching girls in music videos by saying, "I used to look up to the girls. She's so hot, all the guys like it." It made her think, "I should do it." She says she tried to emulate the girls because she "wanted to be liked." But instead, she just went to school underdressed, and got treated like "a slut" by the guys.
Mikey, 16, says of watching guys in hip-hop videos, "When guys see that kind of stuff, they think, 'Oh it's OK... it looks like she's enjoying it." Then they think, "'Why can't I do it,'" so they start pinching and grabbing girls, for example.
Billy, 17, adds, "When girls wear short skirts, they do it to show off. They do it to fish," which makes guys think, "'Okay, then maybe I could grab her ass 'cause the way she dresses, she's telling me to grab her ass."
So guy meets girl. Guy grabs girl's ass. Girl says, "stop." But guy doesn't. Why? Guys "think you're joking, so it gets kind of difficult to tell them to stop," says Kelsie, 15.
"They don't think that the little things they do is sexual harassment. They just think it's normal," says Pauline, 16.
Blame the messenger
The documentary puts the blame squarely on media and high-tech culture: music videos, YouTube, Facebook, billboards, even photo texting.
Two girls, for example, watch a YouTube video called, "Do I Look Like a Slut?" which has had over a million views. In it, girls dance wearing predictably skimpy clothes. One of the viewers in the documentary, Stephanie, 15, says, "This is probably where guys get the idea that they can do whatever they want to girls." Seems logical.
One of the girls' moms, a teacher, supports the premise of the documentary, saying that media and high-tech culture has "created a whole culture, a culture of sexuality. The women's movement has shot back decades and decades; although, you know, it's under the guise of feminism."
She points the finger at specific people. "Madonna has started this role of 'I'm in charge of my own image and I will put it out there, and use it as my power,' but if you think about who is listening to her music, Madonna is my age, and her fans haven't got to her place on their own yet... they're using these sexual barracudas as their role model."
But while the documentary points fingers at media and its icons, thankfully, and to its credit, it doesn't point the fingers at teen boys specifically. Both boys are girls are presented as both victims and agents. They're both learning the wonky behavior, and trying to grapple with it. Teens talk about how the lines are "blurred," and one says it's hard for guys to know "what crossing the line is."
The guys themselves are clearly under pressure, too. That phrase becomes the title of a rap song, written and performed in the doc by Ryan, 14, who is rapping about a girl he knows. But Ryan also hints at the pressure-filled terrain for guys when he says that everyone thinks a guy is "gay if you haven't had sex by, like, age 11."
More education, not less
The film suggests education is key, and shows Lyba Spring, a Toronto Public Health sex educator, telling one group of teens that "harassment is in the perceiver's eye. So if you feel uncomfortable because of something that someone says or does, you would consider it harassment." Then goes on to say that the types of behaviors the girls are talking about -- grabbing, pinching, etc. -- definitely constitute harassment.
The filmmaker, Lynn Glazier, then gets the teens to make short dramatic videos about what kinds of damaging behavior they've seen, and asks them to unpack what they've learned. Happily, many girls talk about the myth of the powerful sex object (i.e. the Pussycat Dolls), and many guys talk about how they didn't realize the kinds of pressure they were putting on girls and the effect that it was having. Yay!
But the teen-made videos do seem a lot like school project videos with the "right message" -- the message that teen sex and teen culture is bad and scary. While I couldn't agree more that sexual harassment is absolutely not OK, and needs some serious attention, I'm uncomfortable about the kind of adult hand-wringing that buys into the worst fears about teen sex, which are really adult fears.
For example, Glazier says that she stumbled on this topic five years ago when she realized the parents of the 10 year-old girls she interviewed for another project "were dreading their daughters' entry into adolescence and the additional pressures on the sex and dating frontiers."
And the mom in the film interviewed says, "When I was in high school, girls were never going around bragging to people that they were having sex, or I went to third base... If you did it there was a sense of shame, it was a secret. But now I don't know if you've heard about this Rainbow Club? Disgusting, and appalling to me, that it was sort of giving them props that they had done this."
The rainbow party. Again. Really? Didn't that myth/exaggeration get busted five years ago? And even in this video, the only reference to these events is by girls who say that "a friend" was at one.
Don't go back. Go forward
So, yes, more education, by all means. But, no, wrapping teen sex in a shroud of shame and secrecy is not the way to go. Nor is sending the message that teen sex is bad and scary. Everyone knows that leads to more STDs and teen pregnancy.
To get the bad to stop, we need to accept that there's good. That is to say, accept positive teen sexuality where teens make out and grope in an informed and happy way, within limits that make them feel safe.
Wired for Sex, Lies and Power Trips: It's a Teen's World will air on CBC Newsworld's The Passionate Eye, Monday, Oct. 5 at 10 p.m. ET/PT.