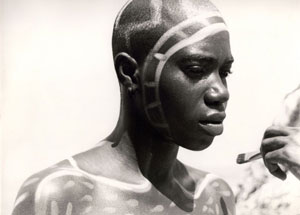 Hundreds of musicians, a thousand volunteers, and tens of thousands of music fans will be crowding Vancouver's Jericho Beach Park this weekend as the 32nd edition of the Vancouver Folk Music Festival gets underway this evening.
They will be there for the music, and for the "folk festival vibe."
For most, if the weather's good and the bands are interesting, that's all that matters. Plus, for the first time ever, you'll be able to buy a beer there.
But for the small staff and board of directors who organize the festival, this weekend is the test of their efforts to create a socially responsible but financially sound event.
Previous incarnations of the Vancouver festival accumulated a substantial debt, and although it has been operating with a balanced budget for a few years now, that burden makes every year count.
"I think we're in a better shape now than we've been for a number of years," says the current chair of the board of directors, Lucas Schuller. "But the difficulty is it's still a year-to-year thing and one bad year would undo all of that work."
It hasn't helped that the festival management has seen considerable turnover.
Although he calls himself a "child of the festival," having attended every year since he was an infant, Schuller only got involved with the board this January. He said a lack of effective transition plans has caused a lot of difficulty.
"Since I've been around, so far we've been pretty much trying to react and keep up, which is not the best place to be in," he said.
He hopes that this year the festival will be able to keep most of the same organizers and therefore "be able to actually plan in the off-season and be ahead of it next year rather than behind. Generally speaking, in recent history we've been kind of flying by the seat of our pants."
'Gentle' sponsors sought
New directors and new staff have created an environment for new revenue sources and other changes to the way the festival does business. But in doing so, they are always cautious not to offend long-time festival fans.
"This festival has been loved by many people in this city, and people outside of the city," said artistic director Linda Tanaka, who joined the festival last year. "They take ownership and pride in the festival, and people don't want to see a lot of changes."
But at the same time, she said, some changes are needed, particularly on the financial side of the festival.
"What I think the business end needs is a little more sponsorship -- but just kind of 'gentle' sponsors that are not blasting the audience," she said, "because it really hasn't been a festival with a lot of commercialism there."
Schuller agreed: "In places where it makes sense for both organizations, I don't think there's a problem with partnering with a for-profit company, although that used to be something that people weren't supportive of.
"But we don't have a big company sponsoring the main stage, and I don't think that's going to change."
A tempest in a beer cup
One change that regular festival-goers will notice this year is the addition of beer and wine sales, albeit restricted to a small licensed beer garden area near the main stage.
The festival has been dry since its inception, and reaction to the liquor licence has been mixed. "There are some people who are really worried about it and think it's going to change the environment of the festival," said Schuller, "and there are some people who readily admit they've been sneaking in beer for years, and are glad to be able to have a beer openly and be supporting the festival while doing it."
Schuller, who grew up helping his family sell records and CDs at a variety of music festivals in B.C., points to these other festivals as proof that alcohol and folk music can successfully mix. "They still have the folk fest family vibe that everybody is really fond of," he said.
Nonetheless, the alcohol that will be served is the result of the same "picky" approach used for all sponsorship agreements at the festival, said Schuller. Big Rock Brewery, which will be providing the suds, sponsors a number of other folk festivals across the country.
"Of course, we're not going to do that [create a beer garden] with a Molson or a large corporation," said Schuller. "Big Rock is one that has put a lot of time and energy into supporting independent music in Canada, so I think that's a shared value -- the folk festival has been a big part of supporting independent music in Canada for 30 years."
And if it doesn't work out, he said, that's okay, too.
"I think part of the spirit of the festival is that we try things out, and see how they work, and discuss them as a community. If it's not successful then we'll change it."
Weathering the storm
There's another benefit to the Vancouver festival's limited reliance on big business sponsorship: they are taking less of a hit from the economic recession that has cancelled many big festivals in the United States.
But the festival still has its own worries, said Schuller, because of their precarious financial position.
"Festivals like Calgary and Winnipeg have built up surpluses over the years -- they own property, they have extra money carrying over from year to year -- and that essentially gives you a buffer so if you do have that one rainy year where you're going to lose money, you can absorb that," he said.
"And the Vancouver festival is not in the position to be able to absorb a year where the weather turns badly."
Lucky for him, and for Vancouver folk music fans, the forecast for this weekend is sunny and mild.