For decades in Canada, cannabis has been a controlled substance in the eyes of the government and as tough for legitimate scientists to obtain as other illegal drugs.
Scientists and researchers must obtain an exemption from Health Canada's Controlled Drugs and Substances Act to use cannabis for research purposes that include analytical and genetic testing in controlled environments and administration to animals or humans in a clinical trial.
"It's on par with heroine and crack cocaine," said Dr. M-J Milloy, a research scientist with the Vancouver-based BC Centre on Substance Use. "Only a few scientists have able to carry out this research due to the restrictive regulations."
That's going to change Oct. 17 when cannabis becomes legal.
Though cannabis has been under prohibition in Canada since April 23, 1923, its entry into the legal market is predicted to generate close to $6.5 billion annually in retail sales by 2020, according to a report by CIBC analysts. This number would exceed the $5.1 billion spirits market, and will come close to the $7 billion spent on wine.
Milloy argues that both recreational and medical forms of cannabis have not been taken seriously up until now. He says the drug's entry into the legal market will make clinical research easier to conduct, and cannabis itself will be much more accessible.
"The landscape for cannabis is changing in Canada," Milloy said. "There are more bodies who are willing and able to fund the research necessary to understand cannabis better."
According to Dr. Jonathan Page, CEO and co-founder of Vancouver-based Anandia Labs, legalization will boost the immediacy and importance of cannabis research, primarily in its biological, sensory, clinical and societal impact.
"Scientists know a lot about cannabis, but there are still many areas that haven't been researched effectively," Page said.
How cannabinoids are produced
Page says a lot of basic and fundamental science remains unknown about the cannabis plant.
"Cannabis is like the Ferrari of the plant world," Page said. "There's no other plant that can produce cannabinoids in such high quantities."
The most active cannabinoids produced by the cannabis plant are THC and CBD. THC is known to cause the psychoactive effects felt from cannabis, and CBD, which is shown to have anti-inflammatory and anti-anxiety properties.
These active chemical ingredients are produced in abundance in the plant's trichomes — the fine outgrowths or appendages on the plant that produce the hundreds of known cannabinoids, terpenes and flavonoids that make cannabis strains potent, unique and effective.
Trichomes are not unique to cannabis, and their production can be observed in many species of plants throughout nature.
They often function as a defence mechanism by releasing gooey and smelly residues that deter insects from eating the plant and its seeds. Female flowers are especially covered in trichomes to protect their fat and oil-rich seeds.
"We understand the power of trichomes and the biochemical pathways leading to THC and CBD, but we don't know why cannabis trichomes produce such high levels of specialized chemicals," Page said.
According to Page, a common theory is that cannabis produces THC as a defence function to deter predators by making them high. But insects don't have cannabinoid receptors, and the cannabis plant makes THCA, which has no psychoactive properties. THCA must be heated to create THC, the active form that gives a user a high.
Researchers are going to emphasize the genetics and mechanisms of how cannabinoids are produced in certain strains as Canada transitions to a legalized market, he added.
"This research will help us to better our chemical understanding of certain strains and breed cannabis strains that can more effectively meet recreational and medical consumer needs."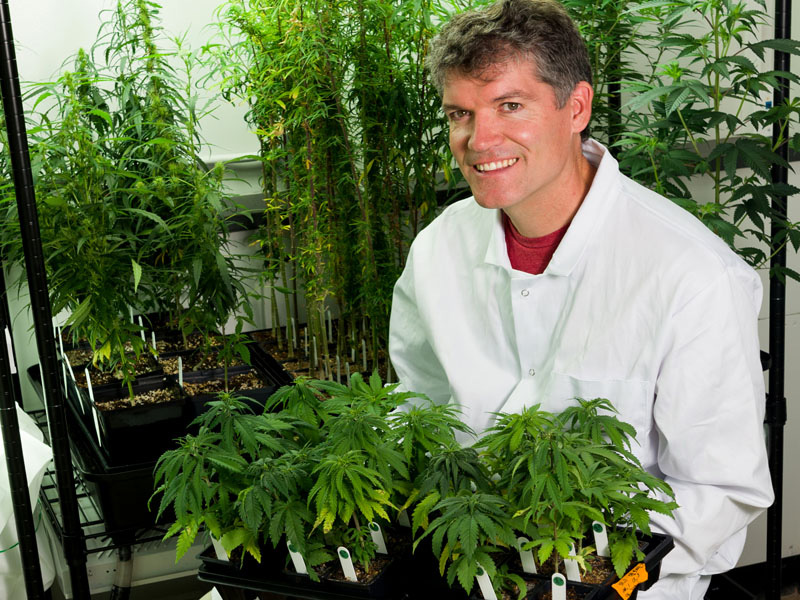 Page says the difference between indica and sativa strains also requires more research.
"I'm interested in ways of classifying cannabis that help people understand how they can use it most effectively," Page added. "Our current understanding is based on consumer and patient anecdotes."
"I think we're going to see an attempt to figure out the sensory appeal as to why people smoke some strains and some smoke others. Some strains keep you awake all night, others make you fall asleep. Scientists have no idea how this works."
He believes the future of this research will be driven by the recreational market.
Cannabis dispensaries and retailers classify cannabis product as an indica, a sativa or a hybrid strain. Similar to a menu board at a restaurant, all available products are sorted by the two classifications. An indica strain is reportedly a "sedative type high, described as a body stone." In contrast, a sativa strain is "an uplifting high, that causes an energizing effect."
According to Page, consumers have become accustomed to these groupings, but there is limited chemical and genetic analysis to accurately support the classification.
"A broader genetic and chemical investigation into the psychoactivity and sensory properties of cannabis will be happening after legalization," he added.
Understanding the power of cannabinoids
Philippe Lucas, vice-president of patient access and research at Tilray, a Nanaimo-based medical cannabis production and research firm, says the legalization of marijuana in Canada won't impact the nature of research in medical applications on a clinical level.
Lucas believes the industry has made significant leaps in understanding the relative safety of cannabis and cannabinoids, particularly in comparison to other commonly prescribed pharmaceuticals. The next step will be better understanding the efficacy of different cannabinoids alone and in combination with a greater range of conditions and symptoms.
In a recent clinical trial, findings showed cannabis oil as an effective treatment for pediatric epilepsy patients suffering from Dravet Syndrome. Researchers found a reduction in seizures and an overall improvement of quality of life in their patients.
Lucas says that most clinical research is at an intermediate stage and that more work is necessary to actually gain market approval for cannabis-based medicines.
Lucas adds: "Further research needs to be done on specific dosages and methods of administration in the treatment of pain, mental health and other chronic conditions, and legalization may make clinical and observational research easier to conduct."
Social impact
Canada is embarking on a global experiment as the first G7 nation to make marijuana legal.
Yet there are still many uncertainties related to health, social and economic implications of cannabis legalization and regulation, according to Dr. Samuel Weiss, the scientific director of neurosciences, mental health and addiction at the Canadian Institutes of Health Research.
Most recently, the federal government has invested $1.4 million in 14 short-term research projects across Canada as a rapid-response approach to build cannabis research capacity — two B.C.-based researchers received funding. Dr. Bonnie Leadbeater, professor of psychology at the University of Victoria, recently published a study that showed that students who try marijuana at an early age and use it often are more likely to have poor health outcomes and less occupational and educational success. Additionally, Dr. Zach Walsh, professor of psychology at the University of British Columbia, is researching the impact of cannabis legalization on campus health.
Some of the other research themes supported by investment include: mental health and addictions; violence, injuries and road safety; pregnancy and childhood health; therapeutic benefit; and intervention research in substance misuse.
The CIHR is expected to make another $3 million available to fund more research in the coming months.