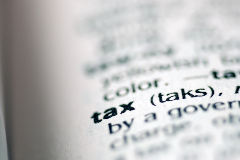 This time of year, the adage about death and taxes as the only certainties in life can seem grindingly true.
Just as the weather is finally warming up, we have to dig out our high school calculator and sit down with a maze of forms, a pile of receipts and a strong coffee to balance our account with the taxman.
But now the returns are in, and for the sake of a new perspective on taxation, think for a moment of all the ways that tax is actually like sex…
First, like sex, taxes are hidden and mysterious.
True, at this time of year, the tax on income is revealed somewhat, but even it is veiled behind a complex and arcane set of calculations, credits and exemptions. And while income tax is a vague topic, we know even less about taxes on corporations, on the use of resources, or on international trade.
For the most part, we just don't talk about tax policy in polite company-it would be considered unsavoury. And so the topic of tax, like the practice of sex, remains something of a mystery. But while hidden and mysterious, taxes give direction to our social and industrial development.
Because, like sex, taxes are a powerful force in our society.
Size isn't everything
Both sex and taxes exert strong influences and strange attractions. Taxation-by changing the prices we pay for things like income, or bicycles, or garbage disposal-influences decisions large and small: whether to drive or take the bus, whether to live in the suburbs or the core of the city, whether to buy local or imported carrots. For corporations and for the wealthy, of course, the stakes are much greater and the lobbying for tax favours much more persuasive.
Ultimately, economics is the study of incentives and of human behaviour. By changing price signals, tax policy creates powerful incentives and disincentives and steers our economy like a ship's rudder. Small changes can have large effects.
Finally, with sex as with taxes, everyone is doing it. Or has tried it, at least.
We all pay taxes, directly and indirectly-hundreds of them everyday. They are a pervasive force in our society and too often perverse, in the economic sense of the word: off kilter and misdirected.
For the most part, we accept taxation as a necessary evil-providing money to pay for health and education, for policing and fire protection, for sewers and roads. Still, the necessity of taxation does not mean we need be passive about its application. It is, after all, not the size of the tax, but how it is used.
Tax without love
Rather than think of taxes as drudgery, we could imagine ways to make taxes better. Taxes designed to actually benefit our families, our communities and the places we live. Taxes that we could feel good about. Because while being hidden, powerful and widespread makes taxes like sex, it does not make them sexy. After all, there is bad sex and there is good sex, dumb tax and smart tax.
Taxes without meaning or values-taxes without connection to people and place-are like sex without love and caring. So one way to make taxes sexier is to make them more meaningful, more connected.
Does anyone understand the logic of our current tax policy? Whatever sense existed has been lost in history. We have a system of rules and loopholes that is virtually impenetrable by all but the most specialized. It is a system that has been cobbled together over the years on the basis of historical accident, bad politics and back room deals. It is far from the clear and rational system that its defenders like to suggest and it is far from what we need in the world right now.
Why settle for bad, muddled tax when we could have taxes that line up with our values as a society? If we want more jobs, we can lower labour taxes; if we want fewer cars on the road, we can implement congestion charges; if we want fewer kids with asthma, we can raise taxes on pollution. It is as simple as taxing things we want less of and untaxing things we want more of. It's not a tax grab, but a tax shift that is needed.
Finally, we can really bring out the sex in tax by getting passionately involved. Sex, after all, is a participatory activity and so should tax policy be. Everyone has a piece of the truth and it is sorely needed at this moment. If we fail to get involved and if we don't start talking about economics and tax in a clear and open way, it will continue to be the domain of those with an ideological bent and a small vision.
Let's talk about taxes
These days, most public tax commentary is about how we pay too much and it is generally funded by those who would like to pay less-not surprisingly, the tax cuts we get tend to benefit those with influence while doing little for the rest.
Why, for example, with what we know about climate change, are we taxing people's income and using the money to subsidize oil and gas exploration and development? Or to subsidize auto manufacturing? Taxes-and their flip side, subsidies-are working directly against where we want to go. They are putting us in harm's way.
Sadly, our political leaders, limited by short political horizons and powerful lobbying, seem impotent to make taxes make sense.
So why not just start a public conversation about tax policy? An honest discussion about where we are at and what we need, as communities, as regions and as a country. If we don't, we will continue to have the tax policy we deserve and we will all be the worse for it.
Let's make sure our tax policy and our economic rules reflect our values around things like community, sustainability and resilience. Instead of being voyeurs, let's jump in, put our collective hand on the tiller of tax policy and see where it can take us.
It could be a hot summer and a sexy tax debate ahead.
Zane Parker and Donna Morton are co-founders of the Centre for Integral Economics, on Vancouver Island. They have been working on economics and sustainability projects for eight years now and are writing the book, Taxes are Sexy, which will show how taxes and economics can make a new kind of sense. Zane Parker also writes the blog Lichenology . This piece is in memory of John Kenneth Galbraith and Jane Jacobs. With respect.