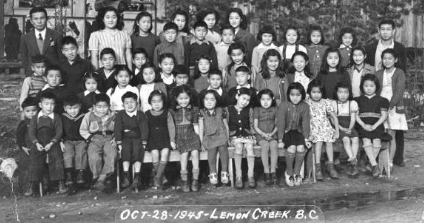 Two things happened to me this past week that took me into a small corner of my brain that I don't like visiting.
First, there was an email from a sometime editor of mine telling me that efforts were being made to save the childhood home of internationally-acclaimed writer Joy Kogawa, located at 1450 West 64th Avenue. Then, on the weekend, I read a review of the autobiography of Dr. David Suzuki.
Let me first paint a picture of British Columbia in the early months of 1942. On the 7th of December, 1941, the Japanese had attacked the US Naval base in Pearl Harbour, causing large scale damage to capital ships and death to many Americans. This devastating attack drove a stake of fear into Americans and Canadians living on the West Coast. But it was more than just Pearl Harbour. Japanese soldiers had committed atrocities (perhaps too mild a word), in their undeclared war in China. Between December 1937 and March 1938, approximately 400,000 Chinese civilians and prisoners of war were slaughtered by the invading troops. An estimated 80,000 women and girls were raped; many of them were then mutilated or murdered.
The prejudice against Japanese-Canadians was also part of the prevailing mood and social fabric. "Japs" or "Nips," as they were always called, kept to themselves and were obviously not to be trusted. Long before Pearl Harbour, politicians and newspapers were warning of the "Yellow Peril".
In 1942, I was in my 11th year while David Suzuki, a third generation Japanese-Canadian, was six and Joy Kogawa, who was second generation, was seven. They, along with all Canadians of Japanese origin, were deported to concentration camps, mostly in the interior of BC, where they remained interned until the war ended in August 1945. A little girl in my class at Maple Grove Elementary, Michiko Katayama was amongst them.
My family secret
But there was more to it than that. A "trustee" was set in place to hold all the internee's holdings. He then sold them all for as low as 10 cents on the dollar, with the money going for the upkeep of the prisoners. And here is where I'm forced into the distant recesses of my mind, for my Dad bought a paper box company from the trustee at a 90 percent discount, so it's fair and accurate to say that I was fed, clothed and educated on assets literally stolen from the true owners. It is part of me that I can never be rid of. My dad would have been 100 this July, my mother the same age in November, so I feel I can finally talk about this without opening old wounds.
It must be clearly understood that my dad didn't do anything wrong by the standards of that day. Indeed, this sort of thing was seen as a form of patriotism since it got even with the Japs and kept people working. And that's a key point. With the exception of the Winches, father and son of the CCF (later called the NDP), few expressed any horror at what had been done. Indeed, it was quite the reverse. Government MPs from BC badgered Prime Minister Mackenzie King, who had been told by the commissioner of the RCMP that the Japanese-Canadians posed no threat, to go along with the deportations. The local newspapers egged the politicians on.
In a curious twist, at the conclusion of the war, the federal government offered all the prisoners a one-way passage to Japan, a country few had ever seen. Many came home, however, to start again from nothing and while Joy Kagawa and David Suzuki are shining examples of forgiveness and achievement, they're by no means the only ones who returned to live useful lives.
Racist times
It is difficult for us nearly 65 years later to assess the situation and make judgments. We must be careful not to substitute the mores of today for those in 1942. Although I was just starting my teens, I can still vividly remember the fear in the eyes of my parents, especially after an air raid drill. This was a racist time even without the fears of war. Jews were "Kikes", Catholics "Micks", Chinese "Chinks" and Blacks were "Niggers". This wasn't just the talk of the beer parlour, but of the highest society as well - not to mention the newspapers. Titles to land carried "restrictive covenants" meaning that you couldn't sell your home to minorities covered by one. Most minorities, including native Indians, couldn't vote. Still, people at the time didn't see their society as racist but "normal".
But it was wrong - terribly wrong. It was mob rule with nearly all the white citizens as part of that mob. And the wrong was dealt with, in part, and thus acknowledged by the government of Canada paying token damages to survivors of the people imprisoned. It's interesting to note, however, that both the Supreme Court of Canada and the American top court heard cases putting this point in issue and in each case, the government won.
A lot of time has passed. The generation old enough to vote at that time are almost all gone. The progeny of the imprisoned people have simply blended into the overall community.
But the legacy is still there - the stain on the escutcheon still visible. And the legacy and stain will remain.
The positive consequence is that we have changed. Not away from prejudice, for that exists in great abundance in our communities. No, we have changed to the extent that we, officially at least, condemn bigotry and racism. We collectively know it's wrong and our laws reflect that. Much of that change is because of people like David Suzuki and Joy Kogawa, for the legacies they have left will be with us and our community long after they and we have gone and for that we must all be eternally grateful.
Rafe Mair writes a Monday column for The Tyee. His website is www.rafeonline.com.