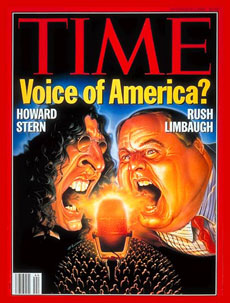 There's a substantial cult of radioheads here in Baja Canada that is probably more devastated by the strike at CBC than most Canadians are. I understand that the Ceeb is held in something less that total esteem by my friends north of the border. That's because you're spoiled. The US has nothing that compares with it.
National Public Radio? It is to laugh. NPR lost its edge years ago when government funding was slashed by the Reagan administration. Now, it has to depend on corporate underwriting for its existence. He who pays the piper calls the tune. Corporate underwriting announcements on NPR have become indistinguishable from commercials. Here in Jesusland, we've been aurally lobotomized by the canned formats of monolithic Clear Channel on one hand and the insane rantings of Rush Limbaugh and his wannabes on the other.
Only college radio stations and some new low-power FM licensees offer any variety. That's fine if you happen to live within range of their wimpy transmitters.
Danielle, I love you
My radio has been locked for years on CBC Radio Two. There is no station on this side of the border that offers anything like it. There's a classical station in Seattle, but they don't play jazz. There's a jazz station in Tacoma, but they don't play world music.
Radio Two not only offers me all of that, but I get a lot of news that goes unreported by the solipsistic US press.
Yes, Vinyl Café is a blatant ripoff of A Prairie Home Companion. It's so well done, however, that even Garrison Keillor probably listens. The character who does the CD reviews on Sound Advice is insufferably pretentious. That's about all I can find to complain about.
Shelley Solmes delightful presence on Here's To You is indicative of the Ceeb's popularity south of the border. Requests from listeners in the US are played nearly every day. Jurgen Gothe's Disc Drive is a merry pastiche of music from many genres that is a staple of my afternoon listening. Would that Jurgen were as visible a Canadian icon as Don Cherry. Danielle Charbonneau of Music for a While has the sexiest voice in the known universe. I'd listen to her if she played Christian hip-hop.
Lockouts happen
As a long-time fan of Radio Two, I know that labour disputes have happened before. I've read enough about both sides of the situation to know I don't need to write about the issues involved. But please, please settle this strike for the sake of listeners in the US.
The classical elevator music we're listening to right now is wearing thin. God knows, those of us here in Bushywood need all the help we can get in clinging to our sanity.
Birch Bay writer and occasional Tyee contributor Christopher Key continues to try to immigrate to Canada.