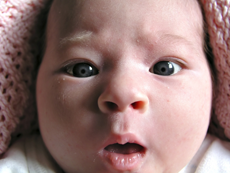 Sarah Watson was moved over seven times during the seven years she was in foster care. "I was always wondering what was wrong, you know, I got straight A's and they moved me, I tried to behave, and they moved me" says the dark haired twenty-one-year. Sarah now works with the BC Adoptive Parents Association. She recognizes that offering one child a home forever has a much more significant impact than offering dozens of children a temporary place to rest their head.
She's not alone. For the last five years, the Ministry of Child and Family Services has been focusing on adoption, but with little success. The list of people wanting to adopt is long, and the list of kids in foster care and on adoption lists even longer. But in BC, there are few adoptions, and many would-be-adoptive parents go out of the country.
In fact, last year, there were nearly a thousand kids wanting for families in BC, but only 350 kids actually got adopted. That means most kids languish in foster care where "the outcomes are pretty dismal," according to Anne Clayton who's the adoption manager at the Ministry. "There's a recognition that kids with a permanent family, or at least a life-long commitment to an adult seem to have a better outcome in their adult years."
The baby gamble
The problem is misconception about risk. "I think there's a belief out there, and I think it's a myth, that kids in care are really high needs and are damaged. Certainly some of them have high needs," she admits, "but most of them are very resilient and will bounce back."
People are intimidated by lengthy medical histories and instead, they go abroad to adopt. They view this as a safer bet. In BC, only between 40 and 60 healthy infants are available for adoption each year according to the Ministry. But the Adoption Council of Canada reports between 200 and 300 families adopt from abroad in this province alone.
This is partly because children adopted from China, Russia, or other countries have smaller medical histories than those from the Ministry. However, the difference in medical records is likely more a reflection on the differences in record keeping rather than in the histories themselves, Clayton points out.
"Yes our kids in care are going to come with a history," she admits. "But that's because the Ministry gathers as much information as they can on a child so families can make informed decisions."
But when there's information, there's misconception. Like for FASD (Fetal Alcohol Spectrum Disorder), which is one of the conditions that makes would-be adoptive parents wary. Nearly 70 percent of the children in care have some degree of prenatal exposure to drugs or alcohol making this is a major adoption issue.
"A diagnosis of FASD is life long and has a lasting impact, but there are many people who have that diagnosis and are healthy members of society" Clayton points out. "It doesn't mean you're a write off,"
It takes a village
And support and education can make conditions like these manageable. "We need to assist people to be more familiar with what the range of special needs issues are and generally make our communities more special needs aware," according to Brad Watson of SNAP, a support organization for parents of children with special needs. The now clichéd African proverb that "it takes a village" to raise a child is especially true for families with kids who have special needs.
In addition to risk factors, age makes out-of-country adoption seem more appealing. Children coming from China are generally between eight and eighteen months old; whereas, most adoptions processed through the Ministry are for children between four and nine years old.
Families looking to adopt usually want younger children, thinking this will give them greater influence over development. But adopting older kids can have benefits.
Teens, for example "choose you as much as you choose them. It's a relationship builder from the beginning," says Sarah Watson of ACT! Now, a program for the adopting of teens.
Rural urban divide
Post-adoption support would make local adoptions more appealing. The Adoptive Parents Association of BC offers some help in urban areas, but in rural areas there's little or nothing, as there aren't enough people to create group support.
The provincial government also offers a post-adoptive assistance program that gives financial aid to help pay for the costs of caring for a child with special needs. This includes medical costs as well as travel costs – to go and visit birth parents. Advocates say this program is a good step but it's not delivered evenly.
Adoptive families need support since adoption is based on loss. For the child, there is the loss of their biological parents. For many adoptive parents, they come to the process from infertility and lost of the dreams of having biological children.
But the benefits of adoption are self-evident as they create new dreams – for both parents and children.
For that to happen, adoptive families need to realize that foreign medical histories are likely as complex as those of BC kids. And the government needs to provide more comprehensive and accessible post-adoption services to help all families meet their children's needs. As this does happen, BC kids will find loving homes alongside kids from other countries.
Mary e. Glasgow recently graduated from SFU.