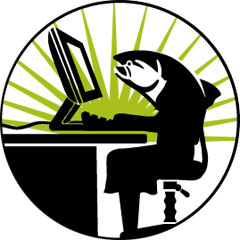 From fracking-caused earthquakes to the 100-Mile Diet, we at The Tyee are proud to be ahead of the curve when it comes to reporting major trends and innovative solutions in our key beats like energy, inequality and the new economy.
But when it comes to technological changes... well, let's just say we prefer a go-slow approach. (Case in point, the launch in 2011 of our free mobile app. Your response? "Welcome to 2009, Tyee!")
What can we say? Big makeovers take time. But thanks to our small yet mighty technical and design team, we've been working on a significant new look that we're just about ready to unveil. And we're pretty thrilled about it.
Very soon, we'll be launching a fresh new design for our article pages. The page will be mobile-first and responsive, providing a cleaner and more uniform reader experience on phones, tablets and desktops.
What's changed? Besides a more readable, more graphic, faster-loading and less cluttered presentation of our stories, not too much. You can still share articles via the Facebook and Twitter buttons, email stories to a friend, and comment to your heart's content. (The comments will be a little further down the page, though. Just keep scrolling.)
In the past, when reading an article on The Tyee on your phone, you'd be reading it on our dedicated mobile site. After the relaunch, all of The Tyee will be mobile-friendly.
And if you're a long-time Tyee reader, you might've installed our app on your phone at some point. With the launch of the new article pages, the app will be retired. If you tap that icon after the relaunch, you'll simply arrive at the mobile-friendly Tyee site.
A few notes on navigation
You will also notice a few navigation changes. For example, at the top of the new article page you'll find a drop-down option for the "Latest Stories" (meaning the most recently published articles), "Sections" (meaning your homepages for news, opinion and other categories), and "More" (meaning our contact details, information on our contributors, and all that other important stuff).
Meanwhile, the Tyee homepage will look much the same for now, except for a few changes in the top navigation bar. The section pages, for example, will be accessible in a drop-down menu, along with other features of the site.
Barring any crazy showstoppers or Internet meltdowns, the new article page will be phased in later this week. If you have any trouble using the new page, send us a detailed description of your problem to helpfulfish [at] thetyee.ca. We'll do our best to address it quickly.
Meanwhile, thanks to all the readers who told us they wanted a better mobile experience, and then waited patiently while we worked it out. A mobile-first and responsive Tyee... hello, 2014!