Walking through the door to The Window is like stepping into a cozy, artful craft explosion. The self-declared community art shop is laden with local merchandise of all kinds, from greeting cards to jewelry, colourful scarves to aprons and canvas bags, books to dreamcatchers -- all of it locally sourced and thoughtfully curated.
Located just across from Pigeon Park, it feels in many ways like the dozens of other upscale boutiques scattered throughout the Gastown area. However, rather than offering luxury footwear or artisan moustache wax, The Window has made it their business to provide a stepping stone for local artists, designers, artisans, and Downtown Eastside residents -- helping some get into the world of retail, and others get back into the workforce.
"A lot of artists, this is the first place they've ever sold," notes manager/co-founder Katie Piasta. "And now they're so busy, they don't even come in and see me anymore. We can be a stepping stone for people. They can come in, and test the market."
Opening its doors back in 2011, the venture is funded by Portland Hotel Society, and was created in conjunction with Shelley Bolton (manager of East Van Roasters, another PHS community enterprise). To date, by Piasta's estimation, they have showcased the work of more than 350 local artists, designers, and artisans through their storefront and their online shop, including Sarita Mann, Russell Alton, and Laura Harrison. Owing to the emerging status of their consignors, rates are split 65-35 in favour of the artist -- unusual in the retail world.
"Most places, they want to take 50 per cent of your retail price," explains jewelry designer and consignor Vanessa Webster. "But this is a community project as well, and that allows us to keep things more affordable for someone who's just starting out."
Webster says retail outlets that take a steep cut push young artisans like her out of the market. "If I wanted to get my money's worth, it would have made my earrings so expensive -- almost $100," she explains. "That's not a price point that people want. Because you can go to Forever21, and get beaded earrings made in China for $10."
Breaking through
Luckily for designers and artisans without substantial startup capital, there are no shortage of facilitators like The Window willing to provide low-risk venues to showcase their work. Local designers and artisans are often faced with significant challenges when attempting to bring their products into the marketplace -- particularly in cities such as Vancouver, where commercial rents are fuelling a steady decrease in brick-and-mortar storefronts.
However, since 2008, when the term pop-up shop first emerged, unconventional business and retail experiments have been on the rise; some provide space alone, on a short-term rental basis (thisopenspace), while others (including Portobello West) offer an opportunity to sell wares in a marketplace or festival atmosphere. Still others, like The Toast Collective and Hot Art Wet City allow for both, marrying gallery space with sales opportunities and regular special events.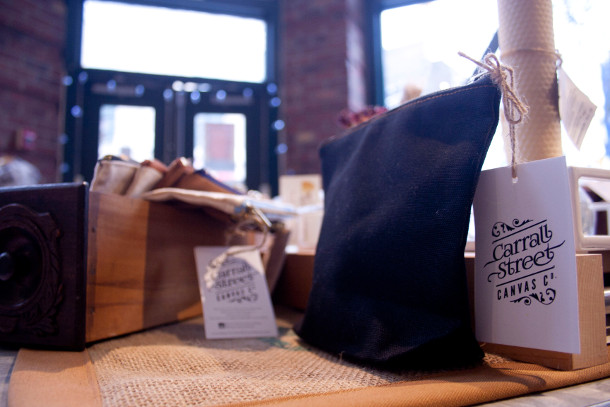 What makes The Window unique amongst local facilitators is that it's also a social enterprise; an estimated 80 per cent of the artists and designers who showcase work are from the Downtown Eastside, and their in-house line of textile products (aprons, handbags, and aprons made under the name Carrall Street Canvas Company), designed by Piasta, are hand-made by neighbourhood residents. The program is already a resounding success, supplying aprons and other textiles to more than 10 local restaurants, including Earnest Ice Cream, Pidgin, Salvio Volpe, and Don't Argue Pizza.
"It's becoming a really booming business," Piasta explains. "A lot of the restaurants that make a point of supporting local food also make a point of supporting local business. We weren't really making enough money in consignment, so this was a way to generate more income, and employ more women."
Their connection to the community doesn't end there; The Window also helps to get artists and designers out to events and trade shows all over the city, including the East Side Flea Market, and last weekend's TOQUE. They're even hosting their own Christmas Craft Fair this coming weekend in their Hastings Street storefront, set to feature music, neighbourhood vendors, and a full smattering of local products. For Piasta and her crew, engagement is key; between artists and vendors, between creators and consumers, and most importantly, between the neighbourhood and the city at large.
"People are always so surprised," says Piasta. "They'll say 'Wow! I didn't know there were so many amazing artists in the area.' And especially for people who want to help out, and don't know 'How can I engage with people without making sandwiches or giving money.' This is a great way for them to come in and support artists and people from the neighbourhood."
Small purchases, big benefits
And the beneficial effects of the enterprise go far beyond the neighbourhood. Though there has, in recent years, been serious discussion about the positive impacts of making local purchases, the buying habits of businesses themselves have an even stronger economic effect. A 2013 study by LOCO BC found that businesses purchasing from local suppliers puts more than twice as much money back into the local economy. Local retailers themselves put 45 per cent of their profits back into the community (versus a paltry 17 per cent from their multinational counterparts). In fact, as the study concluded, increasing local purchasing by even 10 per cent would lead to an additional 31,000 jobs in the province. In addition to assisting the local economy as a whole, it allows entrepreneurs themselves to expand, making use of multiple channels, including retail, online sales and more.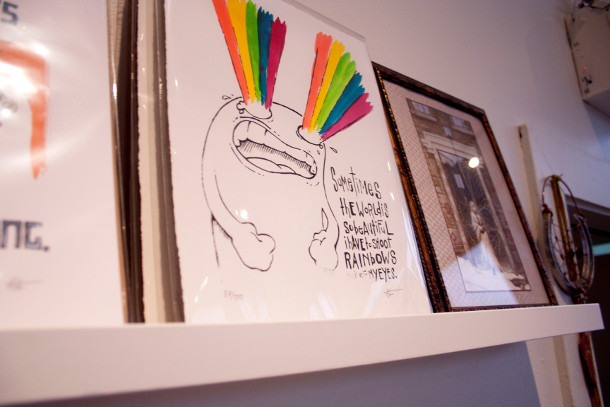 Cardmaker and artist Mann now sells to shops all over North America, as well as through her website. Alton, whose work also still appears in the store, also sells through an online bigcartel shop. For her part, Webster has expanded in a slightly different direction. In addition to being a consignor, and working retail, she is part of the sewing program -- a series of once-per-week workshops that then led to steady work with Carrall Street Canvas Co. In addition to selling her wares -- traditional First Nations beaded earrings with an urban spin -- at local markets, The Window has also led to other opportunities within PHS, including down the street at East Van Roasters.
"They recognize my skills," she says. "It's not like other jobs, where you'd have to go out there and sell yourselves. They have this ability to see what you'd be good for, and have you try it. And it might not always be something you thought you could do. And that's very rare in the work world."
As for The Window itself, for the moment Piasta is happy with little victories; to expand the Carrall St Canvas line, to employ more women, to bring exposure to local artists and artisans, and to continue doing what the Community Art Shop does best: bringing a sense of well-being to a neighbourhood.
"When [people] sell something, they're over the moon," she says. "They're able to say: 'I'm not nothing. Somebody cares about me. They like what I'm doing.'
"It seems like such a small thing, but it can make a huge impact on somebody's life."

This article is part of a Tyee Presents initiative. Tyee Presents is the special sponsored content section within The Tyee where we highlight contests, events and other initiatives that are either put on by us or by our select partners. The Tyee does not and cannot vouch for or endorse products advertised on The Tyee. We choose our partners carefully and consciously, to fit with The Tyee's reputation as B.C.'s Home for News, Culture and Solutions. Learn more about Tyee Presents here.