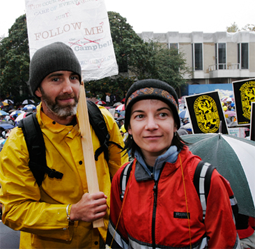 In front of the Victoria legislature, 15,000 teachers and their supporters walked in the rain as part of a "day of action" aimed at generating attention for the labour dispute. Government and teachers have yet to negotiate a settlement, which leaves thousands of BC classrooms empty.
There was no bus service in Greater Victoria, and libraries were closed. The provincial government, liquor stores, and some construction sites were also shut.
The BC government says it refuse to come to the negotiating table until teachers cease their illegal job action and return to the classrooms. A special prosecutor has been appointed to consider pursuing civil and criminal contempt charges against the BCTF leadership and even, perhaps, members. Teachers say they refuse to return to their classrooms until the government agrees to negotiate. Until then, BC Federation of Labour president Jim Sinclair promised more wide scale strikes around the province in support of the teachers.
What was said at, and about, yesterday's rally:
"What it tells you is that this government has so little respect for the teachers in this province, they would rather drag us through the courts than sit and talk with us." - BCTF president Jinny Sims on the appointment of a special prosecutor to consider contempt charges.
"We can disagree on the laws that are passed, and we often do. But the foundation of our society is that once a law is passed that we agree to obey it. We do not get to obey the laws that we like and disobey the laws that we don't like." – BC Premier Gordon Campbell.
"Where was the government's concern over class size and composition for the past four years? That's why the appeal Campbell made in his October 17th news conference does not sound truthful to teachers. The government should have enough confidence in its ability to govern that it can find a resolution to the dispute without using the courts to bankrupt the union and throw its leaders in prison. Hardliners behind the Campbell administration are no doubt calling for precisely that." - Political commentator David Schreck writing on his website Strategic Thoughts.
"We have an obligation not to allow the government of British Columbia, to be intimidated into a course of action by a group that, at the moment, seems to believe it is above the law." – BC Labour Minister Mike de Jong
The HEU strike, the BCTF strike and even Telus' lockout of TWU workers are all part of a longer struggle against an agenda that seeks to disempower all unions and privatize everything, even nature. - Lawrence Boxall writing in Seven Oaks.
For more information, visit here.