The waters off Southern Vancouver Island are home to two genetically and socially distinct ecotypes of killer whale.
The resident ecotype feeds exclusively on fish, mostly Chinook salmon in the summer. The transients, now known as "Bigg's killer whales," hunt and feed on a variety of marine mammals.
The two types don't interact, and in fact seem to avoid each other. The three pods, or groups, of the southern residents, totalling 75 whales, follow the salmon and have historically been found in the Salish Sea in the summer. In the winter they travel the coast from northern California to southern Alaska. The many smaller pods of the coastal transient population, some 280 whales. range up and down the coast year-round.
For the last 15 years I've been observing them from the helm of a whale watching boat. First they enthralled me. Now they haunt me.
Southern Vancouver Island is home to a thriving whale watching industry, loved by tourists, but often maligned by locals. The industry grew around watching the residents due to their once predictable summer appearance.
However since 2013 there has been a marked change. The transient population, once rare and elusive, are now thriving and frequently seen in the Salish Sea. The arrival of the residents is now unpredictable, their numbers declining. The contrast is stark and the cause obvious — residents rely on the Chinook, now scarce, transients feed on seals, now abundant.
When I started whale watching in 2003 as a captain and naturalist it was fun and easy. Sure there were days when we didn't find whales, but not many. Most days were the same: fill up your boat with passengers, drive over to San Juan Island to observe the residents feeding, drive home and repeat.
There were regulations — we needed to stay a quarter-mile away from the San Juan shoreline and 100 metres away from any whale, for example. There were, in fact, 13 pages or so of best practices for operators in what is now the Pacific Whale Watch Association (PWWA). The industry had its critics, but it had made the forward thinking and responsible step of creating guidelines before government regulations even existed.
Back then enforcement was rare, though we were monitored by NGOs which also had programs to educate boaters about interacting with whales.
I remember finding my place in the vessel line-up, shutting down and waiting patiently for the whales to make their way along the coast to where I was parked, ideally passing 100 metres off my bow. At the time I was running a Zodiac, and I would sit on the inflated tubes while we waited, explaining the life history of the whales and challenges they faced to my passengers.
If the whales passed a little closer than I anticipated, it was not a big deal. Just as often they passed a little farther away. There were always lots of boats around: whale watching, sports fishing boats and pleasure craft. The whales foraged, rested, played or travelled, seemingly in accord with their own needs and rhythms. I was told that in the early days of whale watching Zodiacs would park tight to the shore waiting for whales to swim under them, and that you could almost reach out and touch their dorsal fins.
In 2012 the U.S. adopted a strict regulation requiring boats to maintain a 200-yard distance from whales and began on-the-water enforcement. Instead of sitting with our engines off, we kept them on, ready to back away should the whales change course, as they frequently did. By this time there were more large tour boats that would chug along parallel to the whale's direction of travel.
Data from a tagging program has since indicated that moving the approach distance from 100 to 200 yards did not result in any change to the engine noise reaching the whales — likely in part because the way boats operated also changed with the new regulations.
Things changed in 2013. Usually all three resident pods were back in the Salish Sea by June. In 2013 we went through June and then July with only brief visits by the residents. The consensus was that they were feeding at the Swiftsure Bank at the mouth of the Juan de Fuca Strait, waiting for the salmon to come in.
Every day we explained to our disappointed passengers that the residents were just not around. Every day we hoped that wherever the residents were, they were OK. When they did come in, they would do a predictable foraging lap through the San Juan Islands, travel to the mouth of the Fraser River and then leave again heading back out to the ocean.
In 2013, it wasn't till late August that they finally came in and stayed for a bit. It was that summer we learned that "resident" only applied if the fish were there.
For a week or so that summer, a single matriline — a mom and her two sons — stayed behind, lingering at Eagle Point on the southwest side of San Juan Island. This was odd, as typically resident pods, composed of a number of related families, stay together.
But we were happy to have any resident whales to watch, and so we watched them. The group was easily identified as members of L pod, by their distinctive markings and the shapes of their dorsal fins. The older bull Skana (L79) stayed close to his mom Spirit (L22), while younger brother Solstice (L89) foraged nearby, sometimes delighting us with a playful breach. After a week or two they moved on. Spirit and Solstice were later seen back with the pod, Skana was never seen again.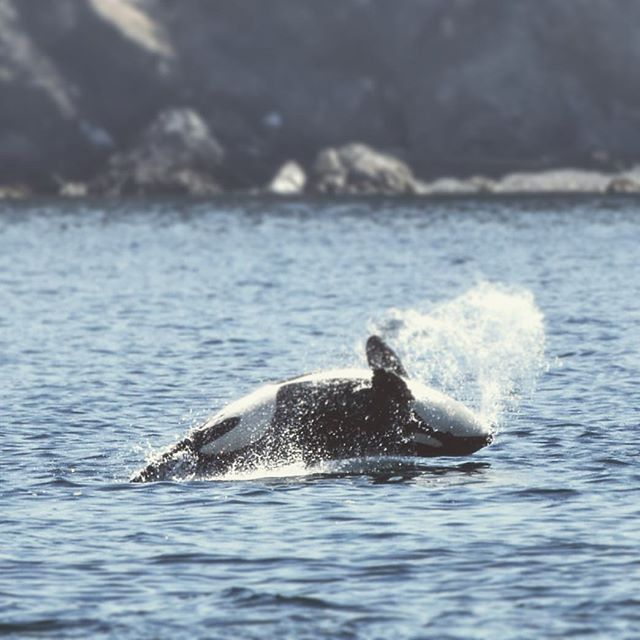 One of the struggles of the southern resident population is the bioaccumulation of legacy toxins in their blubber (DDT, PCBs). These fat-soluble toxins are metabolized and enter the bloodstream when the whales go hungry and use their fat stores for energy. This causes problems with their immune function and reproductive ability. Moms pass on toxins to their calves in their milk, perhaps contributing to the high calf mortality of this population. Males have no way to get rid of the toxins, and we see too many males die well before their time.
The summer of 2013 has haunted me ever since. We didn't know it at the time, but we were watching Skana die. I wonder if Spirit brought her son to that place in particular to end his days, or if that was the place they happened to be when he just couldn't keep up with the rest of the pod. The scientist in me is very cautious about ascribing emotions to whales, but there is ample evidence that they grieve.
In the resident population mothers and their offspring spend their entire lives together, often within touching distance, and breathing in unison. I don't think it is even possible for us to comprehend how they might feel; their brain architecture is enhanced in the region of emotional development. We do observe that mothers and sons often have an especially tight bond.
I wish I hadn't been there watching those whales that summer. I wish that Skana's final days were quiet and peaceful. Did the whales care that there were boats around? I can't answer. There was nothing in their behaviour that was different, except for the fact they were not with the rest of their pod.
The population of the southern resident killer whales was likely never large. They suffered a big drop in the early 1970s when some 47 animals were captured to be sold to aquariums.
A population census that began out of concern for the number of captures found there were actually far fewer killer whales than initially thought. Those early photo-identification studies brought an end to the live captures and continue to this day, resulting in a robust long-term data set that is following the lives of the surviving individual whales.
The population fell from 98 in the mid-1990s to 80 in 2001, leading to their listing as an endangered population in Canada and the United States. A lack of Chinook salmon, environmental contamination and disturbance from vessels (especially sound) were identified as key problems.
On closer inspection, it's clear the ups and downs in the population are driven by L-Pod — the largest resident pod, and the one that ranges farthest in the winter months and spends the least time in the Salish Sea. K-Pod flatlined some time ago, with few reproductive females and little change in population. J-Pod, which spends the most time in the Salish Sea, with regular visits through the winter months, had been the most successful and stable of the three pods showing a slow but steady population increase. Then in 2015 we had a banner year — a glimmer of hope. Nine calves were born in a single year, six of them in J-Pod bringing the total population up to 85 whales.
And then in the summer of 2016 things began to go downhill. J16 (Samish), a mother with 3 surviving offspring, disappeared. No indication of poor health — one day she was just gone.
Given the tight nature of the families, if researchers find a whale is missing from its family group they are presumed to be deceased after a few weeks. Their bodies typically sink, so we don't often get confirmation. I always identified with Samish because we were the same age.
Then we lost Granny (J2), the venerable matriarch of J-Pod. She was an elder whale — maybe even over 100 years of age, so her passing was not unexpected, but no doubt devastating to her pod. Post-menopausal female killer whales continue to live for decades, guiding and teaching their offspring.
When a young female named Polaris (J28) was reported to be in poor health that summer, I drove my whale watching boat almost 40 nautical miles in the opposite direction, so that I could watch members of the healthy transient population instead. While I drove, I remembered how excited I was when Polaris had her first calf in 2009. Researchers believe the birth of her second surviving calf shortly after a failed pregnancy, and a lack of salmon, left her too weak and she died. Without her mom, her second calf died soon after.
Since 2016, 10 whales have died, each loss sad and significant in its own way. The one that affected me the most was the loss of Doublestuff (J34). An initial necropsy found the cause of death was blunt force trauma and a ship strike has been blamed. It's very rare for adult killer whales to be involved in this kind of accident, so I am still waiting for a final necropsy report.
My heart sank to see interest groups spreading the story of his death on social media. Groups fighting for salmon recovery to feed the whales cited a thin blubber layer to be a factor in his death. Groups opposed to pipeline and tanker expansion jumped to point out how hazardous increased traffic would be for the residents. I support both these causes, but I wanted to mourn his death as an individual.
After 14 seasons on the water I could recognize many of the whales on sight. Especially those in J-Pod, whom I'd seen the most of over the years. It's a strange thing to have this one-sided relationship with another species. We would speculate on who would take on a matriarch role, which frisky pairing might result in a new calf. Like watching a long-running TV series, we are invested in the characters, and often know oddly personal things about them, such as details on paternity from DNA testing. But it is not a fiction, and their deaths are final.
One afternoon last summer I was driving a larger vessel, observing the whales as they exited the Strait of Juan de Fuca after an all too brief visit to the Salish Sea. I was explaining to my passengers how they were lucky to have seen the residents and how the population was struggling. I had four adult passengers on the bridge with me and a boy of about 12. As I explained the plight of the whales, the boy sat down, visibly troubled. He said he didn't want the whales to disappear, and asked what we could do to get them more fish. The adults were too busy trying to take photos to pay much attention, and, in that moment, I hated them for it. I didn't want the boy to be sad though, so I talked to him about all the people who care about the whales, and about how we can help them.
All of the whale watching naturalists I know are passionate about showing people the whales and this amazing waterway that we share with them. We hope we can inspire people to care. It's hard to measure how effective the educational component is, but everyone has stories of someone who was touched by seeing the whales, who might go on to find some way to help the whales, here or in their own community. We like to think what we do makes a difference.
There are a number of people who view whale watchers as villains who herd, harass and chase the whales. Who feel that whale watching boat operators only care about driving fast and making tips. These are not the operators I know. I know captains who have used their time on the water and observations to publish scientific papers. I know captains who are biologists, some who have or are pursuing advanced degrees, motivated by their experiences in the whale watching industry here. I know captains who have organized beach clean-ups and fundraising events and championed salmon enhancement projects. And I know captains who have made a career out of this seasonal job, returning to drive for 10, 15, even 20 years, who know the waters and the whales extremely well, and who are well aware that their livelihoods depend on a healthy marine ecosystem and healthy whale populations.
Do the boats harm the whales? Most captains don't think so, based on our own observations and our considerable understanding of the available science. Are we biased? Probably, but on the whole, trying to do the right thing.
This does not mean we shouldn't take a precautionary approach though. Last fall, a push from captains and progressive whale watching company owners lead to a revamp of the operational guidelines of the Pacific Whale Watch Association, which were already the most stringent in the world.
While these changes are a step in the right direction, the kind of changes that might make the most difference, such as limiting the vessel type and number of boats, is beyond what an owners' association can reasonably accomplish. The Canadian government has lagged 10 steps behind, only now implementing new approach distance regulations, part of a set of amendments to the marine mammal regulations that were first proposed in 2005.
Many captains that I talk to are supportive of these and other measures that will help the southern residents, but critical of what seems to be a Band-Aid approach. New whale watching regulations, as well as recreational fishery closures, make for good PR for the government as protectors of whales and distracts the public from the issues that will surely be the death sentence for the residents, such as continuation of open net-pen salmon farming.
Yes, the whales would probably be better off without boats on the water, but that is unrealistic. Undoubtedly, the presence of whale watching boats adds to the existing sounds of 24-hour commercial traffic.
Most captains are trying to find a balance between operating boats in a responsible way while providing public education and awareness. Most companies donate to marine conservation, research and stewardship initiatives. The industry collectively gives the whales a tourism dollar value, not to mention an international media presence.
Condemnation of the whole industry serves no one. In the absence of professional tour operators there would be a free for all of private boaters and an enforcement nightmare. What we can do is push all the stakeholders to do better for the whales, and to create an industry that truly is sustainable.