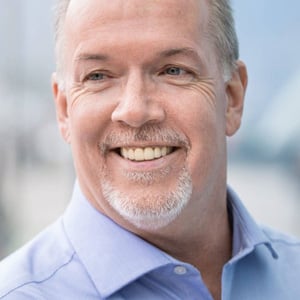 Hey John, you seem like a good guy. Solid values, community minded, strong work ethic, sense of humour. You're the kind of person we'd like to have a beer with. Even more so, you're the kind of politician we'd like to vote for.
We desperately want a new B.C. government. We cannot bear the thought of 20 years of the BC Liberals in office, eroding vital services, ignoring inequality, tokenizing indigenous communities through hollow engagement, allowing privatization to flourish, and procrastinating on the moral imperative for climate action. Instead, we want a government that makes possible the best that we are capable of together.
And we are willing to work for it -- to volunteer, to donate, to be part of the team that ends this decade-and-a-half of corporate rule. But, John, give us something here. Something meaningful to work for. A platform that truly speaks to the core challenges that face our generation.
We're writing to ask you to #InspireUs.
Inspire us with real climate action. Inspire us on inequality and poverty reduction. Inspire us by honouring indigenous rights and title, and making real the calls to action of the Truth and Reconciliation Commission. Inspire us by strengthening critical social infrastructure: public schools, public health services, seniors care, $10/day childcare, and supports for vulnerable children and families. Inspire us with a truly ambitious jobs plan, one that is aligned with the realities of climate change.
John, please, please don't do what the NDP did last time, waiting for the governing Liberals to defeat themselves, while telling those who dream for better to lower their expectations. Don't campaign simply as a kinder version of an extractivist, austerity party.
The recent Alberta and federal elections should be viewed as evidence that big, bold ideas can and do win elections. Beyond the usual suspects, a significant portion of the electorate is yearning for visionary change, and ready to mobilize and vote for it.
So instead of a modest difference of approach, convince us that your government will bring about progressive change. Give us bold policy on the defining issues of our time. Give us hope.
Give us a reason to spend the next year helping you get elected, so that we can spend the following four years and beyond rebuilding this province together.
Lead us to leap
We are releasing this letter on Leap Day -- Feb. 29. The one day every four years when we reset our calendars to accommodate the laws of nature. Internationally, this day is being marked with a call for governments to leap us into a new zero-carbon economy with justice.
After 15 years of BC Liberal governments moving us backwards, we need a leap just to catch up to where we should have been. Not "one practical step at a time." A leap to a province based on caring for the earth and each other. A better province is possible, but it needs the right leadership.
Lead us to leap. Otherwise, our next note will be a "Dear John" letter. You know the one we mean. The kind that starts, "Dear John, we really like you, and want to stay friends, but we're leaving you." This will look different for different people. For some it may mean switching to another party, or starting a new party. But for many underwhelmed activists, leaving simply means opting out of electoral politics, as so many in our generation have done.
But let's not go there. We want this to work. And we're willing to work for it. We're ready to leap.