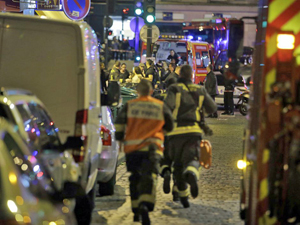 In his address to the nation on Friday night, French President François Hollande said: "This is a terrible ordeal which once again assails us. We know where it comes from, who these criminals are, who these terrorists are."
On Saturday morning he identified the source as the Islamic State, also known by its Arabic acronym Daesh. Even at this early stage we can draw some reasonable conclusions about IS just from the nature of the attacks. We can speculate equally reasonably about their motives and goals, and our wisest response.
First, this was a highly professional operation. The only recent attack like Paris was in Mumbai in 2008, when a handful of young Pakistanis, trained by Pakistan's intelligence agency ISI, assaulted a city of 12 million and sustained the attack for four days. That operation took years of planning and training.
So if IS is in fact the instigator, it has serious resources and skills. Many groups in the Middle East and South Asia have had over 30 years' practical experience in both combat and terrorist action. The Islamic State didn't come out of nowhere; its roots go back to the "Arab Afghans" who fought the Soviets in Afghanistan in the 1980s. That it evaded Western intelligence eavesdropping suggests very sophisticated communications ability.
A strategic attack
Second, the planning means it was highly premeditated, not just retaliation for some recent insult to the Islamic State or another group -- like the Charlie Hebdo killings almost a year ago. That means it's a serious provocation, strategic rather than tactical. The attackers chose Paris not because of any particular French offence, but because when Paris is attacked the entire West feels attacked. The entire West, not just France, can be expected to react.
Third, the reaction will punish the innocent more than the guilty. A routine terrorist goal is to delegitimize its enemy by goading it into violent repression. European Muslims in general, and refugees in particular, will suffer for this attack. Some on Twitter have pointed out that the terrorists are exactly what the refugees are running from, but the tweets are already lost in the firestorm.
Anti-Muslim backlash in turn will stress all the countries now dealing with refugees, from Italy and Greece to Sweden and Finland. European racists will be emboldened to attack the refugees and their shelters. Sweden has already seen numerous arson attacks against refugees.
Those still in Lebanon, Turkey, and Jordan will stay where they are, putting more stress on their hosts. Turkey alone has 650,000 refugees in camps, and Jordan almost as many. Lebanon has 1.5 million. (And we think 25,000 would be a burden.)
Fourth, we could see an international demand for a kind of world war against Islamic radicalism. With Europe, the United States, Canada, and many Muslim nations dragged into a serious counterattack, the Islamic State and al-Qaida would welcome the opportunity for martyrdom.
But before martyrdom they could hope to see other Muslim nations' current governments -- all of them betrayers of true Islam, in Islamist eyes -- shaken and perhaps overthrown, from Morocco to Indonesia. That would leave ordinary Muslims with no choice but to side with the extremists or flee.
Weakening all Western nations
Not only the Muslim governments would suffer. The French government will go through a major upheaval, with a purge of its intelligence service. Other European Union and North American governments will be equally furious with their spies' failure to spot the Paris attacks.
Meanwhile, our governments are likely to stress and divide their own people, whether they punish their local Muslims or protect them. Politically divided, Western nations will be less of a threat to the Islamists.
Fifth, we'd better recognize our own part in this mess. Many books, including the recent Black Flags: The Rise of Isis, have documented the opportunity George W. Bush gave the Islamists by his invasion of Iraq and utter lack of postwar planning.
Thanks to Bush, a Jordanian street thug named Abu Musab al-Zarqawi could recruit thousands of Iraqi soldiers and bureaucrats who'd been sacked by the American occupiers. Zarqawi orchestrated the Iraqi insurgency that continues to this day, and which has now migrated into Syria as the Islamic State.
Canada, thanks to Jean Chretien, stayed out of that obvious quagmire, and Stephen Harper nudged us into it. Now Justin Trudeau wants to get us out yet again, which has suddenly become a much harder job than it was last week. When you find yourself in a stampede, you've got to move or be trampled underfoot.
Or you somehow keep the stampede from even starting. Surely by now even the most narcissistic Western governments must understand how well the Islamists have taken our measure. They know just how to drive us crazy. Like Lucy pulling the football away from Charlie Brown, they can predict we'll end up on our asses.
So the right response is not to take their bait. Hunt down the attackers, interrogate the survivors, and put serious pressure on any government that in any way aided the attacks.
Ferociously suppress anti-Muslim, anti-refugee agitation. Invite local Muslims to cooperate in identifying Islamic extremism's supporters -- they are ordinary Muslims' worst enemies, after all. Find the attackers' sources of funding, and choke them off.
Then remember that revenge is a dish best eaten cold.