Even though greater challenges face the province, the price of beer, wine and spirits in British Columbia, and limits on their sale and marketing, have been contentious points for generations.
So it's hardly a coincidence that whenever the political kitchen has become too hot for the BC Liberals under Premier Christy Clark, they've reached into the communications cooler for a cold one with which to distract the public and divert attention from the controversy du jour.
In summer 2013, when new MLA Suzanne Anton was named attorney general, she was ordered by Clark to explore liquor deregulation. John Yap was appointed the conductor of a liquor policy review.
When the review was announced a few months later under the guise of "consulting British Columbians on practical and responsible changes to outdated liquor laws," the government claimed it would look at allowing convenience stores to sell beer, and folks to pop a cork at a beach or in a park.
In the end, those trial balloons went "pffft." They were valuable attention-getters at the time, when BC Hydro and its smart meters (remember them?) were still in the news.
How does this BC Liberal game of spin the bottle work? Something politically awkward happens; they whip out a liquor announcement.
Here's an example. On Sept. 11, 2013, a BC Hydro document about a coming 26 per cent rate hike over two years came to light, raising ire. A few days later, the BC Liberals held a news conference at the Steamworks Brewing Co. facility in Burnaby to launch the liquor policy review website.
A news conference to launch a website? Either a strategy straight outta 1995, or a cool distraction from bad news.
Spin, spin, spin
In following weeks, the BC Libs spun the bottle again. And again. And again. On Oct. 28, former Westside-Kelowna Liberal MLA Ben Stewart was appointed B.C.'s $150,000-a-year Beijing-based investment and trade commissioner for Asia. Stewart, whose family owns the Quails' Gate Winery in Kelowna, had stepped aside after the May election so that Clark could win a safe seat in the legislature. Gordon Wilson, who campaigned for Clark, also got a $150,000 gig. He is the Buy B.C. LNG advocate, a fancy title for roving chamber of commerce pitchman.
On Oct. 29, after the patronage appointments elicited predictable outrage from the NDP, the Liberals re-announced their plan to consider selling alcoholic beverages in grocery stores.
On Nov. 18, service cuts, fare hikes and slot machines on BC Ferries grabbed headlines.
On Nov. 22, the Liberals relaxed rules for privately donated liquor at charity auctions.
On Dec. 9, NDP health critic Judy Darcy went to Kelowna to meet with the Interior Health Authority and warned BC Hydro rate hikes would cost health authorities $5 million over two years. The Opposition also complained about the loss of 6,700 private sector jobs since Clark launched her B.C. Jobs Plan in 2011.
On Dec. 11, at a news conference at the Gidda family's Volcanic Hills Estate Winery in Kelowna, Clark said the government would follow through on a dozen recommendations from Yap's to-be-released liquor review, including sampling and selling of wine and beer at farmers markets, festivals and off-site tasting rooms.
On Dec. 16, the NDP brought up the Liberals' blocking of an Agricultural Land Commission review of the proposed Site C dam.
On Dec. 17, Clark went to the Cactus Club in downtown Vancouver to announce happy hour was coming to B.C. in 2014.
Even more spins
The Jan. 27, 2014 verdict by B.C. Supreme Court Justice Susan Griffin in favour of the B.C. Teachers' Federation embarrassed the Liberals. Griffin chastised the ruling party for bargaining in bad faith and plotting to provoke a strike in order to score political points.
Yap's report was delivered on-time to Anton Nov. 25, but the Liberals kept it in the cellar for the most-opportune time to consume. On Jan. 31, four days after the Griffin decision, the Liberals finally released the 73-recommendation report, which vowed to phase out fences at beer gardens and festivals.
The NDP issued a March 5 news release that said Advanced Education Minister Amrik Virk needed to "explain more than $100,000 in irregular payments" made at Kwantlen University while he was a director.
What happened the next day? The government announced its store-within-a-store concept for grocery liquor sales.
The NDP called for Virk's resignation June 19 after an internal investigation found $50,000 paid secretly to a senior Kwantlen executive. That story didn't have much of a shelf-life.
The next day, the Liberals announced more details about happy hour, including the minimum $3 price for a 12 ounce glass of beer. The Liberals retreated to the drawing board when it was discovered that some beer drinkers would see price hikes. On July 25, they announced a pitcher of beer would be no less than $12.
Need a drink yet?
On Aug. 4, one of the biggest news stories of 2014 in B.C. occurred: the Mount Polley mine tailings pond breach. The disaster grabbed international attention and dominated the discourse in B.C. for much of the month. Then came word that the Liberals were cutting $4 million from the RCMP's anti-gang and major crimes investigations.
Voila, an Aug. 21 news release proclaiming the success of 100 liquor companies selling their wares at farmers markets in 40 different communities.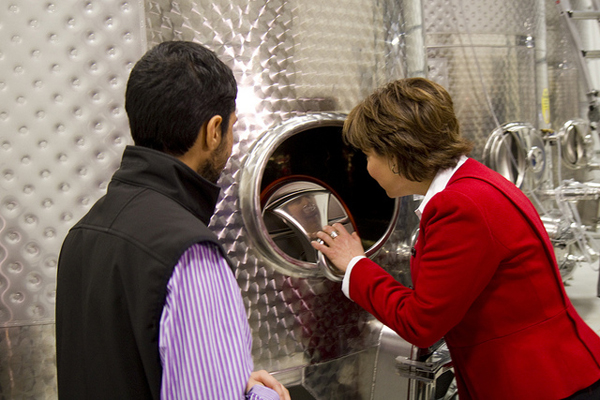 The start of October included a public call by the NDP for the Liberals to apologize for the firings of Ministry of Health researchers over an alleged data breach. Health Minister Terry Lake offered an apology. The next week, the government announced rules for grocery stores that want to sell booze.
The Health Ministry firings scandal reared its head again. The Tyee reported Nov. 20 that former deputy minister Graham Whitmarsh was boycotting the government's internal probe and had serious doubts about the review's integrity.
Just in time for the end of the fall sitting of the legislature, a liquor announcement double-whammy. First, on Nov. 20, easier licensing rules for golf courses and ski hills to hold more special events. Then, on Nov. 24, the government set April 1, 2015 as the day liquor sales would be allowed at certain grocery stores under the store-within-a-store program.
The BC Liberals apparently have a well-stocked liquor cabinet from which to pour future announcements. The government has planned a rewrite of the Liquor Control and Licensing Act for the spring 2015 session and further implementation of Yap's report recommendations.