Recently, B.C. announced that it had hit its interim 2012 climate target. This is big news. In a world where governments treat climate targets like New Year's resolutions, so far B.C. has kept its word. Now the question is: what's next?
We know we're not alone in asking this question. New polling research by the Pembina Institute, Clean Energy Canada and the Pacific Institute for Climate Solutions shows that nearly nine out of 10 British Columbians think hitting our climate targets is a priority for the province.
The survey looked at British Columbians' opinions regarding priorities for the province based on its commitments in the Pacific Coast Action Plan on Climate and Energy (PCAP), an agreement that B.C. signed with Washington, Oregon and California last year. The PCAP commits the group of signatories -- who represent approximately 54 million people, $2.8 trillion in annual GDP and 530 million tonnes of carbon pollution -- to a variety of steps to tackle climate change. The results are compelling.
Ninety-one per cent of British Columbians think transitioning to buildings that use very little energy is a priority; 89 per cent think hitting climate targets is a priority; 88 per cent think using cleaner vehicle fuel is a priority; 82 per cent think using more electric vehicles is a priority; and 69 per cent think pricing carbon is a priority. Given these results, there's no question that British Columbians are keen to see their government keep its commitments to fight climate change.
B.C. currently has a moderate tax on carbon, a policy to reduce the carbon in our vehicle fuel, a carbon-neutral government and a ban on dirty coal-fired electricity generation. In order to meet our 2020 and 2050 climate targets -- 33 per cent and 80 per cent below 2007 levels, respectively -- B.C. will need to build on these achievements. As time goes on, these actions will become less effective if they are not matched and surpassed by ambitious new ones.
And frankly, hitting the climate targets will be impossible if liquefied natural gas development proceeds at anything approaching the scale currently targeted by government.
Presenting Climate Action Plan 2.0
For the nine out of 10 British Columbians who want to see B.C. meet its climate targets, what should they be looking for from the B.C. government? A credible plan that ensures we continue to make progress reducing climate pollution from all sectors of the economy. Let's call this B.C.'s Climate Action Plan 2.0. It should include the liquefied natural gas sector and provide a clear framework for how government will address the threat that this development poses to B.C.'s climate targets.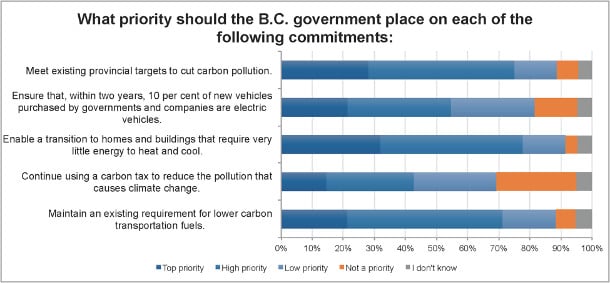 We can actually piece together some ideas that could form Climate Action Plan 2.0 for B.C. if we connect the dots from the government's recent Climate Progress Report and its commitments in the PCAP. But we need to go further. We need to see bold commitments to action that build on our existing successes.
For example, new analysis shows that the carbon tax continues to work -- B.C.'s per-capita fossil fuel combustion is dropping relative to the rest of Canada while economic growth in the province has outpaced the rest of Canada's since the carbon tax was introduced. Now we need to broaden and strengthen this policy.
We also need strong commitments to net-zero buildings, transit infrastructure and walkable communities. For the oil and gas sector, we need to reduce methane leaks, use cleaner energy and best-in-class practices and technologies, like carbon capture and storage. These are just a few ideas.
There's no question that B.C. has made significant progress on the climate file to date. Now is the time to provide British Columbians with the new Climate Action Plan that they want -- one that outlines how we're going to continue to reduce carbon pollution while strengthening B.C.'s clean energy economy.