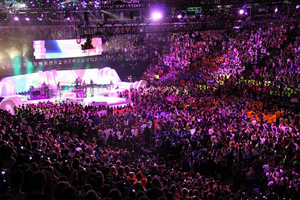 [Editor's note: A previous version of this article contained inaccurate statements about funding sources for the charitable non-profit Free the Children. We have corrected them in the article and provide a link here to the clarifying perspective of the executive director of Free the Children.]
"You can't buy a ticket to We Day. You have to earn it!"
It's a refrain we heard over and over, first from two impeccably-styled VJs and later from the Kielburger boys themselves as they bounded around on the Rogers Arena stage, shouting into their cordless mics and inciting screams from the 20,000 teens and pre-teens in the audience.
The Kielburgers are Marc, the stodgier, jacket-clad older brother who plays a supporting role, and Craig, 30, the superstar younger brother whose first steps in charity work catapulted him into the Canadian public spotlight at age 12.
It was Vancouver's We Day, one stop in a series of enormous pep rallies for social change which feature big-deal speakers and B-list musicians (our show included Kofi Annan, Romeo Dallaire, Sean Atleo, Avril Lavigne and Hedley). It's an initiative developed by the Kielburgers' charitable organization Free the Children.*
We Day is both meant to pump up and reward teens and pre-teens involved in community-based and global charitable works. The kids I was there with, high school students in my Leadership class, had earned their way by raising funds to build schools overseas, holding book and clothing drives, and putting on events to build community within the school.
Being at We Day was a coveted experience, a special opportunity for student leaders. So why did I leave feeling cynical, manipulated and disengaged, when We Day promised the opposite?
#WeDay crowdpumpers
The doors for We Day opened at eight in the morning, and although I went in with some trepidation about the media polish and obvious expense of the event, I expected to respect the premise of its work and even wondered if I would get caught up in the do-gooder mob mentality.
When the event eventually started, to blaring music and flashing lights that showcased an elaborate set, we were instructed on how to behave -- usually screaming, clapping or cheering, with the carrot of "getting on TV" waved at us by our videogenic hosts. The day was being filmed, we were told repeatedly, to be made into a national television special.
As much as the organizers pushed to create an intense display of teenage hysteria reminiscent of Beatle-mania, the volunteer-made cardboard signs (I had my eye on a pink one near us that read "I Heart Avril") scattered around the seating sections were quickly confiscated, lest they block a good camera angle. We were encouraged only to take washroom breaks when a video was playing so no one watching on TV would see anyone indifferent enough to leave the spectacle.
Social media was enthusiastically embraced. About four or five times an hour, Craig, Marc or whoever else was up on stage instructed us to "amplify our voices" by tweeting, Instagramming and Facebooking the event through the day. (I should note that I amplified my voice only once, to announce to my Facebook friends that Chad Kroeger had joined Avril Lavigne on stage to perform their embarrassing, sappy duet.)
The day also marked the launch of an app, We365, that we could download to track our participation in various charitable initiatives. We were promised that with every download of the app, one child in the developing world would be immunized against disease.** I haven't downloaded it yet, and I'm not sure what that says about me.
Selling brands or inspiration?
The emphasis on media participation was unsurprising. After all, one of the event's major donors was Telus.
Throughout the day, CEOs of We Day's many corporate partners took to the stage, extolling their companies' social change initiatives or screening slick commercials that highlighted their overseas work. We saw a video about a group of seniors having a "life-changing moment" at a Cineplex theatre and learned the surprising degree to which the Keg is committed to alleviating poverty, one $30 steak at a time.
At times, it wasn't clear to me whether the individual up on stage was there to sell their brand or as one of the inspirational speakers. And as an establishment-wary 30-year-old, I'm more savvy to these things than the 15- to 17-year olds in my care -- though when I asked them at lunch, they told me they didn't like the push they were getting to behave in particular ways.
Free the Children purports to value community and collective action, but besides a few quick mentions of successful school initiatives, we mostly heard stories of remarkable individuals or small groups acting independently to achieve great things and then receiving great recognition.
The only participatory elements of the day were calls to clap, cheer or scream, and a few camera-friendly rounds of We Day dance choreography. As an educator, I couldn't help but wonder whether there could have been at the very least some opportunities to invite participants to write in a journal, discuss a point with a neighbour, or meet someone in a row or two up and down and hear about some of the initiatives they've been involved in.
Five hours of programming, even with quick cuts and loud noise, gets dull after a while, and before long I could see the kids around me begin to squirm, start texting on their phones, or even catch a quick nap. Dialogue, action and participation could have increased everyone's energy, engagement and sense of ownership in the event. Of course, that sort of thing doesn't make for very good TV. And it also can't be controlled very well.
The tough, true stories
We Day stirs up enthusiasm and a call to action, something that young people tend to have already. What it fails to do is to capture the difficulty and complexity of the work and tell stories of perseverance, of repeated attempts and of work with results that take years or even decades to realize. Enthusiasm and the desire to help are common in teenagers, but persistence and resilience to setbacks need to be taught.
Instead, the narrative cutting across all of We Day was summed up by the promotional videos for Me to We's $4,000 two-week educational trips: a pretty white teenager goes to a developing country and is embraced by the beauty of the land. She helps to dig a well or build a school, plays with some kids, laughs with the elders and is rewarded by the intense gratitude of the local people. There is no mention of terrifying, malaria-pill induced nightmares, of hot sun and boredom, of locals who are not so welcoming to affluent teens who descend upon their village for a week.
More helpful than the simple We Day narrative, I believe, are stories that talk about hardship and difficulty, stories that can model persistence and a belief in one's work. I have no doubt that Annan, Dallaire, and many of the other We Day speakers have those stories. Surrendering the stage to those individuals, resisting the pressure for TV-friendly quick cuts and ritualistic offerings to the social media beast, might have generated the space for authentic conversation.
It's tempting to get caught up in a discussion of the neo-colonial nature of Free the Children's work, to issue concerns about poverty tourism, and ask questions about the money they take from mining and agriculture corporations. International charity work is an intensely complex issue. But complexity doesn't mean poverty in the developing world should be ignored.
Free the Children, Me to We, and We Day can be commended for their calls to action. But unfortunately, We Day's corporate and media agenda meant the Vancouver event was a celebration of only the simplest, low-risk, low-reward forms of action -- like penny drives, bake sales, and taking a selfie of yourself sitting at a seat in Rogers Arena.
*Corrected from "Me to We" to "Free the Children", Nov. 1 at 2:40 p.m.
**Corrected from "Me to We" app to "We365 app", Nov. 1 at 3:20 p.m.