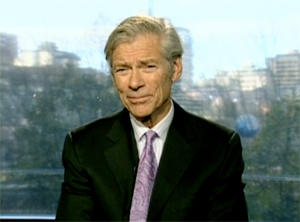 "You know, we lived through socialism in B.C. for 10 years. I know what it looks like and it is not pretty." -- Jim Shepard, Concerned Citizens for B.C.
One can admire veteran corporate executive Jim Shepard for doing what he believes is right -- attempting to save Premier Christy Clark by putting his retirement time and business experience on the line to head a political rescue mission.
But Shepard is the wrong salvage operator, who's using faulty facts and a counterproductive approach that may backfire on the BC Liberals.
First -- get real. When Shepard said in a 2010 interview that B.C. experienced "socialism," he was referring to the New Democratic Party governments of Mike Harcourt and Glen Clark in the 1990s.
"Socialism" in B.C. like in North Korea or back in the U.S.S.R.? How absurd.
Shepard should really have a chat with Glen Clark about that -- you know, the guy who is now president of the Jim Pattison Group -- B.C.'s third largest private corporation, with sales of $7.4 billion and 34,000 employees internationally.
And Shepard knows Glen quite well -- after all, Clark joined forest company Canfor's board of directors in 2009 while Shepard was still CEO. Neither company is state-owned.
Shepard also apparently puts U.S. President Barack Obama in the same "socialist" category as Clark. The full 2010 quote from Shepard in the middle of Obama's first term of office sounds like something Rush Limbaugh or Newt Gingrich might spout.
"It worries me about leadership in the U.S. right now and the direction it is going. You know, we lived through socialism in B.C. for 10 years. I know what it looks like and it is not pretty," Shepard told The Globe and Mail.
Amazing! Both the American president and the president of the Pattison Group are secret "socialists" undermining our cherished free enterprise way of life. Who knew?
We better put a stop to this -- call out Concerned Citizens for B.C.!
Blame the media
Second, the new Concerned Citizens for B.C. volunteer group leader blames not Christy Clark but the media for her problems.
"Christy has not been given a fair shake. She has not been identified as a competent premier," Shepard told reporters last week. "I want B.C. to see what I [see in Clark]."
"If the media could see Christy Clark the way I see her day in, day out, they'd be singing her praises to the heavens," Shepard told CKNW radio host Sean Leslie on Sunday.
But apparently what most of B.C. sees in Clark, it doesn't like.
Angus Reid Public Opinion released a national poll last week that showed Clark is Canada's second most unpopular premier with just a 30 per cent approval rating, narrowly ahead of Nova Scotia NDP Premier Darrel Dexter.
But NDP leader Adrian Dix is Canada's second most popular opposition leader, with a 53 per cent approval rating.
And while Clark's approval rating has dropped three per cent since March, Dix's has risen six per cent.
Blame the pollster
Shepard, who has been a $1-a-year economic advisor in Clark's office for the past year, has a lot of work to do changing that perception.
He might usefully start by telling Clark to stop shooting the messengers. Clark's response to the poll should have been to shrug it off and say she'll work even harder.
Instead, for the second time in a month, she blasted Angus Reid Public Opinion, questioning the world-renowned firm's polling.
After saying the election is a year away and that in recent months "we've seen polls aren't really very meaningful," Clark fired her torpedo:
"And third, it's an Angus Reid poll," Clark said with a smile. "Anything else?"
Founder Angus Reid wasn't having any of it.
"Maybe at least it's time to say, you know, 'Please, Madame Premier, back off. If you want to look at records, you can look at our record, but you may want to look at your own record because there's a lot of people in B.C. looking at that record and they don't like what they see,'" Reid told CKNW Radio's Jon McComb on Thursday.
Blame the 'dismal decade'
If Clark is less than diplomatic, hardline conservative Shepard has a take-no-prisoners approach.
As CEO of Finning International, the world's biggest Caterpillar equipment dealer, Shepard moved the company's Canadian head office from Vancouver to Edmonton in 1999 due to his antagonism towards the Glen Clark government.
Shepard also took out full-page newspaper ads in 2001 to support the election of Gordon Campbell.
But don't try to convince Shepard that the NDP's term in office from 1991 to 2001 didn't turn the province into a Depression-era dustbowl -- because he just won't listen.
"They had control of the province for 10 years," he told CKNW Sunday. "They took us from having one of the richest provinces in the country, where we were one of the strongest economies, to the absolutely worst economy in the province... to the point where we were on welfare, British Columbia was receiving equalization payments from Ottawa.
"That is absolutely pathetic -- and that's the kind of bottom line that we got with an NDP rule of 10 years," Shepard concluded incredulously.
In fact, the NDP government's track record during what Shepard and BC Liberals try to label the "dismal decade" is actually surprising positive compared to the current government's own results over 10 years.
You can look at many different statistics but check these:
Average economic growth under the NDP governments of the 1990s was three per cent -- that's far better than the BC Liberals' two per cent. Under the "socialist" NDP, corporate profits rose by 251 per cent, exports jumped 107 per cent, the provincial Gross Domestic Product was up by $51 billion -- a 63 per cent hike -- and capital investment rose 35 per cent.
The BC Liberals actually received five equalization payments from Ottawa in a decade totaling over $2.7 billion. The NDP? Just one of $125 million.
But why would Shepard or Premier Clark bother with the facts when fighting "socialism" is so appealing to the corporate funders the BC Liberals depended on for over 62 per cent of its income last year?
Still, one reason to change their dated 1950s Red Scare approach is because to ordinary voters, the claims are so ridiculous.
Dix himself comes from a family of small business owners. And the NDP gratefully accepts corporate donations -- $229,000 last year -- and is soliciting now harder than ever.
A strange footnote
Lastly, in a strange footnote, Shepard's new group has a remarkably similar name to one started by now-Finance Minister Kevin Falcon in the 1990s to undertake a "Total Recall" of NDP MLAs.
In an online profile, Falcon's old group "Concerned Citizens of B.C." is listed at an address that is currently occupied by the MLA's constituency office.
But a BC Liberal caucus spokesperson assures that the old group has nothing to do with either Shepard or Falcon's current role, saying the information was "dated."
Sort of like Shepard's approach to B.C. politics.