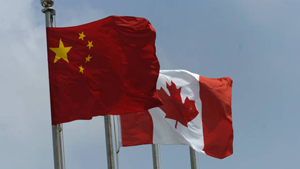 The libertarian government of Stephen Harper, which claims to support free trade and democracy, has signed an investment and promotion treaty with China that will give that nation's state-owned enterprises unprecedented say and power in Canadian society.
Without significant changes the treaty will lock Canada on Nov. 1 into a 31-year-long contract that could make the country a plantation economy for one of the most volatile and repressive economies on the planet.
Harper's unseemly marriage with China's authoritarian capitalists and state-owned oil companies has placed his government on a collision course with Canadian society. A new Angus Reid poll shows that four out of five responding citizens believe "foreign governments should not be able to control resources on Canadian soil."
Moreover nearly 60 per cent say the federal government should block the sale of Calgary-based Nexen to China's CNOOC, one of that country's most powerful state-owned oil companies.
(Nexen, a Calgary based multinational, sells natural gas, bitumen, crude oil and electrical power. Nexen has reserves in Canada, the Gulf of Mexico, the United Kingdom and Yemen. It also has working interests in Columbia and Nigeria. It holds a 7.23 per cent interest in Syncrude Canada and its tar sands properties in Long Lake have long been plagued with technical as well as engineering problems.)
Albertans and British Columbians stand the most opposed. British Columbians object to the buy-out by a seven to one margin (the deal would transfer large B.C. shale gas reserves to Chinese state control) while three in five Albertans don't believe the deal is in the public interest.
Another poll by the University of Alberta's China Institute reported this week that Alberta's citizens totally disagree with the position of their government on the controversial CNOOC deal and certain types of Chinese investment. In contrast to Premier Alison Redford, who supports the Nexen deal, the majority of Albertans polled said that full ownership of Alberta-based companies as well as "investment in Alberta energy by Chinese SOEs" was frankly "undesirable."
It seems that Canadians understand what its politicians don't: that increased trade with the world's second most powerful economy comes with grave risks and trade-offs.
The following political truths about the character of the Chinese economy and its oil strategy appeared in a paper released by the U.S. Centre for Strategic and International Studies last summer. These five points illustrate the folly of Harper's Chinese alliance which has already badly degraded Canada's environmental legislation, diminished Canadian democracy and devalued our workforce by importing foreign miners who lack the rights accorded Canadian workers.
1. China is not a free market. It has primarily chosen "a politically driven and geostrategic (rather than economic) approach to energy security policy." The Communist Party relies on State Owned Enterprises (SOEs) to achieve its economic and political objectives. This explains why CNOOC, a national oil company with a virtual monopoly on offshore drilling, can offer $15-billion to purchase Nexen. That's nearly three times what the company is actually worth ($6.7 billion).
2. Beijing directs its three national oil companies to pursue a "China-first" energy strategy that exploits and manipulates the vulnerability of "pariah states" such as Iran, Sudan and Myanmar. China's investments in these countries "will detrimentally affect efforts by Western governments to improve governance standards, human rights, and economic reform in resource-rich authoritarian states around the world." Stephen Harper, a libertarian economist, has chosen to do business with SOEs that have no interest in governance standards, human rights or fair trade.
3. China's growing dependence on oil (50 per cent of what it consumes must be imported) shapes that nation's "China-first" energy policy. It is now the world's fourth largest producer of oil based on its control of foreign assets. The Communist Party believes that more oil supply translates into lower prices at home which means greater economic growth. That means more cheap stuff can flood markets around the world. The Communist Party, a form of gangster capitalism, also recognizes that "a disruption of China's supply of oil could lead to twin forces of mass discontent: a stagnating economy and inflation caused by spikes in domestic energy prices." As a consequence countries that sell their oil assets to China are cementing the power of the Communist Party and its increasingly "authoritarian capitalism."
4. Beijing does not believe that markets should determine pricing, supply or distribution of energy. Just three state owned enterprises dominate energy production in China and its investments abroad: CNOOC, Sinopec and Petro China. They are among the 10 largest corporations in China with a market capitalization of $500-billion. State banks provide them with cheap credit which explains why all three SOEs have paid far more for tar sands assets than their actual market value. The leaders of all three companies are senior members of the Communist Party of China. When it comes to energy "China prioritizes the party and state over pricing and distribution."
5. Many western governments including the United States are wary of the way the Communist Party of China could shape global energy supplies by locking in certain global assets. Every investment by China's SOE's represents a political calculation by the state. "Using the hand of the state to orchestrate the rise of national champions in key markets is imperative for the CCP to retain its economic relevance in a rapidly modernizing economy. Creating enormous national oil companies under instructions to 'go global' is an important component of energy and economic security, and therefore regime security."
Source: John Lee: China's Geostrategic Search for Oil.