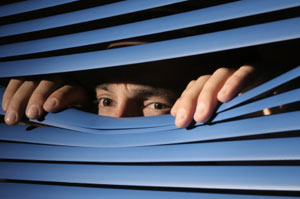 Just about every North American knows that we live as large as Las Vegas when it comes to consuming oil, electricity or natural gas. We are the world's fattest and laziest energy consumers (and our growing corpulence reflects this bitter truth). But, hey, we can't stop snacking, let alone employing more energy slaves.
We are also procrastinators. If we can put off insulating the attic or saving for a rainy day, we'll do so. Like healthy dining, energy conservation typically closes a thousand eyelids and gets put off till tomorrow. We are a mañana species and our high-octane living embraces inertia the way TV watchers love couches.
But behavioral scientists have been probing our energy dawdling for years and found an old-fashioned solution. Call it shaming or even biblical good sense. But it all boils down to comparing your behavior with that of your neighbors. It works better than high prices and yields more money saving results than a pack of moralizing greens sounding as cranky as the good prophet Moses.
Studying 'social proof'
Two eager beavers have done much of the pioneering work at the Massachusetts Institute of Technology: Hunt Allcott and Sendhil Mullainathan. They study how ordinary people make decisions about saving money or buying peanut butter. And they've come to the conclusion that idealistic messages about energy saving don't work. Or invite much change. In fact people behave in pretty complex ways because we are, after all, people, not widgets or saints.
Now consider this tidy bit of behavioral science. Most hotels now encourage their guests to reuse their towels. The fewer towels they have to put in the washer and dryer, well, the less energy and carbon emissions created by their guests.
In 2008, a ritzy hotel in Phoenix, Arizona (a city with a limited energy future) induced conservation with three different signs. One witless card said "Save the Environment." Another encouraged bathers to "Preserve Resources for the Future." But the card that got guests reusing their towels in big numbers said "Join Your Fellow Citizens In Helping to Save the Environment." It also included information that 70 per cent of guests generally did so.
In psychological circles this principle is known as social proof: "If people see others doing something, they assume that it must be okay to do it and, therefore, they will be happier about doing it themselves." (The city of Vancouver recently demonstrated the point with a young men's riot about nothing.)
The same principal works with energy and in particular electricity usage. The psychologist and persuasion guru Bob Cialdini proved the point with a 2008 California experiment. His researchers left door hangers on households that said "Save money by saving energy" and the like. But the one that caught everyone's eye was this: "Here's how much your neighbors are using energy."
OPOWER's innovative billing
OPOWER, an energy efficiency software company based in Virginia, whose political neighbor (West Virginia) removes the tops of mountains to make electricity for iPods and the like, applied that concept to electricity billing. It paired up with utility companies to create a bill that showed power users how their flicking and switching compared to that of their neighbors.
OPOWER used random controls in their billing and sure enough the folks that got information about the energy habits of the Joneses just changed their behavior by consuming less. They also got information on how to do it.
As OPWER recently reported to the U.S. government the savings were significant. "Every utility with at least six months of results has achieved energy savings between 1.5 per cent and 3.5 per cent. These results have been consistent across electric and gas utilities, as well as in winter-peaking, summer-peaking, and mild climates." The service now reaches two million consumers in the United States.
Allcott and Mullainathan asked what the savings might be if such a program were to go national and here's what they found: "If scaled nationwide, a program like this could reduce U.S. carbon dioxide (CO2) emissions from electric power by 0.5 per cent while actually saving $165 per metric ton of reductions." In contrast, wind power, carbon capture and storage and hybrid vehicles cost more than $20, $44 or $15 a ton. Let's repeat that. The MIT guys calculated savings worth $165 versus spending as high as $44 per ton. In other words changing human behavior is a lot more cost effective than industrializing farmland with windmills or going into the carbon funeral business.
Three policies
In a paper for Science magazine in 2010, Allcott and Mullainathan reached three basic policy conclusions.
The first was that governments should be funding high impact behavioral programs. (The principals for doing so are no different than any good science: if it's not scale-able and doesn't have clearly measurable outcomes, then don't do it.) But imagine, for a moment, what might happen if energy regulators started comparing the energy consumption habits of say oil sands producers and made it public?
The second was that governments should provide incentives to get firms to "nudge" obese energy users to leaner states. Smart government (almost an oxymoron) can direct utilities to provide clear and honest information about energy conservation. Perhaps the best way to get there is by unplugging the incentive to consume more or what economists call "decoupling." Utilities now make their money by encouraging people to consume more power, which drives the price up. It's a system geared to waste, folly and greed. But if governments separated profit from the amount of electricity sold, the tail would no longer wag the dog.
Last but not least, governments can provide honest information for consumers and energy addicts. (Some of us consume but most of us are addicts.) Miles per gallon (MPG), for example, answers the question of how far a driver can go on a gallon of gas. But the real question is how much gas will I use while owning a car? And that's best expressed as gallons per mile (GPM) or litres per kilometre. The first figure confuses the issue, while GPM focuses attention on the goal: replacing the most inefficient car.
The bottom line here is that "saving the environment" is a dead-end commandment. On the other hand, a simple message that shows me how my neighbor saves more money by conserving more energy is a green road to Damascus.
Now this type of social engineering, which turned us into high-energy users in the first place, is not a panacea. It doesn't address several great dilemmas such as Jevon's Paradox or how to live within limits and on a human scale. But if social proof can restore some form of biological restraint, then let's get on with it.
The mechanics of shame are truly biblical: "People are typically more willing to contribute to a public good," notes Allcott, "if they are informed that other people are contributing more than they are."
Amen to that.