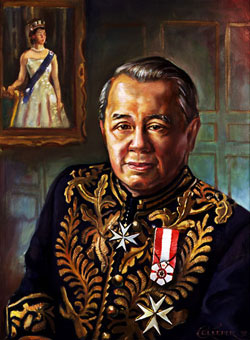 H.L. Mencken once said, "Every normal man must be tempted, at times, to spit upon his hands, hoist the black flag, and begin slitting throats." Now whether or not I qualify as a "normal man" is, I suppose, a matter of serious debate, but I sure as hell feel like slitting throats.
It started with the notice that our former lieutenant-governor, David Lam, had died. He was a gentle man dedicated to his community, who performed his ceremonial tasks with great dignity. We often, with death, say all sorts of things nice about a person who really wasn't all that nice, but His Honour was one of those rare examples of an obituary understating the truth. It was just like Mr. Lam to have his life celebrated not in a cavernous church with special seating for the big wigs, but in a chapel in a funeral home.
Mr. Lam was appointed not because he was owed any favours, but because he was a decent citizen.
I first interviewed Mr. Lam shortly after he was appointed. I was nervous. I was, rarely for me, in awe. Here was a fascinating man, the first "person of colour" to hold this position in his adopted and much adored province of British Columbia. (Lincoln Alexander in 1986 was the first black Canadian lieutenant-governor -- Ontario.)
When Mr. Lam came into the studio he advanced briskly saying, "Rafe, I've long been looking forward to meeting you," which took away my opening line, leaving me at an unusual and, happily, momentary loss for words.
Bearing in mind the lieutenant-governor's enormous residual power -- seldom used -- I thought, "Here is a man I would know to be non-partisan if he had to exercise his power."
Power and privilege
Allow me to digress. The last lieutenant-governor to use his powers was in 1952, when to the surprise of all and horror of some, a rag-tag group of unknowns called Social Creditors won the most seats in the Legislature -- but only by 19 to 18 over the CCF (now NDP). One William Andrew Cecil Bennett presented himself to Government House as the legitimate heir to the premier's office. Lieutenant-Governor Clarence Wallace dithered, trying to figure out what to do. The CCF leader, Harold Winch, had presented the case that he, with many years in the legislature, should be the man to head the minority government, and as a clincher said that he would have the support of Tom Uphill, a long term, far-left independent MLA from Fernie, and that would put the matter into a tie.
In a bit of magic for which he would become famous, Bennett pulled out a letter he had, pledging support, signed by Uphill!
Thus began 20 years during which time Bennett became famous enough as B.C.'s premier to appear on the cover of Time magazine and, perhaps unwittingly, raise a son who would take his seat and, after a short three and a bit year interregnum of Dave Barrett of the NDP, his old office as well.
Now let's look at the federal scene and current Governor General David Johnston, and compare the background of his appointment to that of the late David Lam. Johnston may have been unknown to most Canadians, but he sure as hell was well known to Stephen Harper.
The Mulroney file
The story is a long one. And this is what has me figuratively wearing my pirate's hat ready to slit throats.
For 15 years, a slow burning scandal concerning Air Canada buying Airbuses instead of Boeings had simmered. The "star" of the show was a German "Mr. Fixit" named Karlheinz Schreiber, a mysterious figure who wandered from politician to politician, from Air Canada director to another with schmiergelder -- literally "grease money" -- in his omnipresent Louis Vuitton case, spreading it wherever it would help Airbus' sales pitch. His activities involved a "who's who" in Canadian political affairs, including Brian Mulroney.
After he left the prime minister's office and the party had been massacred in the 1993 election, Brian Mulroney was persona non grata with his old party, but by 2009 he'd wormed his way back into the party's good graces. On more than one occasion, he was feted in glowing terms by Harper as a great counselor to him and a credit to the party.
The trouble was that by this time there was no doubt that Mulroney took at least $300,000 from a secret bank account in Switzerland under the not so subtle name BRITAN set up by Schreiber from "commissions" paid him for his useful services to Airbus during their sales efforts with Air Canada. And had, in fact, not declared this as income. This meant that he had to confess to Revenue Canada that he had "forgotten" about this bit of loose change, and the taxman not only let Mulroney pay his taxes late without penalty, he only had to pay half!
The stink became such that, after a parliamentary committee had heard the evidence, the prime minister knew he had to pull off the bandage and lodge a public inquiry into the matter of payment from Schreiber (about to be extradited to Germany to face fraud charges) and his buddy Mulroney. And here is where we get back to the theme -- governors general and lieutenant-governors.
Terms of reference
Harper appointed a former Manitoba judge, Jeffrey Oliphant, to hold hearings into the $300,000 payment from Schreiber and the question became, "What should the terms of reference be?"
Surely the principal question was obvious. "Was this $300,000, paid out of a Swiss bank account in the name of BRITAN, schmiergelder paid to Mulroney for helping Schreiber sell airbuses to Air Canada?"
Harper hired one David Johnston to set up the terms of reference, and he refused to include any relationship between Mulroney and the Airbus scandal, saying that it was "well-tilled ground."
Well-tilled ground! This was the main unanswered question, especially since by the time of the hearing, a clear link between Mulroney, Schreiber and the Airbus scandal had been discovered.
For Harper and the party, this comfy mandate was manna from heaven!
Why wouldn't Prime Minister Harper want the entire matter canvassed?
Because if Mulroney, the newly reinstated Conservative icon, was shown to be guilty of any wrongdoing, it would have a devastating effect on the party and Harper himself.
By an amazing coincidence, on Oct. 1, 2010, David Johnston became the governor general of Canada.
No one would dare say that this was a payoff or a reward. No, it was just an amazing coincidence, that's all.
The appointment of David Lam as B.C.'s lieutenant-governor did not follow any amazing coincidences.
Now, where the hell's my cutlass!