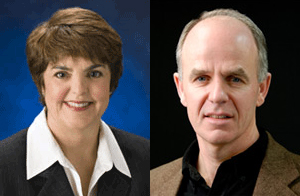 Political pundits, columnists and the BC Liberals owe a debt to Bob Simpson for taking attention off of the self-destruction of the Campbell government and giving them something else to talk about. For over a year the Campbell government unsuccessfully attempted to change the channel that was stuck on the HST. It took Simpson publicly criticizing Carole James and getting himself kicked out of the NDP caucus to do what the BC Liberals were incapable of doing.
I was critical of James and other leaders within the NDP immediately following the 2009 election, because I believe that the advertising campaign, particularly the TV ad campaign, which is the major campaign expense, was lacking any clear message that could be the ballot box question. Since the election, the NDP has a new party president, a new provincial secretary and a significant change to the party constitution requiring leadership reviews at every convention.
As a member of caucus, Simpson had better opportunities than other NDP members to influence the course of the party. He was demoted as forestry critic after he freelanced on the softwood lumber deal; however, he was placed on several caucus committees that would allow him to advise the leader and help set caucus agendas.
Simpson's mounting attack
In an online column Simpson criticized the speech James gave at the UBCM, at a time when the news media had focused on Campbell's speech being devoid of new ideas. It would be a mistake to think the two lines in the column are the sole reason Simpson was kicked out of caucus. His constituency executive passed a motion calling for a 2011 leadership convention and in a background note faulted James for not growing the party membership and financial base.
Since the party's constitution already requires a 2011 leadership review that could cause a subsequent leadership contest, the Cariboo North motion appears to ask that the constitution be violated by skipping the review and going directly into a leadership race. Constituency executives for sitting MLAs are not likely to pass such motions without at least the tacit support of the MLA.
That motion, combined with the online column, put James in the position of either being labeled as weak and incapable of dealing with Simpson or acting as she did in expelling him.
Simpson couldn't possibly win the showdown he had set up with the leader, unless of course he wanted precisely what occurred. There can be little doubt that he will now get lots of media attention, because every time the media want someone to comment on James and the NDP, they can count on Bob.
What's wrong with leading by 23 points?
Simpson started the media circuit Thursday with appearances that included the CBC morning show and CKNW. On CBC he attributed his unhappiness to the NDP being stalled in the polls, James trailing her party in support and failure to expand the membership base.
The latest Angus Reid poll, conducted online among 805 randomly selected B.C. adults between Sept. 8 and Sept. 9, put the NDP 23 points ahead of the BC Liberals, 48 per cent to 25 per cent. The approval numbers for James were only 30 per cent, but the approval numbers for Campbell were 12 per cent, and they were 17 per cent for Green Party Leader Jane Sterk. The Mustel Group also conducted a poll of 502 B.C. residents between Aug. 26 and Sept. 7 using the old telephone techniques; its survey showed the NDP with only a nine point lead, 42 per cent to 33 per cent. That poll put Campbell's approval rating at 34 per cent and James' at 42 per cent.
There's an old rule that you don't have to be a 10 to win in politics if your opponent is only a three. No matter which poll you look at, there is little question that if an election had been held last month, James would be premier with a comfortable majority. That doesn't appear to be good enough for some of her critics.
The party's money worries
New Democrats and BC Liberals recruit members and fundraise in very different ways. The Liberals offer inexpensive multi-year memberships, using them to expand their network, but relying primarily on corporate donations to finance their party. The NDP primarily relies on membership donations to finance the party; furthermore, it makes it difficult to do membership drives.
In the period prior to the NDP's 2000 leadership convention there were allegations of improprieties regarding membership signups; there was an incentive to put names on cards so as to build up delegate entitlement for certain constituencies even though people may not have paid for their own memberships. Following that convention, the party set strict rules on membership recruitment, including the number of membership application forms any organizer could take out.
Organizing in the NDP still remains primarily the responsibility of local constituency associations, so if Simpson is concerned about membership, he should look at what his association is doing by way of contacting those who voted for him but weren't members. That's hard work, but it is the technique the NDP has used across the province for decades. It appears that it was more convenient for him to fault James.
What does Simpson stand for?
When appearing on the Bill Good show, Simpson went beyond polls and membership when Good questioned him on policy issues, including how the party should relate to business, tax policy and the environment. Simpson did a good job setting out some of the challenges without specifying a single position that he advocated but was unable to get through caucus. He stuck to asking questions in response to Good's request for where differences could be found between him and James.
Following the UBCM convention, Bill Tieleman wrote an article that appeared in The Tyee that was critical of James' "courtship" of the business community. James has simply said that business also needs to be at the table. There are thousands of people involved in business that need to know that their concerns will not be dismissed without a fair hearing. Those who want a class warrior (which would appeal to far fewer than the more than 40 per cent of voters that support the NDP) are not going to find it in Carole James.
Some New Democrats, including Tieleman, responded to Simpson's sacking by saying that a more sensible approach would have been to suspend him from critic duties but keep him as a member of caucus. The alternative view is that Simpson had gone too far for a slap on the wrist to be adequate.
There can only be one winner when a member of caucus directly challenges the leader.
Simpson and a few of his sympathizers may have done a favour for both the NDP and the BC Liberals.
The HST will be back in the news, so relief for the BC Liberals will be but a pause.
Controversy over James' leadership will continue, aided by what is certain to be ongoing commentary from Simpson; however, James and her caucus are up to the challenge.