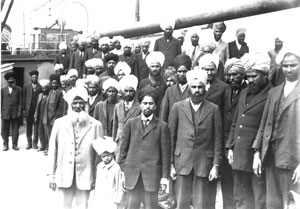 They're coming.
Another 200 Tamil boat-people are reportedly headed for British Columbia, on the Thai-registered MV Sun Sea.
The trickle that began last October, when 76 undocumented Tamils arrived of the coast of Vancouver Island, might be turning into a flood -- creating a dilemma for Stephen Harper's government.
The defeat of the Liberation Tigers of Tamil Eelam last May has caused an exodus of asylum-seekers from Sri Lanka. Most are probably genuine refugees. Of the 414 Tamils processed in Australia since the LTTE defeat, 329 were accorded refugee status. This notwithstanding the fact that many of them had at least a passing acquaintance with the LTTE, who for years controlled a portion of Sri Lanka's northern, Tamil-populated territory.
The LTTE, which invented the suicide belt and assassinated both a Sri Lankan president and a former Indian prime minister, has been listed as a terrorist organization by Canada, the United States and European Union. Australia never listed the LTTE because the organization restricted its violence to Sri Lanka and the adjacent southern Indian province of Tamil Nadu.
Human rights vs. terrorism
Sadly, for many Tamil asylum seekers, it is their past, often unavoidable, associations with the LTTE that create a risk of persecution at the hands of the Sri Lanka state.
The UN High Commissioner for Refugees has compiled reports that Tamils with LTTE links have been arbitrarily arrested, tortured and even disappeared.
Which concern should trump? The fact that many of these people are genuinely at risk; or their associations with a rebel force that engaged in deplorable acts?
Of the 76 Tamils who arrive in B.C. last October, 25 were detained for months after the Canada Border Services Agency said it had "reasonable grounds" to believe they were terrorists. All were later released when the CBSA admitted that it had no evidence of terrorist connections. They remain in Canada while their refugee claims are being processed and, according to the CBSA, all are accounted for and respecting the conditions of their release -- including, in some cases, curfews.
Just the beginning
Australia, the destination of choice for most Tamil asylum seekers, is now closing the door on them.
Ships carrying asylum seekers are interdicted on the high seas and their passengers taken to Christmas Island, a far-flung fragment of Australia that has been deemed by the government to fall outside its territory for the purposes of refugee law. But Christmas Island is filling up, prompting Prime Minister Julia Gillard to push for a new refugee processing centre in the neighboring developing country of East Timor. Such actions will probably succeed in diverting at least part of the exodus elsewhere.
Coincidentally, the Harper government has recently moved to simplify and speed up Canada's refugee determination process. The new Balanced Refugee Reform Act enables the fast-tracking of claims from so-called "designated countries of origin," defined as countries that do not normally produce refugees, have a robust human rights record, and offer strong state protection.
Sri Lanka could not credibly be put on such a list, especially since UN Secretary General Ban Ki-moon, earlier this month, appointed a panel of experts to advise him on allegations that war crimes were committed by the Sri Lanka military against Tamils last year.
As a result, any Tamil arriving here still has a very good chance of obtaining asylum.
In the circumstances, it's easy to imagine Stephen Harper being concerned about the optics of accepting boatload upon boatload of Tamils. People who might be perceived as queue-jumpers. People whom the government has already painted with the terrorism brush.
What is to be done?
According to reporting by Stewart Bell of the National Post, federal lawyers have advised that ships carrying asylum seekers cannot be turned away before they reach Canada's 12-mile territorial sea (at which point they acquire a right to a refugee determination process under international law). If this report is correct, the prime minister might be advised to engage new lawyers.
For if a ship is flagged by a friendly country like Thailand, Canada can simply ask for permission to stop the vessel on the high seas. Furthermore, permission is not required if the vessel is unregistered or proceeding under false pretenses, such as flying the flag of a country where it is not registered, or using a fake name.
In 2002, the United States adopted a policy of intercepting Haitian migrants on small boats and rafts and returning them directly from the high seas to Haiti. The Canadian government at first questioned whether the new policy was consistent with international refugee law, but later sent a frigate to assist the Americans. France, Greece, Italy and Spain all engage in high-seas interdictions of asylum seekers.
In addition, coastal states have rights to a "contiguous zone," between 12 and 24 nautical miles off shore, within which they can act to prevent any violations of customs and immigration laws that are about to occur.
In Canada, such actions are facilitated by the Marine Transportation Security Act which requires ships to give 96 hours notice before entering territorial waters. If a ship hasn't provided notice, or has been told not to enter the territorial sea but is sailing resolutely toward it, there is no question -- we can stop it.
Awkward precedents
After intercepting the vessel, Canada could send it back to Sri Lanka, knowing that the passengers would -- by virtue of having drawn international attention to the human rights situation there -- be at even greater risk than before.
But if that sounds familiar, it's because we -- as a country -- have been here before.
In 1914, the Japanese-registered Komagata Maru arrived in Vancouver carrying 376 passengers from Punjab. The ship was forced back to India without disembarking; on its return to Calcutta, at least 19 of the passengers were shot by police. In 2008, Stephen Harper apologized on behalf of all Canadians for the Komagata Maru incident.
In 1939, the German-registered SS St. Louis arrived in Halifax harbor with more than 900 Jewish asylum-seekers on board, having already been refused landing in both Cuba and the United States. The Canadian government likewise refused entry, forcing the ship to return to Belgium. More than 200 of the passengers were later murdered by the Nazis. Jason Kenney, the minister for citizenship, immigration and multiculturalism, frequently refers to the SS St. Louis as an example of how racist attitudes colored the policies of previous Canadian governments.
Harper and Kenney's statements on these two historical precedents now place them in a quandary. Their contrition with respect to the Komagata Maru and SS St. Louis might be rooted in genuine humanitarianism, or be part of a cynical effort to attract Sikh and Jewish votes.
Either way, it ties their hands with respect to Tamil boat people. The law allows for options; the principle of consistency does not.