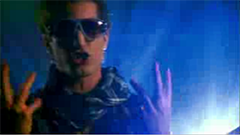 Like other victims of Andy Samberg and Jorma Taccone's latest SNL short, I can't stop singing it. Yes, in public. Yes, like on the bus. So, I figure if I inflict it on you, too, I won't look so socially awkward.
But social awkwardness is what this spoof music vid is all about. "Jizz In My Pants" is the first release (sorry) from Incredibad, Lonely Island's (Samberg and Taccone's comedy posse) CD, which is due out in February. The vid also features Jamie Lynn Sigler, a.k.a. Meadow Soprano (who's getting a lot of props lately for her comedic roles) as the check-out girl, whose line "cash or credit," proves just too much for Taccone; Molly Sims, as the dance floor seductress; and Justin Timberlake who makes a cameo as the grocery store janitor. It's already got over 6 million views (more than "Dick in a Box") and is near the top of the viral video list this week.
Funny guys, like Flight of the Conchords, with "Business Time," make some of their biggest hits poking fun at the mating game. No wonder, with its level of social convention and excruciating anxiety.
My non-scientific study of uncontrollable laugh provocation finds that mixing two things that don't go together is always a winner; in this case, a music vid from a genre all about aspirational cool, that introduces the most unlikely, uncool thing that could happen (jizzing in pants).
Plus, don't you spend a lot of energy trying to not be socially inappropriate? So seeing someone do it on purpose is like being in Grade 1 and hearing another kid say, "fart."
It doesn't hurt that the vid mimics its genre so closely (even more closely than last December's "Dick in a Box" did, which was also a marvel, no?). For me, that means my grip on what's being made fun of on purpose (premature jizzing, which my auto-spell-check keeps turning into "jazzing") and everything else (flirting and what's considered normal sexy behavior) kind of turns into an absurd blur. Like when you got the giggles when you were 12 and didn't know what you were laughing about.
Like in "Dick in a Box," it's the women I can't take my eyes off. First, in "Jizz" both Samberg and Taccone's characters blame the women for their own, um, shortcomings.
But also because Molly Sims' seductive behavior, which wouldn't look out of place in any ad or music video, seems totally absurd, too. Which, as a woman, strangely makes sense because whenever I put a "hot" dress on and go out and act even remotely like this, I feel both normal and totally ridiculous at the same time. Like someone's about to turn the lights on and say to me, "You're kidding, right? Oh my god you should see yourself." My boyfriend says that's not the point of this video at all; that it's about the ridiculousness of ultra-coolness, and that the women are incidental to the men's inflated behavior. I agree it's a tangent, but I still think the video makes everything seem anthropologically insane.
Not surprisingly, given the subject matter, reaction to the vid is mixed, with most saying it's totally hilarious and a few saying it's totally unfunny. Maybe the people who don't find it funny need to stand backwards in an elevator, or something, and see how breaking small rules can show us the absurdities of our everyday lives? Or maybe those of us who find it funny should spend less time in those worlds that are just too cool?
Or maybe it's just fun to hear someone say "jizz."
Related Tyee stories: