Twenty years ago, two Vancouver beat cops alarmed at the number of young people coming into the Downtown Eastside, notorious even then for its open drug use, decided the best response was to have people already misusing drugs warn youth about the dangers.
But not everyone thinks the "say no to drugs" message or its unique delivery through videos is effective or helpful.
"We'd ask [young] folks what they were up to and why they were here," said Sgt. Mark Steinkampf, one of those beat cops, talking about his experience in the neighbourhood in 1997 with The Tyee last month.
"And we'd get a myriad of different reasons. And some of those reasons would be not believable: I'm here to meet my uncle; I'm here to meet my cousin; oh, I'm just looking around. If we saw those people two times, three times, we knew they were maybe getting into that lifestyle or were already into the lifestyle."
"That lifestyle" is the regular use — and misuse — of illegal street drugs like crystal meth, heroin, crack cocaine and marijuana. This was 1997, before mass overdoses of legal opioids like OxyContin and fentanyl and before safe injection sites and Health Canada-approved prescription heroin treatment.
Fellow officer Sgt. Al Arsenault had already been taking photos of drug use and violence in the neighbourhood — with consent if he captured faces — to use during school presentations. But it clearly wasn't enough to scare young people away.
Arsenault and Steinkampf tried a new tactic: interviewing drug users on video about how they got started with drugs, the impact on their lives, and messages they had for youth about illicit drug use.
"So the addict would show the young person, this is my life, these are the choices that I've made, don't make my choices," said Steinkampf.
Steinkampf and Arsenault founded Odd Squad Productions, fundraising for a video camera and using their spare time on top of their day jobs to make documentaries about drug use and gang life to show youth the "reality" of these criminal lifestyles. While Odd Squad has a good relationship with the Vancouver Police Department, they are separate organizations. Though still a working police officer, Steinkampf speaks only for Odd Squad, and as a parent.
Twenty years and nearly two dozen documentaries later, the Odd Squad is a registered charity whose films are shown across the country. As of 2016, the charity had two employees. The rest of the members of the Odd Squad Productions Society, like Steinkampf himself, are volunteers.
Today Odd Squad marks its two-decade milestone with Back on Track, a one-day conference in Vancouver, followed by a $250-a-ticket fundraising gala at the Pinnacle Hotel. Proceeds will help fund future documentaries and cover travel costs when Squad members and volunteers visit schools.
Revenue Canada records show the Odd Squad pulled in nearly $650,000 in donations in 2012, when it held its fifteenth anniversary gala. Since then the charity has reported less than $300,000 annually in donations.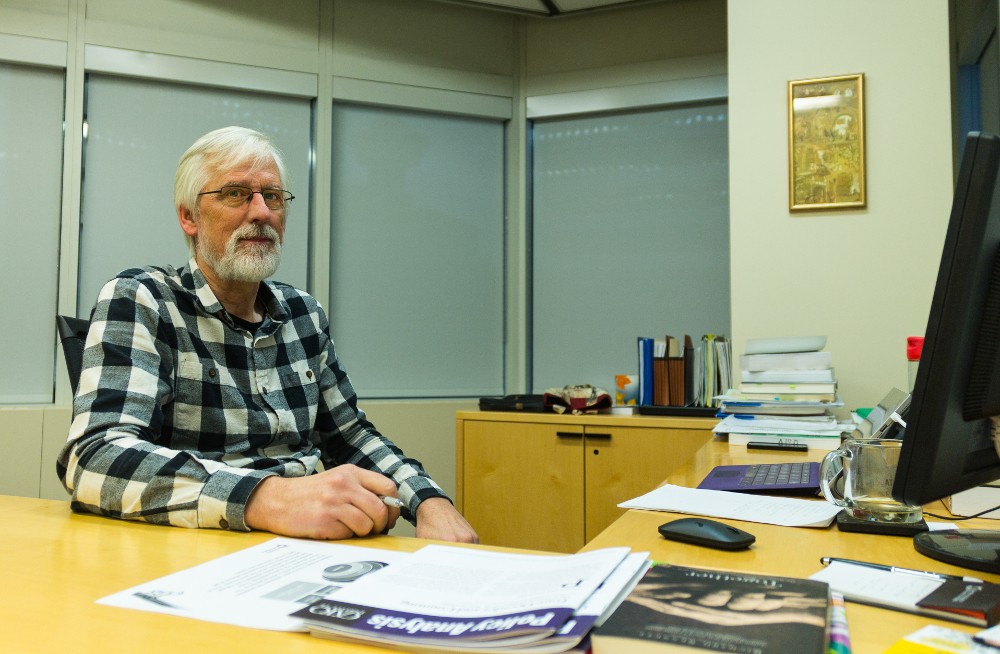 Dan Reist studies drug education models as assistant director of the Knowledge Exchange at the University of Victoria's Canadian Institute for Substance Use Research, and he is not a fan of the Odd Squad model.
"We have filled the country with knowledge of risk, and yet we have the highest overdose rates we've ever had and it's still climbing," he said.
Odd Squad does "traditional drug education," Reist says, like the now-discredited Project D.A.R.E. (Drug Abuse Resistance Education) campaign out of the United States.
"The philosophy behind it is exactly the same, in that if you give people information, 'the facts' — particularly facts about the harms — that somehow that will drive behaviour," Reist says. "And that's been proven to be false over and over."
Despite 20 years of documentaries, Steinkampf says youth are still getting the message that there are no consequences to taking illicit drugs.
That's why the Odd Squad shows extreme examples of drug use gone wrong, he adds.
The group's first and most high profile film, Through a Blue Lens, was co-produced by the National Film Board of Canada and released in 1999. The almost 60-minute doc follows Arsenault, Steinkampf and Sgt. Toby Hinton — now Odd Squad's executive director — on the beat as they interview and encounter current substance users.
Through a Blue Lens is difficult viewing, with a harsh light shone on people who are often high, distressed and in poor physical health. Just 15 minutes into the doc, after turning away from a man he caught about to smoke heroin in a doorway, Hinton turns to the camera. "That's the type of thing that's happening all the time around here," he says. "Really tragic, pathetic, wasted lives once you get hooked on this crap."
A scene earlier in the film introduces us to "Carly" hours after she witnessed her boyfriend "John" shoot himself in the face in their Single Room Occupancy hotel. A talkative woman with a birdlike frame struggling to kick her heroin habit, "Carly" obliges the camera operator's request to show off the large abscess on her forearm and other deep scars — all self-inflicted while high.
There have been no formal evaluations of the Odd Squad's effectiveness in meeting its goals of "educating youth to focus on their potential," as Steinkampf put it, instead of experimenting with drugs.
Odd Squad's videos are vetted by educators and "experts," Steinkampf said, including other police officers, doctors, ex-dealers and current and former drug users.
"This has always been a difficult thing to assess, whether it's a D.A.R.E. program, or other anti-substance use approaches," he said. "These things really have to be longitudinal."
There have been longitudinal studies of the D.A.R.E. program, and the results aren't encouraging.
"D.A.R.E. has been debunked in the sense that all of the major research studies that have looked at D.A.R.E. have found it ineffective in meeting its own projected goals," said Reist, adding the program is rarely followed to the letter in B.C. schools. Instead, drug education programs are a mishmash of D.A.R.E. and Odd Squad resources.
"It's police officers coming into schools, drawing on curriculum like D.A.R.E. and supplementing it with things like Odd Squad videos."
Just six minutes into Through a Blue Lens viewers meet "Darlene" for the first time as she is in the middle of a bad cocaine trip. She's literally rolling around on the street, screaming for help to escape the plainclothes cops she believes are trying to rape her.
The scene cuts to sober "Darlene" in daylight, recounting her own experiences with drugs and drug education growing up. She, perhaps unwittingly, criticizes the very drug educational model she's helping recreate.
"I know for sure that my mother was a heroin addict," she says. "I grew up not knowing why she was always sleeping, until I was 16 and I watched a documentary showing a junkie tie their arm off. That was my mother, and I was like, oh my god, that's why she was like that."
Drug education vs. drug literacy
Steinkampf rejects the idea that footage of drug users in dire straits perpetuates shame and stigmatizes users. Odd Squad always gets consent to film anyone who can be identified, he said. This includes the paramedics interviewed in Through a Blues Lens after assessing "Randy" who, like "Darlene," is depicted rolling around on the sidewalk, yelling and twitching his way through a drug trip.
Steinkampf emphasizes that everyone in the Odd Squad videos is a human being with a complex story and says he knows, or knew, many of them on a first-name basis.
"I know that some people think there's a line specifically between the police and everybody else," he said, "but it's an incredibly grey world."
Vancouver Coastal Health prevention consultant and educator Kerrie Watt says showing drug users in a shameful light can increase the dangers of drug misuse.
"What keeps us in the dark is shame," said Watt, adding we live in a drug-consuming society and shouldn't shield youth from that fact. "By destigmatizing substance use, we start breaking down the barriers that get in the way of people getting help. Because nothing fuels addiction more than shame."
Both Watt and Reist believe the best "drug education" would be built into the existing Kindergarten to Grade 12 curriculum as opposed to separate workshops or presentations on drugs.
Co-authors of the Canadian Institute for Substance Use Research's iMinds project on alcohol and drug health literacy for Grades 4 to 10, Watt and Reist promote open dialogue between teachers and students about the drug messaging youth already receive in and out of school.
"It embeds drug literacy into everyday coursework. It doesn't stand out as this extra subject," said Watt.
"For example, the Grade 9 curriculum is all done through English, where students do a whole segment on the short story, learn all the elements of it, but then content and topic of all the stories is about addictions and substance use. So not only are you learning about all the parts of the story, but you're also learning about addictions and substance use."
Instead of police officers or other drug "experts" coming into the classroom, teachers are the best ambassadors in the iMinds program, according to Watt.
"You don't need to be an expert. As a matter of fact, it's better when you're not, because you are more likely to have conversations with a teacher that you trust, versus a counsellor that you just met," she said.
iMinds isn't about changing behaviour, says Reist. The goal is to build youths' capacity to change their own minds — "health capacities," in the language of the program. Part of what Reist calls the social-ecological model of health, iMinds looks at "health actions" — the choices people make — and "health opportunities" — their environment — to show how interrelations between behaviour and environment impact personal health.
"Traditional drug education looks at this issue of health actions, where we've really tried to change people's behaviours," Reist said.
"Health capacity is 'do people have the capacity to make good health actions?' And capacity can mean a lot of things: do they have the resources, do they have the knowledge to make the decisions?"
"If we change any one of them, we change the health status."
In Through a Blue Lens, Arsenault makes the point that sometimes focusing on health actions works. He contends the drop in smoking and drunk driving rates thanks to education campaigns shows "people's perception of drug use will change in a generation if we work hard enough."
But Reist said focusing on health actions is "not terribly effective, necessarily."
Art Steinmann says the best prevention programs don't focus on drugs as much as they promote critical thinking and resiliency skills. He's the manager of the Vancouver School Board's SACY (School Aged Children and Youth) — pronounced "sassy" — substance use health promotion initiative.
SACY includes a number of programs to open up dialogue on drugs between youth, educators and parents, providing a rare consequence-free opportunity for adults to listen to and learn from young people's views on and experiences with illicit drugs. They also provide counselling for youth identified as being at-risk of or actively misusing drugs.
"There's quite a bit of data that shows that information alone is not going to do the job, never has, and sensationalizing or exaggeration is not helpful because you tend to lose credibility," Steinmann said. Telling youth drug use will always result in the same predetermined negative conclusion isn't realistic or helpful, he adds.
"The approach we take at SACY is very much a relationship approach, and it's about trying to strengthen young people's resilience, character and capacity so that they can make decisions that are in line with their goals and values."
Odd Squad Productions has its fans, too.
Although funding and members' time restrictions means Odd Squad does not actively market their presentations to schools, they do come to schools on request. Their videos are also available for purchase, while Through a Blue Lens can be streamed online for free.
Vernon School District's substance abuse prevention counsellor Doug Rogers has brought the crew out to the district's five secondary schools three or four times in the last 15 years, including earlier this year.
"The guys at the Odd Squad are great at saying to the kids, this is what we see day in and day out. These are not bad people. These are folks who've made poor choices," said Rogers.
Unlike her co-author Reist, Vancouver Coastal Health's Watt is a fan of the Odd Squad, if its films and presentations are part of a comprehensive drug literacy program.
"They do a really good job at creating opportunities for enforcement and young people in really difficult situations to interact in a way where they can really see each other for their common humanity," she said.
In Vernon, Rogers pairs Odd Squad presentations with curriculum on anxiety and depression, yoga and meditation for kids and other prevention and intervention programs like Preventure out of the University of Montreal, and HABIT (Healthy Automatic Behaviours Intentions and Thoughts) from the University of British Columbia.
"Any time we can give information to kids that makes them ambivalent about their drug use is incredibly helpful" said Rogers, who is scheduled to speak at the Odd Squad's Back on Track conference today.
But, he notes, "there's no point in talking about drugs are bad, just don't do it, when kids are using that as the band aid" for mental health issues.
For Steinkampf and the Odd Squad, illicit drug use and misuse always comes back to making the wrong choices. Nevertheless, they're open to hearing what the critics have to say.
"I think that as long as the message is the same, that the youth should be looking at their potential versus risking everything over an artificial feeling, I can listen to their approach," said Steinkampf.
"I don't know if [critics] had an opportunity to see what we do. And I'd like to see what they have in response to what we do."