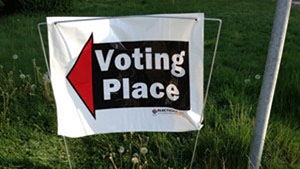 A looming trial on charges of violating the Election Act isn't stopping Mark Robertson from helping the BC Liberal campaign in the Coquitlam-Burke Mountain byelection.
Robertson, scheduled to go on trial Aug. 8 for alleged violations of the Election Act in 2012, has been recruiting people to work on the campaign of Liberal candidate Joan Isaacs.
On Jan. 26, he sent email messages to party members on behalf of North Vancouver-Seymour MLA Jane Thornthwaite seeking election-day volunteers.
"Whether you have a few hours or a full day, we'll need lots of volunteers to remind our identified support to go vote, scrutineer at polling stations, and provide rides as needed," the email said. "If you've never worked an election day before, don't worry. Training will be provided and either I or one of my colleagues will be around to answer any questions you might have."
Robertson, director of field operations for the BC Liberal Party, refused to comment on his role in the campaign. "If you have any questions, talk to our office. I don't talk to the press, thank you," he said before hanging up. Robertson is also a director of the Liberals' Port Moody-Coquitlam riding association. Isaacs is the association president.
BC Liberal spokesperson Jillian Stead did not respond to messages seeking comment.
Robertson and Brian Bonney were charged in 2014 with violating Election Act sections on political contributions and election expenses.
Prosecutors allege Bonney and Robertson hired Sepideh Sarrafpour to work on candidate Dennis Marsden's Port Moody-Coquitlam 2012 byelection campaign. The $2,240 campaign expense was never properly reported, prosecutors allege.
Former Port Moody mayor Joe Trasolini won the seat for the NDP.
Robertson and Bonney are the only two people charged in connection with the "Quick Wins" scandal linked to a BC Liberal plan to win support from ethnic communities. The NDP released a leaked document in February 2013 that showed government employees were doing party work. Special prosecutor David Butcher completed his two-year investigation last fall, but his final report has not been published.
Since the byelection was called on Jan. 5, at least one-third of the 49-member government caucus, including 10 cabinet members, have spent time campaigning for Isaacs.
The riding has been without an MLA since BC Liberal Doug Horne resigned last summer in a failed bid to become a Conservative MP in October's federal election.
A second byelection on Feb. 2 will see an MLA elected in the NDP stronghold of Vancouver-Mount Pleasant to replace Jenny Kwan, who resigned last spring and was elected as an NDP MP for Vancouver East.