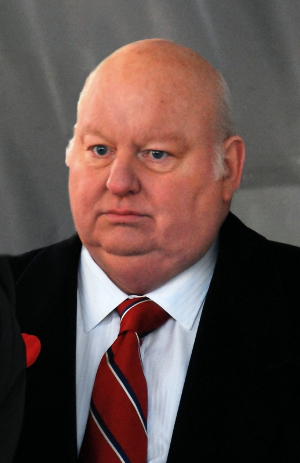 Senator Mike Duffy made an unexpected allegation in court today on a seven-year-old election fraud cold case from British Columbia.
Duffy faces 31 charges, many of them involving travel he billed to the senate. Testifying in his own defence Thursday, Duffy described the rationale for a 2009 trip to help then Conservative cabinet minister Gary Lunn in the Saanich-Gulf Islands riding north of Victoria.
"He'd had a close call during the previous election and it was only through the divine intervention of [late former senator and campaign manager] Doug Finley's black ops group at Conservative headquarters that he managed to get himself re-elected," Duffy reportedly told the court.
"Basically what happened was that they used robocalls to misdirect NDP voters, to split the vote and allow Gary Lunn to win," Duffy said. "He knew nothing about it, except that they phoned him afterward and said 'You're welcome Gary.' He said 'What?' [They said] 'We got you in.'"
The allegation relates to a case The Tyee followed from when it happened in 2008.
On the eve of the Oct. 14, 2008 election, automated phone calls were made to people in the riding encouraging them to support the NDP candidate, Julian West. The calls went out even though West had withdrawn 20 days earlier. He'd dropped out too late to have his name removed from the ballot.
Recipients said the calls appeared to be coming from NDP riding association president Bill Graham's phone, but Graham insisted they had nothing to do with him or the party.
West received 3,700 votes, significantly more than the margin of 2,625 votes that separated Lunn from his nearest challenger, Liberal Briony Penn.
At the time, Lunn's local campaign manager Byng Giraud told The Tyee, "We didn't do it ... I hope nobody's thinking it's us. If they were, I'd be quite upset."
Giraud did not respond to calls today.
Investigations came up empty
Official investigations into the 2008 calls came up empty. A Telus spokesperson said it is possible to "spoof" calls, obscuring where they come from, even to the phone company. The practice is legal in Canada and there was nothing the company could do, he said.
The Commissioner of Canada Elections* investigated but said they "found no one who had actually been influenced in their vote because of the purported telephone call, nor was he able to identify the source or the person or persons who actually made the calls."
In the House of Commons in 2012, former prime minister Stephen Harper said there was no Conservative connection to the calls, and that sore losers who claimed they were a trial run for later robocalls in Guelph in 2011 were conducting a smear campaign against the Tories.
And there it stood until today, when Duffy testified that the Conservatives were responsible for the calls in Saanich-Gulf Islands in 2008 and had used their voter database to encourage NDP voters to vote for that candidate.
Lunn did not return The Tyee's phone call, but the Canadian Press reported he told the newswire that he never knew who made the misleading phone calls and never told Duffy that it was Conservative headquarters.
Finley died in 2013 after a long battle with colorectal cancer.
'I'm a little skeptical': lawyer
Bruce Hallsor, a Victoria lawyer who volunteered on Lunn's campaign and who has at times been a senior Conservative official in B.C., said he was interested to read that Duffy had implicated Finley and his team in the 2008 call. "If he knows that to be the case, I would personally love it if he provided some evidence."
With the lack of an explanation for the calls there's been much finger pointing, Hallsor said, "including in my direction," and he feels it has hurt his reputation. "I certainly had lots of people ask me," he said. "All I know is it wasn't done by me or anyone I know."
Hallsor added that the way the allegations have come out in the case makes him doubt that Duffy has information about the calls. Lunn was a witness for the prosecution in the summer, but Duffy's lawyer failed to ask about the calls when he had the opportunity to ask Lunn about them under oath, Hallsor said.  "I'm a little skeptical [Duffy] actually knows. If he does know, that's great, and I hope it comes out."
Green Party leader Elizabeth May defeated Lunn in the 2011 election and represents Saanich-Gulf Islands. Global TV quoted her from Paris, where she's attending the COP 21 climate summit. "Duffy may have wanted to just throw that [allegation] in, but it does raise for me a really large alarm," she said.
May called for reopening the investigation into what happened in 2008 in her riding. "When people get away with election fraud, it could happen again."

*Story corrected to reflect that the Commissioner of Canada Elections investigated the allegations, not Elections Canada, on Dec. 11 at 10:00 a.m.