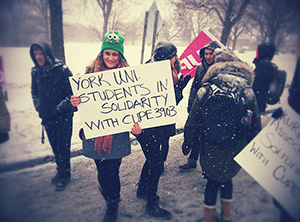 Orion Kidder has been teaching freshman university English literature courses for six years. It's a job he spent 13-and-a-half years in university to get -- over three times what a carpentry apprenticeship takes in British Columbia.
But he barely sleeps at night wondering if he'll have a job next semester, because the future for a sessional lecturer like him, hired by universities and colleges one semester at a time, is never certain.
"My wife's pregnant; we're going to have a baby in November," said Kidder. But the only job he's guaranteed is his part-time gig as an organizer for the Teaching Support Staff Union at Simon Fraser University. That ends in December. He last taught at SFU in summer 2014 due to falling enrolment.
Less risky and expensive than hiring full-time tenured faculty, universities across Canada are replacing retired faculty with temporary teachers, called sessionals or non-regulars, like Kidder.
But without job security, benefits and the peace of mind that goes with both, sessional unions nationwide are fighting for more at the bargaining table -- or on the picket line.
Tensions over the issue are costing more than just administration dollars, too, as evident in Ontario last spring when sessional strikes shut down classes for a month at York University.
'I have to reapply for my own job'
When he spoke to Tyee Solutions Society in July, Kidder was teaching a four-month course at Columbia College for $9,000. He's also taught at Simon Fraser and Douglas College -- both for $6,000 a course -- and Fairleigh Dickinson University for $4,500 per course.
He aims to make about $45,000 annual income after taxes, just enough to make a life in Vancouver, even though his wife is a lawyer.
He currently has no benefits, no office, not even a parking space. Instead, in the summer he spent three hours a day on the bus commuting to his union gig at SFU's Burnaby Mountain campus, to his class at Columbia, and home.
When he taught at Douglas he could get benefits after at least 90 consecutive days of work. SFU pays sessionals' Medical Services Plan fees and 75 per cent of a basic Blue Cross extended health plan during the length of a course taught.
Access to school services like the gym and library last as long as the course he teaches, meaning Kidder can't use school resources to help prep for his next course. He doesn't have the luxury of time to prepare either, as sessionals often learn they have a course to teach barely two weeks before classes start.
"We have no seniority whatsoever, so every four months I have to reapply for my own job," he said, "and there is absolutely no system in place to recognize that I have been there for six years and have therefore maybe proved that I'm good at the job."
Rise of the sessional
Kidder isn't alone. His union estimates around 300 sessional instructors teach 30 per cent of SFU's classes every year, up from 20 per cent a decade ago.
University stats tell a different story. From 2009 to 2014, the school registered anywhere from 196-247 full-time equivalent sessional appointments, less than 20 per cent of all instructor hours. But because sessional instructors frequently work part-time, it's likely an undercount of the number of people who teach temporarily.
Post-secondary unions across the country report a rise in sessional hires and a decrease in tenure or permanent position hires. The Federation of Post-Secondary Educators of BC, an umbrella organization for the province's faculty unions, estimates up to 40 per cent of B.C.'s post-secondary educators are temporary.
There's no consensus on why institutions hire more sessionals than tenured faculty, but unions consistently point to lower federal and provincial investment into post-secondary education.
According to the Canadian Federation of Students, government funding for post-secondary institutions covered up to an average of 90 per cent of institutional costs in the 1970s. Today, it's less than 60 per cent.
At the same time, more Canadians are receiving post-secondary educations: 64.1 per cent of 25 to 64 year olds had some kind of certification in 2011, up 3.4 per cent from 2006.
Unions see administrations hiring sessionals or non-regular faculty as another way to keep costs down while keeping enrolments up. Other cost-cutting measures include increasing class sizes -- at least 40 per cent bigger today than in 1990, said the student federation -- and deferring building maintenance.
"Universities are being run almost as a business model," said Derek Sahota, SFU's Teaching Support Staff Union chair. "The business wants to drive their costs down as low as possible."
Job security coveted
In 2013, University Affairs magazine declared that Vancouver Community College had the "gold standard" in deals for sessionals, or as they call them, "non-regulars."
The college gives sessionals who have taught for six months in a department the right of first refusal for any course they are qualified to teach, whether they've taught it before or not. Sessionals who work 19 months in two years have a path to become "regularized," which is the equivalent of tenure at the college.
"If you become a regular employee you have a right to work, and if there's no work for you they have to lay you off," said John Demeulemeester, vice-president of the Vancouver Community College Faculty Association. But a dose of luck helps in getting enough work to achieve that security.
Regular and non-regularized faculty at the college are also paid on the same 11-step salary grid, which for the 2012-14 agreement started at $53,900 and went up to $86,600 for full-time work.
Those benefits have been in the college's collective agreement for longer than the 12 years Demeulemeester has taught there. Their most recently signed contract, however, gave less-than-part-time sessionals a three per cent bump in pay to compensate for benefits they don't qualify for.
Among Canadian universities, Toronto's York offers its 1,200 sessionals -- nearly half of its teaching force -- one of the best deals. York pays $8,000 per course -- $17,000 per two-term course -- plus health benefits and protection against hiring discrimination based on race or sexuality.
Sessionals have three paths to security: conversions, where they apply to become tenure track professors; long-term service appointments, which provide three years of guaranteed work; and continuing sessionals who are guaranteed to teach a certain course as long as it's offered.
But there are catches. Only eight sessionals a year can convert to a tenure-track position, and of those only two get full-professorships while the rest teach but aren't funded for research. "Continuing" sessionals must have worked at York for at least three years. And competition is stiff: some sessionals have taught at the university for 30 years without a change in status.
Plus, student numbers fluctuate. When enrolments dip and there aren't enough students to go around, sessionals fulfill their business-model role of being easily dropped from the books.
The only people speaking out for sessionals are their unions, which in schools like Vancouver Community College, they share with tenured faculty. But at York and Simon Fraser, temporary workers, also including teaching and, at York only, research assistants, have their own union.
Jennifer Cypher, a sessional since 1996, credits three strikes (the most recent last March) and not the goodwill of the university's administration for the benefits in York's contracts.
"The employer is not our friend," said Cypher, current chair of York's sessional union CUPE 3903. Sessionals at York do 40 per cent of teaching, she said, yet York spends the same amount of money on them as it does on graduate students who do 25 per cent of teaching.
"We have fought tooth and nail. Every time we go into bargaining, they want us to take concessions. We fight hard for these deals, and so have folks across the country."
SFU strike ongoing
Relations aren't exactly friendly between SFU and its Teaching Support Staff Union either. The union's last four-year contract took 30 months to negotiate, taking up half the contract length. The two parties are currently in month 17 of negotiating a new one.
In July, the union's Sahota said the administration refused to negotiate seniority for sessionals or employee benefits. Since then they've started talking about seniority, he said, but not in a way the union finds meaningful.
According to Sahota, instead of offering job security for more senior sessionals, like Vancouver Community College offers, SFU is offering to choose the more senior sessional when deciding whom to hire among instructors of equal talent.
The union has 3,000 members, with workers remaining on membership rolls during semesters they don't have work. Comprised of teaching assistants, sessionals, tutor markers, and teachers in the English Language and Culture and Interpretation and Translation programs, the union voted 86 per cent in favour of strike action in July.
Teachers in the two language programs have since refused to work overtime, while all members refuse to give students' grades until a deal is reached.
In an email, SFU spokesperson Kurt Heinrich said the administration has been "surprised at the extent of the union's [requested] revisions" to its 35-year-old collective agreement.
He added that a sessional who teaches the same course for a minimum of two semesters -- and at least one in the last year -- has priority to teach that course again.
According to the collective agreement, sessionals who have taught at the university for three consecutive semesters, or for five semesters in three years, and have taught a course at least three times in the previous nine semesters, get right of first refusal with 10 days advance notice before the job ad goes public.
Who should teach?
With no funding for research or professional development, sessionals are forced to fund their own ongoing education to ensure they remain up to date and are offering students the best education. That can negatively affect students, too.
Students applying for grad school require letters of recommendation from tenured faculty members, which is difficult to find when more and more teachers are sessionals.
Having job security improves a teacher's morale, said Vancouver Community College's Demeulemeester, which also impacts their students.
"It makes the [college] feel more solid, more happy, more comfortable, and all of that goes over to the students," he said. A survivor of two rounds of faculty layoffs, Demeulemeester has noticed student morale go down after the loss of classes and teachers.
"I want [students] to come in and see that it's possible for a person to have a job that is meaningful and that meets your needs," he said. "I am very lucky I have that kind of job."
Over at SFU, administrators see sessional jobs as another benefit they'd like to offer students. The university said that graduate students, who already have access to work as teaching assistants, should also get priority for sessional positions, because it would provide valuable on-the-job training for would-be professors.
Kidder and his union maintain that sessional work is too much for grad students who already have classes, tutorials and research to do. Currently, less than one-quarter of SFU's sessionals are grad students.
For students caught in the middle, the real lesson may be that until dissatisfied temporary instructors and school administrations work out a satisfying deal for both sides, their pursuit of a career in post-secondary education is likely to end in the same part-time, insecure job they had in grad school.