Thousands of teachers across British Columbia refused to enter school this morning, choosing instead to stay outside, placards in hand or sandwich boards slung over their shoulders, to protest what their employers have offered during ongoing contract negotiations.
B.C. teachers have been without a contract since June 30, 2013, yet after more than a year of bargaining the two sides remain far apart. The union officially moved into stage two of a three-stage strike process today, holding rotating one-day walkouts across the province this week. Seventeen districts saw walkouts today, including Vancouver, Stikine and New Westminster.
Despite the vast number of teachers dutifully marching in support of their union this morning, Peter Cameron, chief negotiator for the BC Public School Employers' Association and the B.C. government's spokesperson on bargaining, has said teachers should question their union's wage proposals, implying they would be shocked by what they found.
"Employees have got to talk to the union and they've got to say, 'Is it true that what we're seeking is several times what everybody else is getting?' " Cameron said during a May 16 press conference.
Teachers haven't had a salary increase since 2010, and their current salary ask is a 10.75 per cent wage increase over four years, plus 2.75 per cent of cost of living. The employers' association assumes cost of living will be 1.5 per cent during that time, and therefore calculates the union's proposal to be a 15.9 per cent increase over four years -- much higher than the 7.25 over six years it has offered at the table.
Cameron pointed to a recent Health Employees' Union (HEU) settlement, which gave workers 5.5 per cent wage increases over five years.
The union is also asking for a return to the 2001 class size and composition formulas stripped from their contracts by then-education minister Christy Clark in 2002.
Although the B.C. Supreme Court has twice ruled the contract stripping unconstitutional, the government maintains a return to those exact formulas would cost an unaffordable $2.5 billion per year on top of the $4.7 billion it already puts into education annually. The union said the cost would be closer to $300 million a year.
What do teachers think?
Are teachers truly shocked by their union's wage proposals? Tyee reporter David P. Ball visited four Vancouver schools to check in with striking educators.
C.J. Kumar, a teacher-on-call picketing outside of Queen Alexandra Elementary, said that Cameron's characterization of the union's wage proposals being higher than other unions' settled agreements "misconstrues" the situation.
"If you look at our numbers of how the government supports education and compare that nationwide to other provinces, you can see that we are in a deficit. We have under-supported our students by at least $1,000 per student," he said, a statement teachers' union president Jim Iker has repeated at several press briefings.
"We're making a salary that's exactly the same as New Brunswick. You think our cost of living is going to be the same as the people in New Brunswick?" and then added, "The primary point is getting funding for students, for getting more staff, for getting more class sizes."
Chris, who refused to give her last name, was picketing outside Britannia Centre, home to Britannia Secondary and Britannia Elementary schools. She offered a more direct response to Cameron: "I'm not shocked. Because we're fighting for class size and composition; because it's important."
Susan Garber, a teacher at Charles Dickens Elementary, also wasn't shocked, because all union members are kept in the bargaining loop with regular updates. "It's fair," she said of the union's proposal, but refused to elaborate on what the updates said about bargaining. "[The proposal] is very reasonable."
Dispute is classic bargaining: retired teacher
Not only students are affected by the rotating teachers' strikes starting this week. The Hastings Adult Education Centre above the Britannia Library also cancelled classes today. Its teachers joined their Britannia colleagues on the picket line.
Adult education teacher Nicolaas Kocken said "sound bites" like Cameron's show how news about bargaining is communicated to the media, but "[the employers' association] is stonewalling and not at all providing clear access or pathway to a reasonable result," he said.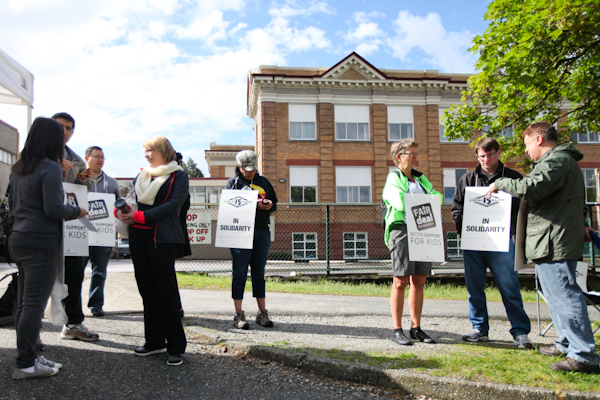 "[Cameron has] obviously selected and interpreted the [salary proposal] according to his position. But you'll find that we're well within a reasonable request if you really did the true math," he said.
A number of retired teachers have thrown their support behind the union. John Michael O'Neill, who taught for 30 years at John Oliver Secondary School before retiring four years ago, said the union's proposal isn't necessarily what it expects to get.
"It's bargaining," he said. "It reminds me of when I was buying a rug in Morocco: the starting [offers] on both sides is not what you end up with. There are negotiations and compromise, and that's all I see happening here, and to highlight the starting position of the other side I don't think is fair."
Both sides are back at the bargaining table today, and again on Tuesday and Wednesday. A spokesperson for the teachers' union said the two parties have agreed to remain in touch "daily" until a negotiated contract has been reached.