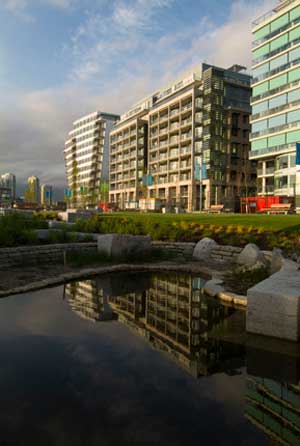 SEFC Properties Inc., the Vancouver Olympic Village developer, is bankrupt.
The company, through receiver Ernst & Young, filed March 12 for bankruptcy. An order by B.C. Supreme Court Justice Robert Sewell on April 2 set the first meeting of creditors to happen no later than June 15 and permitted E&Y to also act as the bankruptcy trustee.
At that time, creditors are expected to press SEFC Properties to negotiate a settlement.
"A bankruptcy proceeding is a usual and accepted practice [for] receivership of this magnitude," reads the eighth report of the receiver to the court on March 10. "[It] will not impact on the receiver's ongoing realization activities or impact the current and future homeowners of the Village on False Creek." The report said bankruptcy would assist in an orderly windup.
A statement of business affairs shows $96.31 million in liabilities and $95.32 million in assets for nearly a million dollar deficiency. City of Vancouver is the secured creditor at $95.32 million, of which $92.54 million is land and buildings and $2.77 million cash on hand.
The biggest unsecured creditor is the Vancouver Sun, which is owed $122,722.76. The smallest is Metro-Can Construction (OV 11) Ltd., builder of the Creekside Community Recreation Centre and Net Zero Building Village builder, for a total of 4 cents.
Units remain unsold
E&Y told the court that 1,062 of the 1,108 units were sold or rented. The report does not say how many are in use. As of Feb. 28, E&Y had distributed $403 million to city hall and held $8 million cash, but 46 units remained unsold.
"While the pace of sales has remained steady, 32 of the remaining 46 for sale units have appraised values of greater than $1 million," said the report to the court. "Accordingly, the receiver anticipates a slower absorption for the remaining for sale units."
The report also said market rental buildings were sold for $40.5 million and the buildings containing retail and commercial leases for $45.1 million in 2013. BK Prime False Creek Residences Holdings bought the former and First Capital bought the latter.
On the downside, the cost of fixing interior, exterior and heating and plumbing deficiencies throughout the complex was $18.7 million. It also cost $7.3 million for the buyout of the Enerpro energy monitoring system and repayment of the Gold Medal Club mortgage.
E&Y charged $1.7 million for 5,350 hours of service between Feb. 1, 2013 and Jan. 31, 2014. Law firm BHT billed $295,587 for 714 hours.
After the 2010 Winter Olympics, the Olympic Village was known as Millennium Water. It was put into receivership on Nov. 17, 2010 over the $740 million owed by developer Millennium to city hall. In early 2011, the complex was rebranded The Village on False Creek under marketer Bob Rennie.
Public anger over bailout
In fall 2008, during the global credit crunch, mayor Sam Sullivan and his majority NPA city council gave a closed-door, $100 million bailout to Millennium after Wall Street financier Fortress Credit Corporation walked away from the project.
SEFC was founded by Millennium Development Corp., which is owned by brothers Peter Shahrokh Malek and Shahram Malekyazdi. In early 2011, city hall relinquished a $1 billion claim against Millennium related to the Olympic Village. Millennium surrendered a portfolio of Vancouver, Burnaby, Whistler and Toronto properties that the city hoped would yield as much as $70 million. Millennium's latest projects are the Alexandra tower in the West End and Boheme condo complex on East Hastings.
Public anger over the controversial bailout figured heavily in the rise to power of Gregor Robertson and Vision Vancouver in that fall's civic election. The city, which had previously guaranteed to complete the project, refinanced with a syndicate of big banks after the province granted it special approval under the Vancouver Charter in early 2009.
In April 2011, city manager Penny Ballem estimated a loss of $48 million, but that didn't include the $171 million cost of land that Millennium was supposed to pay.
As many as two-thirds of units were set to receive varying levels of subsidy under the original NPA plan in 2006, but this was eventually cut to 252. Vision Vancouver further halved the social housing allowance by earmarking 126 units for nurses, teachers and first responders, and leaving the rest for low-income earners.
City of Vancouver is also facing a B.C. Supreme Court lawsuit from more than 50 owners of Village condos who want refunds. They claim they were not delivered the promised luxurious, green apartments. Many of the plaintiffs were immigrants from South Korea, with fond memories of the Seoul 1988 Summer Games, who bought the units in 2007 and 2008. They were livid when prices of unsold units were slashed by 30 per cent to 50 per cent in early 2011.