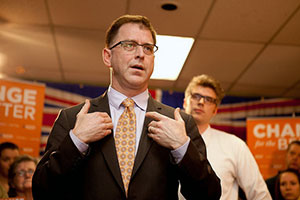 There are many items on the agenda at the Union of British Columbia Municipalities convention in Vancouver this week, but the main topic of conversation in the hallways is what provincial New Democratic Party leader Adrian Dix will do with his future.
Dix, who is scheduled to address the convention on Thursday, has said he will announce his intentions this week. There has been much debate since the NDP unexpectedly lost the May 14 election about whether Dix should stay or go. A review is underway looking at what went wrong.
Hallway speculation includes that Dix might make the announcement in his UBCM speech, at a meeting with riding executives Tuesday or in an address Saturday to the party's provincial council. He might say he's going to go, or he might stay, or he might say he'll leave it up to the party membership, or he might step down but then run in the ensuing leadership race, according to one theory or another.
The best guess of one core NDPer was that Dix will make his announcement on Wednesday and that he'll be going. The questions would then move to timing and who will replace him.
Here are a few of the other things worth noting from the UBCM:
At least some northern mayors and councillors were invited by pipeline company TransCanada to enjoy Monday night's NHL hockey game between the Vancouver Canucks and the San Jose Sharks from the comfort of a private box.
One politician who declined the invitation said it reminded him of the trouble former civil servants Dave Basi and Bob Virk got into for taking tickets to an NFL football game in Denver from a bidder in the BC Rail privatization. He questioned how a person who would take a benefit like that could then go on to consider a proposal from the company properly.
The Canadian Association of Petroleum Producers is back at the UBCM convention, this year aligning with The Walrus magazine on The Walrus Talks: The Art of Conversation. At last year's convention Victoria councillor Ben Isitt criticized UBCM for taking CAPP's money, and protesters heckled elected people who were on their way to the organization's reception at the Royal BC Museum.
Other sponsors of this year's convention include FortisBC, Central 1 Credit Union, KPMG, Telus, Spectra Energy, Shell Canada, Pacific Blue Cross/BC Life, Urban Systems Ltd., TransCanada Pipelines Ltd. and Shaw Communications.
There are also several law firms on the list: Young, Anderson, Barristers & Solicitors; Stewart McDannold Stuart; Lidstone & Company, Barristers and Solicitors; Bull Housser; Valkyrie Law Group; Lorena Staples, Q.C.; Singleton Urquhart LLP; Fulton & Company LLP; and Murdy & McAllister.
And various unions and public sector bodies: ICBC, BC Assessment, Port Metro Vancouver, the Municipal Finance Authority of BC, the Municipal Insurance Association of BC, Green Communities Committee, BCLC, British Columbia Professional Fire Fighters' Association, Clean Energy BC and the BCGEU.
And oh yes, the Consulate-General of the People's Republic of China in Vancouver will host a Sept. 18 reception in-between ones hosted by the government of B.C. and public sector union CUPE BC.
The City of Vancouver is seeking support for a resolution that would ask the province to let the city clean up municipal campaign finance rules in time for the 2014 local election. Such rules have been proposed since 2010, but the province has failed to bring in the necessary legislation.
Community, Sport and Cultural Development Minister Coralee Oakes has said it plans to consult on the campaign finance rules before putting them in place for 2017. Other changes, such as requiring anyone who wants to advertise an opinion on local elections to register with a government agency, will be ready for 2014.
A flyer distributed to attendees says campaigns spent $5.3 million in Vancouver in the 2011 election and one corporation gave $960,000. Spending has increased by 175 per cent over three elections.
"Vancouver has raise this issue with the minister a number of times over the past decade and has been told that the support of the UBCM is necessary in order for the Province to consider the request," the flyer said. "We recognize that many municipalities do not have these problems and we are committed to ensuring that the solutions to our problems do not become your problem.
"That is why we are asking for your help today so we can solve a Vancouver-specific problem, and by doing so ensure that the negative public debate these problems foster does not call all municipalities' election finances into question."
Momentum is building against a province-wide agreement with Multi-Material British Columbia (MMBC) that would make producers responsible for the recycling of packaging and printed paper. MMBC had given municipalities a financial incentive until Sept. 16 to sign onto the deal that would pay them to continue collecting materials before turning them over to MMBC. Several have said the offered rate is too low.
A resolution is asking the province and MMBC to extend that by 90 days "for local governments to clarify and further consider the offer prior to implementation next spring."
According to a UBCM summary of the resolution, it "notes communities have fundamental concerns with such things as the decision-making timeline, the costs and financial risks of the program to local governments, service delivery implications for residents, the feasibility of many of the standards being required, and a lack of necessary details."
A discussion paper on financing local government is predictably winning support among mayors and councillors. The topic might sound dry, but if the province accepts the paper's arguments, a portion of provincial revenues from things like personal income tax, corporate income tax, sales tax or the property transfer tax could go to local governments, which are now mainly funded through property taxes.
Property taxes are a blunt instrument that don't track growth in the economy well and are unfair to people with low incomes, said Saanich Mayor Frank Leonard, who was on the committee that put forward the paper.
"It doesn't reflect the ability to pay," he said. "We're looking for it to be fair and more responsive… We're not looking for new taxes today. We're looking to increase our share of provincial revenues in the future."
A resolution seeks the UBCM's endorsement of the report and a mandate to discuss options with the provincial government.
It will be interesting to see what the province makes of the proposal. Over the past 12 years the government has been moving in the opposite direction, replacing progressive taxes such as those on income with flatter ways of raising money such as higher Medical Services Plan premiums.