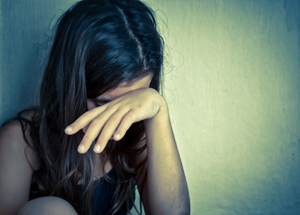 "Children are entitled to be protected from abuse, neglect and harm or threat of harm."
That's the first 'guiding principle' of the B.C. Child, Family and Community Service Act -- the legislation that mandates the foster care and child protection systems operated by the provincial Ministry of Child and Family Development.
But what if, instead of providing the promised protection, this well-intentioned government agency's contractors beat you as a child?
Serena Fabian (not her real name) says that's exactly her situation.
Social workers apprehended her as a young child from her mother, she recounted. But instead of protecting her, she says, the Ministry in fact exposed her to much more "abuse, neglect and harm" than she believes she ever would have suffered at home.
Now 32, Fabian says she lives with memories of countless sexual assaults -- starting when she was seven years old -- inflicted by the teenaged son of her foster mother, as well as beatings, screaming tirades and neglect from those who were paid to care for her.
The trauma, she believes, set her up for a decade of alcoholism, drug addiction and violence starting in her mid-teens. She ran away from her foster family and became homeless.
In an emailed response, a government spokesperson noted that "The ministry takes any allegation of abuse very seriously. I can assure you the ministry would investigate any time we're made aware of such concerns and would take whatever actions are appropriate." At the time, of course, Fabian says she didn't report the alleged abuse.
The ministry has also increased criminal records check requirements for foster parents, according to the spokesperson.
Fabian had her own first daughter at 18. Ever since, she says, social workers have buzzed around her, judging her parenting and threatening to remove her children. Sometimes they have done so: removing her kids only to return them later.
"They [social workers] didn't help me with counseling, or trauma counseling, to help me grieve my childhood," she said in an interview in a nonprofit office near Commercial Drive. That, she believes, set her up to fail. "No matter what I achieve today – college, sobriety -- my past still hovers there. Sometimes when I look at myself, all I see is my inner scars. It's like I'm inside out."
Now clean and sober but living on disability assistance with five children, she wants justice. Not just for herself: her oldest daughter is 14 and starting to drink and use drugs. Given what happened to her in her own teenage years, Fabian is terrified that her children will relive her foster care horrors, and the cycle will go on.
So she called a lawyer.
Fabian is thinking about suing the Ministry of Children and Family Development for its treatment of her in foster care. Will it fix the past? No. But, her reasoning is, it might just increase pressure on the government to make sure child 'protection' systems really do protect other kids -- and not just compound their damage.
Justice, and some good
Fabian's claim is for personal injury. So far, she hasn't heard back from her law firm about whether her case has merit. But, she's far from alone in using a lawsuit as a means to fix the system -- and get a little justice in the meantime.
And there's a deeper question at stake: When government departments don't meet their own standards and commitments can Canadians count on our courts to hold those agencies accountable and effect change?
It's an approach an increasing number of otherwise marginalized Canadians are using.
In 2005, 79,000 residential school survivors sued the federal government in Canada's largest-ever class action lawsuit. They won a $5 billion settlement and what felt -- at least to some -- like the beginnings of justice.
This summer, the First Nations Children and Family Caring Society (FNCFCS) is before the Canadian Human Rights Tribunal, seeking justice for families living on reserves. The FNCFCS alleges that child protection, education and other reserve services are underfunded by at least 22 per cent compared to off-reserve services. That's resulting in far too many aboriginal kids being placed in foster care, according to witnesses.
In Ontario, five young women are suing the Prince Edward County Children's Aid Society (CAS) and their former foster parents, alleging sexual abuse while in care. Their case was filed in April.
In B.C., Gloria Mae Biron's book-length memoir of abuse in foster care, Breach of Trust, ends with her attempted lawsuit against the Ministry in the late 1990s. (She couldn't be reached for comment for this article.)
Lawyer are winning battles
These are isolated cases, but in the U.S., lawyers are winning battles that lobbyists have lost for better treatment and better outcomes for kid in foster care. Could the same happen here?
Miriam Ingber, 34, is a Canadian-raised senior litigator with Children's Rights, a highly-effective New York-based national nonprofit that sues state governments to improve child protection and foster care. Canada she said, has nothing quite like it to effectively demand change.
Growing up in Toronto, Ingber said, she was influenced by the record of big American civil rights lawsuits brought "in the glory days of the 1960s" to improve the lives of average people: Brown vs. the Board of Education, for example.*
"Why litigate?" Ingber asked, on the phone from New York. In a word: results.
Children's Rights isn't interested in more government reports and plans, Ingber said. Lawyers are only interested in effects: children and youth experiencing safer care, more humane care, better education outcomes, and less criminality among those in care.
"We go to court to establish the rights of children to be protected from maltreatment and raised in safe, healthy, permanent homes," the organization's Web site declares. "Our legal campaigns force open the doors of systems that lack the transparency and accountability necessary to identify and fix problems that often have plagued them for years."
"For foster children," Ingber explained "there's not a clear constituency of people who are advocating for them. There are always [paid] advocates, but there's never enough money, they're always getting the short end of the stick, they're the first ones to lose funding. Often, they don't get the attention of politicians.
"There comes a point, at least in the U.S., when the political system has failed. There's not the money or the will power to make the changes that are needed. So you have a system that has not been performing. That's when an organization like ours steps in. When teens are aging-out without any sort of transitions, and there's all sorts of very poor outcomes -- it hurts not just children, but society."
Court monitored improvement
In Michigan, by contrast, the courts took just two years to get Children's Rights a settlement agreement that set up a court-monitored strategy for improving care. Within a single year, the state had returned more than a quarter of backlogged kids to their homes; reorganized care into a central authority; reduced social workers' case loads by half; and implemented other reforms.
Indeed, B.C. is rich in reports -- but poor in outcomes data (see sidebar). Starting in the mid-1990s, there's been the Gove Report, the Hughes Review, the B.C. Representative for Children and Youth's many damning reports, the Residential Review Project, the Ministry of Children and Family Development's current overhaul, the delegation of much of child protection to stand-alone Aboriginal agencies, other government-initiated projects, plus a filing-cabinet-full of nonprofit and academic reports.
Yet, according to limited academic and government research here, spending time in the foster care system is still associated with low graduation rates, increased criminal activity and youth homelessness.
In fact, even litigation-averse Cindy Blackstock, the Gitxsan executive director of the First Nations Family and Children Caring Society, says courts are sometimes a necessary spur to urge lethargic governments forward. She's a former social worker on the Squamish reserve in North Vancouver and the Downtown East Side. In both places, she said, she witnessed what chronic underfunding and lack of political attention can do to a population.
"I'm not one of those who rushes to the courts right away," said Blackstock, in a phone interview from Ottawa, where the Canadian Human Rights Tribunal is underway. "First, you need to present an evidence based solution to your problem. And if they still don't do it, then yes, go to court."
Fabian, of course, isn't sitting around waiting for the ministry to fix itself -- or her. In her mid-20s, she tackled high school, taking three under-fives on the bus each morning to daycare near her classes. She finally graduated – with honours. Soon, she'll graduate again, this time with a certificate in early childhood education, an opportunity to heal herself by caring, with gentleness, for another generation of young kids.
"After you go through so much childhood trauma, I didn't ever really think I'd recover from that," she said. "The pain was so great, I still think the worst of any situation. 'Uh oh. My daughter or my son slipped up. They're going to take away my kids.'"
If her kids are apprehended, she said, she wants guarantees the ministry will never put them in danger. But if the government didn't listen to her as a child or a parent, she reasons, maybe it will when she sues.
*Edited for clarity, July 5 at 1:20 p.m.