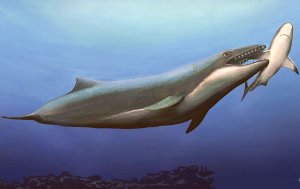 [Editor's note: Regular Tyee contributor Jude Isabella is filing reports from the American Association for the Advancement of Science annual general meeting in Boston this year.]
The smartphone cameras that encircle Meredith Rivin focus on the thing cradled in her hands: a piece of jaw with a couple of embedded teeth. Images catch nothing of why this small piece of the past is so exciting to palaeontologists. Nor does it catch the tedious process of freeing ancient animals from hard rock.
Rivin, the curator of the John D. Cooper Archaeological and Paleontological Curation Center in Fullerton, California, spends about an hour a day holding a miniature jackhammer, flaking away rocks to reveal the fossils within, a little titanium carbide needle vibrating away one rock flake at a time. In this case, the liberated fossil is one of four newly identified ancient whale species.
The find is from a site at Laguna Canyon in Orange County, California. Excavated between 2003 and 2005 during a road-widening project, it has taken this long for palaeontologists to share some of the secrets embedded in the rocks. Scientists have over 30 whale skulls to free, as well as the remains of the earliest dugong in the Pacific known from the fossil record.
"This particular specimen took about four months to uncover," says Rivin, holding up the jaw a little higher. "We have about 40 volunteers who help with the process of flaking away the rocks but I haven't let them touch my whales yet." Rivin has a right to worry since these finds are fragile, easily falling apart once the rock is removed. Last month, when making a cast of the specimen she holds in her hands it broke apart. She spent a day gluing pieces back together. "The whole process is very difficult."
Whale of a bite
Modern whales are one of either two subgroups, Odontoceti (toothed) or Mysticeti (baleen). The baleen whales appeared between 29 and 39 million years ago. Scientists know baleen whales -- blue, humpback or grey, for example -- evolved from toothed creatures for a few reasons, one being that fin whale fetuses develop teeth that are reabsorbed before enamel forms. Also, there have been earlier finds of fossil toothed baleen whales (the Pacific Northwest is a hotspot for finds, including on Vancouver Island's West Coast Trail), though it was thought these ancient whales were extinct by about 23 million years ago. The find at Laguna Canyon dates to 17 to 19 million years ago.
The fact that the toothed baleen whales swam the same waters at the same time as baleen whales five million years later than previously thought tells scientists something about the coastal ancient environment and species adaptions at that time.
What interests Rivin is that this particular nameless specimen (the four new species are still unnamed) seemed to occupy a niche in the ocean exploited by seals and sea lions (pinnipeds) in coastal waters. Other extinct whales also lived a lot like pinnipeds, particularly in the southern Pacific Ocean, but this new species is from a more whale-like genus.
"Pinnipeds started showing up about this time, at least in northern California," Rivin says. "But we have several hundred marine fossils from the Orange County site and not one pinniped fossil is there."
Baleen whales have loose jaw joint attachments that allow them to open wide, take a big scoop of water, then filter it out, leaving behind a meal of krill, plankton, or small fishes. This new whale species was probably only about the same size as a modern bottlenosed dolphin, roughly three metres long. Like the other three new species, it was not a direct ancestor of baleen whales, but a transitional species. The toothed jaw has no evidence of baleen but its loose jaw joint allowed it to open wide like a baleen whale.
The whale, one of three of the small toothed whales from the Mysticeti group, belongs to the morawanocetus genus, as does another of the other new species. The California find is a first for this side of the Pacific, as the Morawanocetus genus was first described from fossils found in Japan in in 1995. The other new species is from the genus Aetiocetus, first identified from fossils found in Oregon in 1966. A paper detailing these three species will probably be published next year.
Finding Willy
As exciting as these finds are for Rivin, she's more smitten with the specimen she's laboured to free for 10 years and named Willy.
Willy probably represents an entirely new genus, and probably family, of primitive whales. This ancient whale was about 10 metres long with teeth worn down in a tantalizing pattern.
"It's not completely out of the rock yet, but it looks like the same tooth wear patterns we see in offshore killer whales, the ones that live in the outer coast, not transient or resident killer whales," Rivin says.
The main food of offshore killer whales is the sleeper shark, an animal with rough skin that wears a predator's teeth down to the tooth cavity. Along with Willy, the Orange County site also yielded lots of small shark fossils, none longer than three metres. Rivin wonders if Willie's species can tell her something about killer whales today and how they might adapt to climate change.
"The more we learn about the past ocean," Rivin says, "the more we can learn about the future ocean."