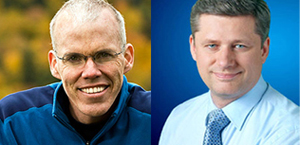 One of the "radical foreign" environmentalists the Canadian government has targetted in recent weeks appears to have gone to elementary school with Prime Minister Stephen Harper.
"I didn't know him, but it does sound like we overlapped," said Bill McKibben in an email to The Tyee.
McKibben founded the global climate campaign 350.org and his books include The End of Nature, which his website says was the first book on climate change for a general audience when it came out in 1989.
In early January when Harper's Natural Resources Minister Joe Oliver criticized "radical" foreign environmentalists who oppose the proposed Gateway pipeline that would take oil from Alberta's oil sands across northern British Columbia to the Pacific Ocean, McKibben felt targetted.
"I think he's talking about people like me," he wrote in a Vancouver Sun column. "I've spent much of the last year helping rally opposition to the Keystone XL pipeline from the oil sands to the Gulf of Mexico. I was arrested outside the White House in August, and emceed the demonstration that brought thousands of people to circle the White House in November."
The campaign McKibben led against the Keystone XL pipeline has so far succeeded, by the way, with United States President Barack Obama announcing Jan. 18 he's rejected TransCanada Corp.'s application for a building permit, though the company is welcome to reapply after making a small route change.
Once were neighbours
McKibben wrote he's been invited to speak in Canada in March by a youth environmental group. "When I come to British Columbia, I'll urge everyone I meet to oppose the Gateway project."
The same column mentions that he spent five years as a child living in Toronto while his father worked for Business Week magazine.
Another McKibben column, published in the Globe and Mail last July, mentioned that he lived in the Leaside neighbourhood and tobogganed on a "massive hill" in Serena Gundy Park.
In his email to the Tyee, McKibben said he forgets the name of the school he went to, but that it was about four blocks away from where his family lived on Brentcliffe Road across the street from a United Church. The only school fitting that description is what's now Northlea Elementary and Middle School on Rumsey Road in North Leaside.
In another message, McKibben said he'd checked with his mother, and it was Northlea he'd attended.
As it happens, that's the same school Prime Minister Harper went to more than four decades ago. In 2005, the local newspaper The Town Crier reported on a visit to the school by the then opposition leader, calling it a homecoming for the Alberta-based politician.
Interestingly, the article also said Harper gave a speech to the Grade 8 class during his visit, but press were asked not to attend.
Fond memories
"Because Harper is known for his conservative views and his western voting base, many people probably have no idea the leader of the Conservative Party of Canada leader is really from Toronto, having spent time in Leaside when he was a kid," reporter Paul Hutchings wrote. "He attended Northlea in the 1960s."
One more thing: McKibben and Harper are nearly the same age. McKibben was born in 1960 and Harper in 1959.
In those days, according to William Johnson's book Stephen Harper and the Future of Canada, the Harper family lived at 332 Bessborough Drive, which is just over a kilometre from where the McKibbens lived.
Both spoke highly of their alma mater. "All my memories of Northlea are good, so it feels great to be back," Harper told a student reporter, according to the Town Crier. "It's so long ago, it's like a dream. I was here 40 years ago."
"What a great school it was... I have very fond memories," McKibben wrote, despite recalling being sent on his first day to the principal's office. As a "clueless American," he hadn't taken off his hat when he came inside and was told he had shown "disrespect for the Queen," he said.
He recalls schoolyard games of marbles in the spring and king of the hill in the winter, which Harper might have participated in as well.
Still the same guy, says McKibben
"The point is, I owe Canada a great deal for taking good care of me in my formative years," wrote McKibben. His family always felt welcome, he said.
"That's why it seems so odd to have all this rhetoric about 'radical foreigners,'" he said. "I'm still the same guy that went to the United Church across from my house on Brentcliffe Rd. on Sunday mornings, and to cub scouts in the church basement on Tuesday evenings."
(Harper, by the way, was also a cub scout during his North Leaside years and became a leader of his troop as a sixer and senior sixer.)
"I can't believe Canadians have changed that much," wrote McKibben. "It seems more likely to me that the power of the fossil fuel lobby has changed Mr. Harper and his government."
In a recent column, McKibben suggested it's the people working for oil companies, who are willing to change the chemical composition of the atmosphere, who are radicals. It's the people who want to keep the planet "a little like the one we were born on" who seem like conservatives to him, he said.
[Tags: Politics.]