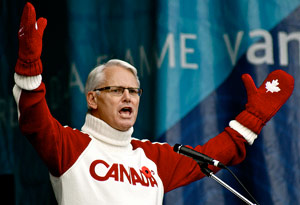 A VANOC deficit was forecast nine months before the 2010 Winter Olympics, according to provincial government documents obtained via Freedom of Information.
The 2010 Winter Games Working Risk Register listed a post-Games loss as a "high risk."
"Budget shortfall estimated in June 2009," said the spreadsheet inventory of government-wide Olympic and Paralympic risks. "1. Actual costs are higher than estimated; 2. Unforeseen costs are significant; 3. Costs included in budget were not complete; 4. Revenue estimates for remaining outstanding revenue items were overstated; 5. Project contingency is fully utilized before Games end; 6. Unforeseen costs associated with Cypress venue."
It said there was no "agreement/framework" to resolve a post-Games deficit between VANOC and its partners. The consequences to the province included a significant revenue risk, unpaid suppliers trying to recoup money owed, and a negative Olympic legacy.
"Any new contribution agreement for VANOC should include additional financial monitoring conditions and should require VANOC to notify Province of any significant challenges going forward," said the report. "Although Province is not responsible for a deficit, as a Games Partner, should be aware of any deficit as soon as possible and assist in developing mitigations."
According to its commitments to the International Olympic Committee, however, the B.C. government was responsible for any deficit because it was the ultimate guarantor of the Games.
The IOC pledged $22 million in August 2009 because it failed to deliver two more global sponsors. When VANOC revealed its post-Games financial report on Dec. 17, 2010, it claimed a balanced budget after $188.78 million in operations revenue from the federal and B.C. governments.
When the business plan was unveiled in May 2007, VANOC CEO John Furlong said no taxpayer funds would be used for operations.
320 risks identified
The government-wide report ranked risks to ministries, agencies, departments and Crown corporations, from the attorney general to Vancouver Coastal Health. Anticipated risks, consequences and mitigation strategies were updated in the summer and fall of 2009 and just before the Games in January 2010. By Games time, there were 320 risks: 192 deemed low probability, 107 medium, 22 high and none extreme.
Several entries in the report were censored under one or more loopholes of the FOI Act: cabinet confidences, policy advice or recommendations, harm to law enforcement and harm to public body finances. Therefore it is impossible to know whether the government was ready for an El Niño winter wiping out snow, an athlete death or ticket scam.
Snow was trucked in from near Manning Provincial Park to Cypress Mountain, Georgian luger Nodar Kumaritashvili died on opening day and Latvian criminals used stolen credit card numbers to buy $2 million worth of tickets. The incidents impacted VANOC, public finances and the province's reputation.
Power outages, train derailments, protesters, terrorists and the H1N1 flu were among the government's documented worries. The ambulance paramedics' union's struggle with the BC Ambulance Service was an extreme risk, until the BC Liberal majority imposed a contract in November 2009.
The government was worried conditions in the Downtown Eastside would spark protests that would attract critical local, national and media attention. Part of the mitigation strategy was BC Housing's Downtown Eastside Connect storefront public relations office at Woodward's.
Community Living BC anticipated staff and clients in the Sea-to-Sky corridor would suffer from emergency medical response delays because of transportation and security tie-ups.
Various arms of the government, including ICBC, were worried that "hosting business stakeholders at Games are judged by media to be inappropriate" or there would be "lack of accommodation for dignitaries."
Olympics prep cut into casino profits
The BC Teachers' Federation was blamed for putting the Vancouver 2010 Education Program in jeopardy.
"The BCTF have voiced their lack of support for the Olympics because of money not going to education," the report said. "BCTF has stated again, recently, that they will not boycott nor formally support the 2010 Games."
The biggest revelation was that BC Lottery Corporation's sponsorship of the Games was not paying off, particularly at Edgewater Casino, the nearest gambling hall to BC Place Stadium and Rogers Arena. Edgewater was behind security and transportation barriers for several months.
"New impacts have been identified for the Edgewater Casino," said the report. "Revenue impacts starting in Oct. 09 instead of Jan. 10; City revenues will also be impacted based on municipal share of slot gaming revenue (HLT). Other potential impacts include staff layoffs. Fiscal plans have taken impact of the games into account in areas other than Edgewater's increased impact identified above."
During the Olympic quarter from January to March 2010, the City of Vancouver received $1,246,959.06 in host municipality royalties from Edgewater, down $485,137.90 from the same quarter in 2009.
Edgewater is owned by Paragon Gaming, whose Canadian board includes VANOC director and prominent Liberal bagman T. Richard Turner. Paragon president Scott Menke revealed that the provisional lease of land next to BC Place to build a new Edgewater was signed before the Games' Feb. 12, 2010 opening ceremony.
'We had no business'
During the Games, the casino was so empty that city manager Penny Ballem intervened to stop Edgewater from laying off 200 workers.
"We had no business," Menke said. "We decided as a company to take the high road, keep all of our employees employed. We worked with the union (CAW) and had extra days off."
BCLC CEO Michael Graydon said in early 2011 that the Games cost $5 million to $10 million in lost revenue. Edgewater suffered because "parking is very important to a casino customer, they started to find other places to go."
VANOC banned BCLC from offering SportsAction hockey betting during the Olympics. Gamblers stayed home or went to the Games and didn't buy as many lottery tickets.
VANOC also convinced BCLC to take hockey off the SportsAction menu at Games time.
"People are very routine in their lottery habits, they'll go in the morning and buy their coffee, newspaper and 6/49 tickets," he said. "When you get out of those routines, people's purchasing habits change."
Reports sponsored by City of Vancouver, the B.C. and federal governments all painted a rosy picture about Olympic economic benefits, but failed to consider how host city residents change their spending habits during a mega-event or vacate the area because of transportation and security inconveniences.
[Tags: Politics, 2010 Olympics.]