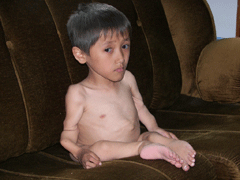 In Zharlanka village in northeastern Kazakhstan, clusters of people slowly walk towards a small concrete mosque. The village doctor, Alimbai Shakhantiev, says the girl was 15, the top student in her class. Last week, she was at her desk in the family living room, finishing her homework, when she put down her pen, stood up and walked out the door as if following someone. Her family later found her hanging in a shed a few metres away. It is the third suicide this year, the second of a child in this village of 2,000 people. The previous suicide was a 10-year-old boy.
Zharlanka is roughly 18 kilometres from what was the Semipalatinsk polygon, or test site, in northeastern Kazakhstan. There, from 1949 to 1989, the Soviet Union tested 458 nuclear and thermonuclear weapons. As a result, cancer rates in the surrounding region are twice the world rate. Physical deformities, mental underdevelopment and heart disease are also common. Most nearby villages have residents with some form of anemia or skin disease.
Doctors are unsure why these rates are so high. They suspect the cause is small, continual doses of radiation, and genes. Skipping a generation, the grandchildren of those exposed before 1962 are developing an array of serious health problems, from cancer to deformities to schizophrenia. Doctors fear the toll will mount indefinitely as mutated genes are passed from generation to generation.
'Beautiful mushrooms'
On August 29th, 1949, Igor Kurchatov, head of the Soviet nuclear program, and three of his generals celebrated in a concrete bunker after detonating the first of what would be 118 atmospheric nuclear weapons tests in the following 13 years.
The first was one of the deadliest. The fallout from that explosion covered the village of Dolon, 31 miles from the site, in radioactive dust. All 800 villagers were exposed to high levels of radiation, and today Dolon has one of the highest rates of cancer in the province. From that day until 1962, when an international treaty banned above-ground testing, the Kazakh government estimates that 200,000 people living in the region had direct exposure to dangerously high levels of radiation. Even when the testing became "safe" and went underground, radioactive gas leaks accompanied nearly 30 per cent of all detonations. The government estimates that a total of 1.2 million people have been affected by the nuclear explosions at the polygon.
Until 1962, preventative measures for citizens living in the area were token at best. Sasha, a sturdy older woman in a blue cotton dress and black babushka, is breaking up the dirt of her bare garden with a shovel. She invites us into her home, and leads us through a large, empty kitchen painted into the back room, where traditional Kazakh rugs are pinned to the walls. She pours us bowls of fresh horse milk and describes being herded into trucks as a child. Soldiers would then take her and her family to makeshift camps. Before a blast, soldiers would tell her that there would be something in the distance, and not to look.
"I can't count how many times I saw them," she says. "We were happy. We saw this beautiful mushroom in the sky. 'Oh look at that,' we would say." Fifteen days later, they would be taken back to their village. After a few years, even this small measure was stopped. Soldiers would simply order Sasha's family to lie on the ground outside of their house and throw a heavy blanket over them as the hydrogen blasts filled the sky.
Secret human study
Sasha is now 60, and a very sick woman, with kidney, liver, stomach, bladder and lung problems. "All the organs of my body are sick," she says. Her oldest son was born mentally underdeveloped. She works as a midwife in this poverty-stricken village, where every second building is an unfinished shell and horses with jutting ribs roam freely, eating weeds. After Kazakh independence, the country experienced what its citizens call "the fall" -- a lack of funds to support even the most basic needs of its citizens. In Sarzhal, there was no money to continue construction, so in 1994, it simply stopped. Villagers here are despondent, says Sasha, depressed, and don't bother attempting to restart the construction. As a midwife, Sasha says that she has seen "so many" children damaged, especially in the last few years.
According to one report compiled by the U.S. Department of Energy in 2001, between 1949 and 1963, the Semipalatinsk olblast, or province, had twice the rate of leukemia of other oblasts. The same with thyroid, breast and stomach cancers. The rate was even higher for diseases of the nervous system. From 1982 to 1996, there was another jump in thyroid cancers as the third generations of those exposed were born.
Those numbers are known because, in 1957, a secret medical institution called Brucellosis Dispensary Number 4 was established in Semipalatinsk. Thirty-five scientists housed in this small, concrete building were ordered by Moscow to keep secret medical records of 20,000 people living in heavily contaminated settlements. The sick weren't treated, but studied. Ivan Chasnikov, now head of the Institute of Radiation and Oncology, was a doctor there. "The main reason, our main task," he says, "was to study." To treat them would be to tamper with the experiment.
Long after the effects of radiation were known, the Soviet Union continued to publicly blame the region's high mortality rate on "the poor Kazakh diet." There are some who even believe Semipalatinsk was chosen exactly because it was populated -- taking the nuclear experiment out of the lab and into the field. "Semipalatinsk was an experiment of nuclear war on the small scale of the Semi region," says Chasnikov. "That's the attitude they had. Our only ideology was to counter the U.S., anything to counter the U.S., anything for the mother country."
Soldiers in the dark
The estimated 30,000 soldiers who served on the site during the years of testing, of which only 100 are alive today, were not told by the Soviets of the dangerous levels of radiation. After enlisting, soldiers were forced to sign a confidentiality agreement barring them from telling anyone where they had served. Under Soviet rule, doctors were forbidden to mention radiation in their diagnosis. It wasn't until after the fall of the Soviet Union that soldiers, after being misdiagnosed for years, felt safe telling doctors and families of their exposure.
Meglis Metov, a former soldier and computer engineer, frequently dabs his wet eyes with the corner of a white handkerchief. He's not overcome with emotion, but suffering from an eye condition he blames on watching the blasts. Metov served on the site from 1961 to 1962, "to my bad luck," he says. Knowing that the ban on atmospheric testing loomed near, the military rushed to detonate 14 above-ground nuclear explosions between August and December of 1962. Metov's job was to travel into the "hot zone" one hour after a blast to fix ground cable. Although they understood that radiation could be dangerous, "we never knew about the levels of radiation," he says. "We never had equipment to test the levels."
When they weren't working, Metov and his fellow soldiers enjoyed sitting out on a cliff smoking cigarettes and watching what they called the fireworks in the sky. "We thought it was beautiful," says Metov. One night, they were sitting in their usual spot when the bomb was detonated not atmospherically, but on the ground, closer than any of the young men had expected. "The mushroom was black, and it unfolded," Meltov explains. The force of it knocked them onto their backs. "Then the wind changed, and took the whole cloud with it." The black cloud crawled over them, "and took over to our cliff." Immediately, the commanding officer drove the three young soldiers out into the middle of the steppe. They were made to sleep the night with nothing but their T-shirts and shorts. The next day they were given a shower and a glass of vodka, and returned to the site. "They said the cliff was contaminated, but really, we were contaminated ourselves."
Soon after arriving at the site, Metov spent a month in the infirmary with a painful skin condition. "It just began to peel off," he says. He is now an activist fighting for the rights of soldiers who had served at Semipalatinsk. He himself has a host of health problems, including glaucoma, heart and liver disease, and skin conditions.
The new generation
The polygon is now shut down: 7,142 square miles of empty, endless grassland mostly used for study by international scientists. According to the National Nuclear Center in Kazakhstan, 17 per cent of this area is still highly radioactive, although which 17 per cent is still unknown. What makes the discovery of this information urgent is that, although a massive educational campaign in the region has recently curbed the problem, shepherds still graze their flocks on the site. The sheep are then used for meat, and the wool sold in town markets. Villagers use the massive "nuclear lake," a water-filled crater caused by one of the biggest underground blasts, to fish and swim. Although the water isn't considered contaminated, the muddy rim of the lake is. Contaminated materials have travelled far outside the area as well. Until the site was picked bare, scavengers stole copper wire and other scrap metals from the abandoned testing equipment to sell to distributors, spreading the highly radioactive materials into the rest of Kazakhstan, China and Russia.
Alimbai Shakhantiev sits quietly in the corner, hands folded in her lap, as her husband does most of the talking. When there is a pause, she tells us that she has been Zharlanka's chief doctor for 33 years. "Everyone is sick," she says. There are the child suicides, which some doctors believe are bouts of undiagnosed schizophrenia caused by mutated genes. Schizophrenia is usually first detected when the hormonal changes of puberty begin. The children of villages such as Zhalanka have no one to talk to about what they are experiencing. Therapy and general mental health is still largely unexplored in Kazakhstan. So the children simply act on what comes to them.
And then there is the cancer and heart disease. Shakhantiev describes how cancer rates in her village have risen in the last five years. It's only May, and already this year six people have died of the disease in this village of 2,000 people. Adults as young as 35 are dying of heart disease. Ninety per cent of villagers have skin conditions. The birth defects in the tiny village are common, and incurable.
'Jelly babies'
Chasnikov and his researchers at the Institute of Radiology and Oncology believe that illness such as that experienced in Zharlanka is a result of a combination of things. These include stress, malnutrition and high-fat diets. Add to these factors of rural poverty small, continual doses of radiation over a span of decades, and what you get are entire populations critically ill.
As well, many of the grandchildren of those exposed to testing before 1962 are dying at alarming rates, due to what a medical report describes as "radiation-induced mutation in the chromosomes in the sperm and ova." Scientists are surprised to note that these health problems seemed to have skipped a generation. "Children of the second generation, born of the exposed parents, are thousands of times healthier than their exposed parents," says Chasnikov. "But for some reason, we don't know why, those born from the second generation, their health conditions are hundreds times worse than the second and even the first generation, those initially exposed." Diseases found in the third generation include encephalitis, which causes the infant's cranium to be many times its normal size. Some children are born with scarcely any bones in their arms and legs, leaving only stocking-like limbs of flesh. Locals call them "jelly babies." Other common birth defects include cleft palettes, "rabbit nose," and skin problems.
Chasnikov says scientists at his institute are working to prove that these genetic deformities are linked to nuclear testing.
Protests and compensation
The Kazakh government compensates those who worked and lived in the area at the time of the initial blasts based on how close they were to "ground zero." Different zones are classified by their contamination levels, and the closer one was, the more money one gets. But for those currently suffering the effects, everyone who applies receives the same treatment, the same amount of money, no matter the severity of their condition. And everyone agrees it is not enough to make a fundamental difference in their lives. The average civilian compensation is around $60 US a month.
In 2003, the United Nations passed a resolution calling for funds to be directed into the Semipalatinsk region. Most medical supplies and equipment in northeastern Kazakhstan are now donated by foreign countries, such as Japan, which has given millions of dollars in financial and scientific support, as with many other nations such as Holland, the U.S. and France. These countries have also sent scientists to the region regularly to study the effects of radiation. Many villagers complain that after being examined like guinea pigs, there is never anything to show for it. No one is helped; they are not shown the results. Things are simply left the way they've always been.
But the story of Semipalatinsk is also one of hope, and of an awakening democracy. Since the fall of the Soviet Union, NGOs such as Nevada-Semipalatinsk have fought for the rights of those victimized by the nuclear testing. In 1989, tens of thousands of Kazakhs came together to protest the silence surrounding the testing, and two million signed a petition calling for the closing of the site and for the recognition of those who had suffered. In 1991, Kazakhstan's polygon was finally closed. But, although Russia compensates its own citizens for any damage done as a result of testing, it has yet to publicly acknowledge any effects in Kazakhstan.
The Kazakh people are finally reclaiming their history and learning the extent of the damage done by their former Soviet rulers. Through this knowledge they are being empowered to act. But in an era when nuclear weapons are still being produced and countries such as the U.S., North Korea and Iran are threatening to use them as a deterrent or show of power, the story of Semipalatinsk is more vital than ever.
Vancouver journalist Carrie-May Siggins recently visited Kazakhstan to research a documentary with Four Square Productions.