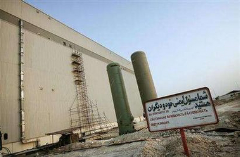 Western powers need to provide more concrete information on Iran to nuclear inspectors rather than feeding "misinformation and propaganda" through the media, experts have warned. Sources close to the International Atomic Energy Agency (IAEA) in Vienna told The Tyee the agency needs more information from other nations.
The IAEA, an independent UN agency, has sent the issue to the UN Security Council over safeguards on Iran's uranium enrichment. They insist the agency still needs to close some of the gaps in the paper trail behind Iran's 18-year-long undeclared nuclear program.
An expert close to the IAEA said that some countries having "issues" with Iran for reasons other than its nuclear activities are using selective leaks of information to "serve a particular agenda to give the public impression of Iran as serial violators."
The source expressed frustration that "A propaganda game is being played on all sides."
Where to look?
The source said the IAEA has no mandate to spy on countries or search for sites without some information from a country or the media. And as rumours and accusations mount about an Iranian nuclear weapons program, IAEA inspectors lack specifics to act upon, he said.
The IAEA can purchase sophisticated satellite imagery, but that is no help if the agency doesn't know where to look, the source stressed.
"Many people are saying Iran has a nuclear weapons program, but nobody has given us actionable information," said the source. "We don't have spies. We don't have satellites in space. We rely on what our inspectors see on the ground, or newspaper articles and information from member states and we combine all this.
"We don't have capacity to search every inch of every single country. It's a waste of our resources to say 'we have information', and we go there and find nothing. The more you come up with duds, the more it lessens the confidences in sources.
"And we cannot provide information back to intelligence agencies. Some are still operating in a Cold War model."
More needed from Iran
Despite the IAEA board's decision to send Iran to the Security Council, inspectors are still on the ground in Iran and pushing for disclosure of more historical information and monitoring of any use of nuclear material.
Another senior source, close to the IAEA in Vienna, said "We have people in Iran almost every day and we are still talking to them. [Iranian officials] have reduced our access a little bit, but normal inspections are still going ahead and there are no problems. What we need is documentation to back up everything [Iranian officials] claim."
The IAEA has insisted they have verified "all nuclear material in Iran and it is for peaceful use," but they are continuing to confirm the amount of nuclear material and the documentation to fully account for their nuclear program over the past two decades.
The source added "Iran has to look harder and account for monies, show us the documents. We still need documents and access to the people to satisfy ourselves."
Protocol light on signatures
All countries except India, Pakistan and Israel are signed up to the Nuclear Non-Proliferation Treaty (NPT). North Korea withdrew in 2003.
The 1968 agreement allows the IAEA to verify the peaceful use of nuclear material in all states except the five with nuclear weapons: US, UK, France, China and Russia.
But the NPT doesn't allow inspectors to look for undeclared sites. After the 1991 Gulf War and the discovery of Iraq's secret nuclear program, an "additional protocol" was added to the "comprehensive safeguards agreements" to give the IAEA extra powers.
The protocol has yet to be signed by more than two-dozen countries. Iran did sign it but hadn't ratified the protocol and merely adhered to it on a voluntary basis, until January 2006.
One of the sources close to the IAEA also urged Brazil to agree to the "additional protocol" to have their "very significant nuclear program" inspected.
Tristan Stewart-Robertson, originally from New Brunswick, is news editor of the Greenock Telegraph in Scotland.